Butterscotch pudding from Heartlandia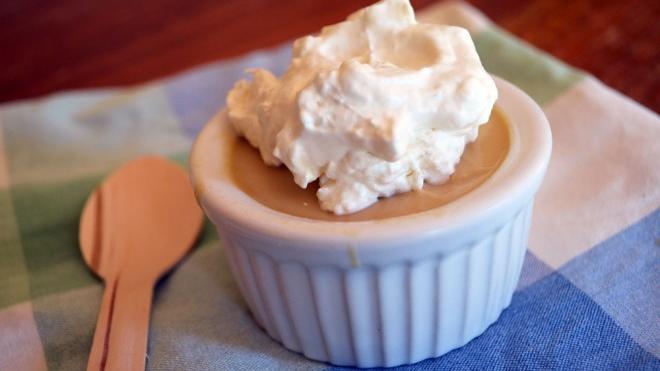 Senior Copy Editor Trina Enriquez, an ardent butterscotch pudding admirer, overcame several cooking challenges to create this sweet, silky-smooth version of the classic dessert.
As a child, I relished every lick of butterscotch pudding from a plastic cup only on those very rare occasions when my budget- and nutrition-conscious parents conceded to buy some at the supermarket. Then, in recent years, the pudding started showing up on trendy Italian menus as butterscotch budino, a slick update on a nostalgic dessert. And I dug in.
Why this recipe?
The short ingredients list won me over—and, well, butterscotch pudding. I'll take that over pumpkin anything any day.
What was it like to make it?
The pudding may look serene, but making it required a few hacks on my part.
I don't keep a liquor cabinet, and I didn't want to shell out $20–$35 for a regular bottle of Scotch that I'd then stick on my pantry shelf and never use again. A couple of those mini bottles would do just fine, right? But the grocer where I go has only small bottles of bourbon. Well, that's a whiskey (if not a whisky), and I'm in a rush. So I buy two.
Not to mention I have an equipment problem. I don't own a fine-mesh sieve. What to use as a substitute? I Google for answers and "line a colander with paper towels or a coffee filter" comes up—paper towels it is! Lucky for me, they hold.
I make the pudding through step 3 in the early morning before work, and I figure I'll finish it after I get home from class that night, because the mixture requires at least 8 hours in the refrigerator before going into the oven. Unfortunately, I fail to do three things in baking it: I don't use hot water for the water bath, I don't cover the pan in aluminum foil and vent it, and I set the timer for 1 hour instead of 50 minutes.
The result: a gloppy, curdled mess that I'd be horrified to show anyone. Now what?! It's 11 p.m. and I don't want to have to start this process all over again and waste these ingredients.
Fortunately, the Internet tells me, you can salvage curdled pudding (if it hasn't passed the point of no return) by beating it vigorously to regain the proper consistency. So I dump out all the ramekins back into the mixing bowl and begin whisking. I'm relieved to see the mixture thickening as I go. When the texture is smooth again, I repour the mixture into the ramekins, stick them in the refrigerator, and call it a night.
How did it turn out?
Extremely boozy. I don't know if that's because I swapped Scotch for bourbon or because of the amount the recipe calls for. Most coworkers who tried the pudding took one bite and were like, "Whoa." Some felt the bourbon overpowered the butterscotch flavor, but others liked it. "I almost want to drink it," said one coworker.
All things considered, though, I was pretty pleased. I even made whipped cream for the first time! Found a simple recipe online (once more: Thank you, Internet!) and made it the next morning before work, adding the last bit of bourbon that I had left for flavoring. I don't own an electric mixer—what am I doing baking anything, really??—so I beat it by hand.
Will I make it again?
Maybe only for a special occasion. It's a time-consuming recipe … 8 hours to chill, at least another 50 minutes to bake in a water bath, then another 3 hours to chill. Next time I'd reduce the amount of booze. And read the instructions more carefully!
---
BUTTERSCOTCH PUDDINGMakes 8 (6-ounce) puddings
"If Adam's childhood was all about fried chicken, mine was about pudding," writes Jackie Sappington, coauthor of Heartlandia. "The taste of butterscotch pudding especially brings back childhood memories, though I never liked the rubbery character of cornstarch-thickened recipes. Instead, I prefer to thicken my pudding with fresh, high-quality eggs and bake it in a hot water bath to achieve a silky-smooth texture. Finally, I always use real Scotch for a pure butterscotch flavor. Just don't waste top-shelf Scotch on this recipe. Use a mid-level Scotch for the pudding and save the good stuff for drinking on the side."
9 large egg yolks2 cups half-and-half2 cups (15.25 oz./434 g.) packed light brown sugar2 cups heavy cream1/3 cup Scotch1 tbsp. pure vanilla extract or vanilla bean pasteWhipped cream, for garnish
1. In a medium bowl, combine the egg yolks with 1 cup of the half-and-half and whisk until combined. Set aside.
2. In a large saucepan, combine the remaining 1 cup half-and-half, sugar, and cream and heat over medium-low heat, stirring occasionally, until the sugar has dissolved, about 5 minutes. (Do not let the mixture come to a boil or it will curdle.) Remove the pan from the heat.
3. Gradually whisk 1/2 cup of the warm cream mixture into the egg yolk mixture to temper the yolks. Slowly whisk the tempered yolks into the remaining cream mixture. Strain the liquid through a fine-mesh sieve into a medium bowl. Stir in the Scotch and vanilla. Cover the bowl with plastic wrap and refrigerate for 8 hours or overnight.
4. Arrange a rack in the center of the oven and preheat the oven to 350°F. Divide the chilled cream mixture among eight 6-ounce ramekins and place them in a roasting pan. Pour hot water into the pan to come halfway up the sides of the ramekins. Cover the dish with aluminum foil and poke holes in the top to create small air vents and let steam escape.
5. Bake the puddings for 50 minutes or until set in the center. To check the puddings for doneness, remove the foil and jiggle them gently. They should be completely set. If the puddings are not completely set, replace the foil and return the puddings to the oven to bake for 10 minutes more before testing them again.
6. Remove the baking pan from the oven and remove the foil. Let the puddings cool in the water bath until they are at room temperature, about 1 hour. Cover the puddings individually with plastic wrap and refrigerate until well chilled, about 3 hours. Dig in, with a generous spoonful of whipped cream.
Excerpted from Heartlandia: Heritage Recipes from Portland's The Country Cat by Adam and Jackie Sappington (Houghton Mifflin Harcourt, 2015).
Keep Reading: