Beet and fennel salad from Homegrown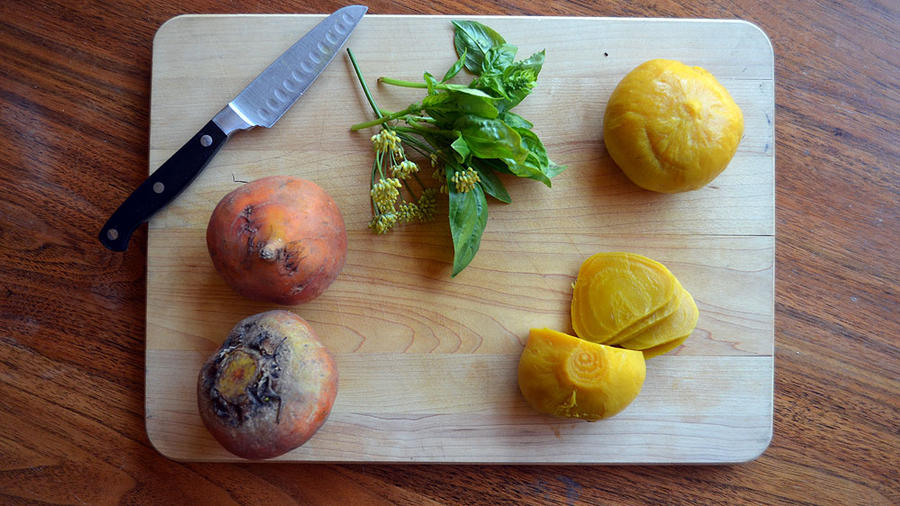 While she's wary of fennel, Associate Garden Editor Lauren Dunec Hoang took a risk on this salad—and discovered a tasty summer dish. S...
While she's wary of fennel, Associate Garden Editor Lauren Dunec Hoang took a risk on this salad—and discovered a tasty summer dish.
Salads that can double as a satisfying main dish usually have a number of things in common. Hearty, non-lettuce ingredients?  Check. Something roasted, baked, or boiled? Check. Ample helping of cheese? Check. This hearty beet and fennel combination from Homegrown: Illustrated Bites from Your Garden to Your Table fits the bill. 
Why this recipe?Cooked beets and thinly sliced raw fennel sounded like an interesting combination.  I'm not usually a big fan of fennel (too licorice-y), but I hoped the earthy beets and salty feta would help balance the flavor.
What was it like to grow the ingredients?I'm fairly sure I was recruited for this month's garden-to-table installment of the Sunset Cookbook Club since I run our Editorial Test Garden on campus. I'll bet our food editor, Margo True, was counting on at least one of us to be growing our ingredients. Well, Margo, I grew the basil. Does that count?
I tried to grow the fennel too, but ended up letting the plants go to flower in a bed we'll be using for photography. To harvest a fennel bulb, you end up digging up the entire plant and leaving a hole in the bed—not something that pleases our garden photographer. Plus, fennel should really be harvested in spring when the bulb is nice and tender. Basil leaves, on the other hand, can be harvested throughout the season, and frequent picking helps the plant grow in a more compact, bushy form.  And for the record, if you're a first-time edible gardener the author Heather Hardison provides clear, straight forward advice on how to grow your own.
What was it like to make it?Easy.  It's nice to have a summer salad with a short ingredient list (beets, fennel, basil, olive oil, lemon, salt) and limited cooking time.
Instead of roasting the beets as the recipe called for, though, I boiled them for about an hour in lightly salted water. They probably would have been even better roasted, but when I was prepping the salad, we were having our once-a-year week of 80-degree weather in San Francisco. I was not turning on the oven in our one-bedroom apartment for anything.
To peel the beets, author Heather Hardison recommends letting the beets cool and then rubbing the skin off with your thumbs.  It worked like a charm. Afterwards, I cut the beets into about 1/4-inch-thick slices.
How did it turn out?Delicious. The earthiness of the beets was nicely balanced by the tart lemon dressing and salty feta cheese. The fennel was surprisingly tasty eaten raw and provided a nice crunch. I also appreciated the author's recommendation to let the salad sit for an hour in the fridge before serving. This gave the ingredients a chance to marry and allowed the fennel to soften a little. Plus, a cold salad on a hot summer afternoon is just about perfect. The only thing I'd change is that I would add even more lemon (but I always want to add more lemon), but others in the Cookbook Club thought it was tart enough.
Would I grow this again? Will I make this dish again?I'll definitely make this one again. Great for a light vegetarian main or as a bright side dish for fish or grilled chicken. And I'll be growing basil year after year (and maybe beets and fennel).
For tips on how to grow your own herbs and veggies, check out our edible gardening guide.
---
BEET AND FENNEL SALAD Serves 4
"This salad has a great blend of textures and flavors," says Hardison.  "The deep sweetness of the roasted beets pairs nicely with the bright anise flavor of the fennel.  The fennel also adds a great crunch.  The salty feta cheese brings richness, and the lemon juice adds just the right amount of acidity."
2 cups (300 grams) sliced roasted beets1 cup (85 grams) thinly sliced fennel (about 1 bulb)1 packed tablespoon minced fresh basil, plus whole leaves for garnish1 tablespoon olive oil3 tablespoons lemon juice1/2 cup (60 grams) crumbled feta cheeseSalt and freshly ground pepper to taste
Gently toss the beets, fennel, minced basil, oil, and lemon juice together in a large bowl. Sprinkle with the cheese, season with salt and pepper, and garnish with a few basil leaves. Chill for one hour, then serve the salad cold.
NOTE:  Try to use Golden, Chiogga, or other non-red varieties of beets. You'll need 4-5 medium beets. Red beets will work perfectly fine; you'll just end up with a bright pink salad.
Excerpted from Homegrown: Illustrated Bites from your Garden to your Table by Heather Hardison (Stewart, Tabori & Chang; 2015). 
Keep Reading: