This Iconic Snack Just Got a PETA-Inspired Makeover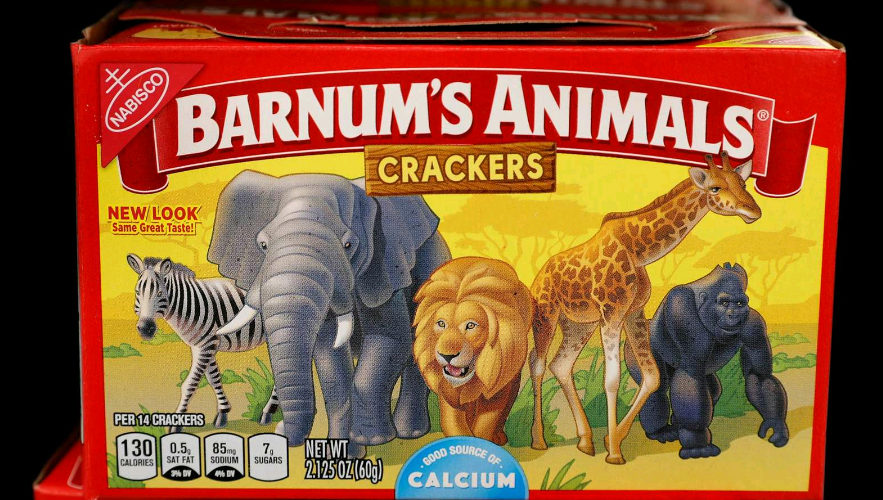 Creative Commons photo by Irish Typepad is licensed under CC BY 2.0
Animals Crackers critters have been released from their cages
Lions, and tigers, and bears, oh my! Animal Crackers cookies are high on our list of favorite childhood snacks, but we're also big on the ethics of animal treatment. Ever noticed the furry friends on the front of every box have been caged, for as long as the sweet little crackers have been on shelves? After over a century of the same historic branding, the Barnum's Animals Crackers packaging is finally changing.
Growing pressure from People for the Ethical Treatment of Animals (PETA) triggered a redesign of the iconic red cookie boxes, which featured lions, gorillas, giraffes, and other wild animals behind bars in circus boxcars. PETA, which has been protesting the circus for its use of animals for more than three decades, wrote a letter to Nabisco's parent company, Mondelez International, urging them to reconsider their packaging.
Two years later, the new boxes are on shelves, showing the creatures roaming in the wild, looking much freer and friendlier than ever before. Consequently, the century-old Barnum's name comes from the Ringling Bros. and Barnum & Bailey's Circus, which shut down last year due to animal rights battles and declining ticket sales.
"Big victories can come in small packages, and no matter where we look, we find new evidence that people are embracing compassion for animals like never before," said the PETA organization in a statement. "The new box for Barnum's Animal Crackers perfectly reflects that our society no longer tolerates the caging and chaining of wild animals for circus shows."
Keep Reading: