A wrapper for snapper: cooking with hoja santa, Mexican root beer plant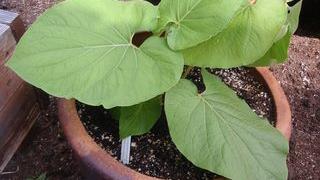 Now that the weather has warmed up, our hoja santa leaves have grown about 8 inches across, big enough to use as wrappers. We've b...
Now that the weather has warmed up, our hoja santa leaves have grown about 8 inches across, big enough to use as wrappers. We've been psyched to try the plant, because this stuff actually smells—and tastes—like root beer! (Root beer plant is another name for Piper auritum.)
Heart-shaped hoja santa in a shady spot in the Sunset test garden
Cooks in southern Mexico wrap hoja santa around fish and tamales to give the food an herbaceous, anise- and root beer-like flavor. They also use the leaves in mole verde and soups.
Wanting something easy, I went for the wrappers and just folded the leaves around snapper with a few seasonings. Instead of steaming the packets—the classic technique—I popped them on the grill. Works beautifully, and they come off the grill with a big waft of that anisey, root-beer aroma.
For more on growing hoja santa and to watch a short video with Mexico's chef Federico López on all sorts of Mexican cooking greens, see below.
Grilled snapper wrapped in hoja santa
SERVES 2 to 4
4 fillets (1 lb.) Pacific snapper

About 1 1/2 tbsp. olive oil
1 large orange wedge
Kosher salt
Minced red or green serrano chile (optional)
4 large fresh hoja santa leaves, stems trimmed
1. Heat grill to medium (about 375°). Put the snapper in a wide bowl and coat it in about 1 tbsp. olive oil. Squeeze a little orange juice on top, then season to taste with salt and a little chile.
2. Lay the hoja santa leaves flat. Cut and stack each fish fillet as needed to fit at the base of a leaf, leaving enough leaf open to enclose the fish. Fold the sides of the leaves over the fish, then roll to enclose. Secure ends of leaves with toothpicks. Brush outsides with more oil.
3. Grill, turning once, until the fish is just opaque in the center, 6 to 8 minutes.
Growing hoja santa
You can order hoja santa from Companion Plants. Johanna Silver, our test garden coordinator, recommends watering the plant every few days and growing it in filtered sunlight.
Mexican greens with chef Federico López
I first learned about hoja santa at Food & Wine's Food of Mexico festival in Ixtapa and Zihuatanejo this spring when Federico López, one of Mexico's top chefs, did a demo on cooking with quelites, or Mexican greens. Click below to hear what he has to say. If you hear crashing surf and seagulls in the background, it's because we were just a few yards from the Pacific ocean!
Keep Reading: