5 Delicious Vietnamese Herbs to Grow and Eat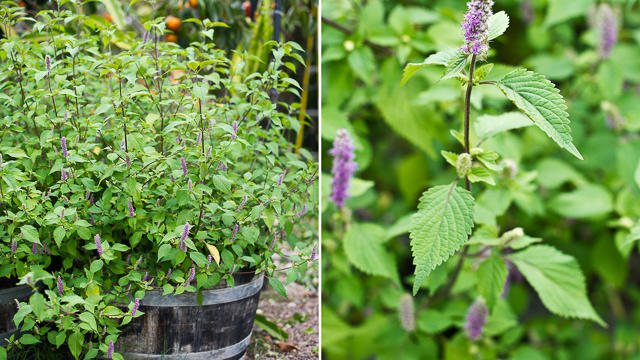 You may know today's guest bloggers, Todd Porter and Diane Cu-Porter, from their gorgeous blog whiteonricecouple.com. They're also com…
You may know today's guest bloggers, Todd Porter and Diane Cu-Porter, from their gorgeous blog whiteonricecouple.com. They're also commercial travel, lifestyle and food photographers and authors of the cookbook Bountiful: Recipes Inspired from our Garden. In their spare time they travel, hike, camp, garden, cook, feed family and friends, and are good doggie parents to two spoiled dogs. 
If you're a fan of growing fresh herbs and cooking with herbs in your recipes, consider adding 5 delicious and beautiful Vietnamese herbs to your collection. Vietnamese cuisine is studded with fragrant herb leaves and stems that brighten each savory bite. Mint, basil and cilantro are the ones you'll most commonly find at mainstream Vietnamese restaurants. But if you're an obsessed gardener and adventurous eater, these 5 interesting and traditional Vietnamese herbs will heighten every bite and grace your garden with unique color and texture.Vietnamese Balm – Kinh Gi
Vietnamese balm leaves are usually a brilliant green with serrated edges, but in fall, the plant explodes in a gorgeous display of purple flowers. The beautiful Vietnamese balm herb is lemon-scented with a suggestion of mint. Because of its bright lemon flavor, the leaves are wonderful in these fresh garlic chicken spring rolls or wrapped with lettuce in fried spring rolls.
Get seeds to grow.
Vietnamese Coriander – Rau Răm
This trailing plant has long, slender leaves with a slight dark coloration in the center. With spicy, musky, and slightly lemony and bitter flavors, Vietnamese coriander is fantastic in salads and grilled dishes. We load our Vietnamese chicken salad with Vietnamese coriander.
Get seeds to grow.
Vietnamese Perilla – Tiá Tô
Vietnamese perilla has striking leaves that are green on top and purple on the undersides. In the kitchen, the earthy and fragrant leaves are popular in Vietnamese soup dishes. In the garden, the beautiful Vietnamese perilla plant adds a great pop of color and texture to displays.
Get seeds to grow.
Sawtooth Herb – Ngò Gai
Also known as Mexican coriander, these long, slender, green serrated leaves are very fragrant, with a concentrated cilantro flavor. Sawtooth herb is making more appearances on restaurant pho noodle soup herb platters, but it's commonly found in Vietnamese home kitchens in soups and spring rolls. We like to replace regular cilantro with sawtooth herb for an extra pop of flavor in our Vietnamese fried chicken recipe.
Get seeds to grow.
Fish Mint (Herb) – Diếp Cá
These spade-shaped leaves are not commonly used in American-Vietnamese restaurant dishes because of their bold fishy flavors.  The exotic and strong scents of fish mint make it very unique. But it is very popular in traditional home dishes of grilled meats and fish soup. It's also eaten raw in herb noodle salads and fresh spring rolls.
Has anybody found a seed source for growing this one?
We're especially obsessed with eating these Vietnamese herbs in our fresh spring rolls. Here's a collection of our popular spring roll recipes and a tutorial on how to roll spring rolls.
Keep Reading: