Breakfast in Bed for Your Valentine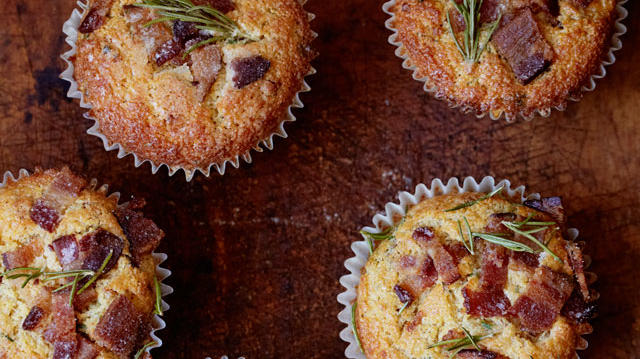 No matter our job title here at Sunset—from Travel Editor to Production Manager—we all love to share recipes, and, back in November, ...
No matter our job title here at Sunset—from Travel Editor to Production Manager—we all love to share recipes, and, back in November, we decided to take our love of food online with the Sunset Cookbook Club. Each month, a group of Sunset staffers chooses one or more inspiring cookbooks by Western authors and we…cook the books! Each of us makes one recipe, and then shares his or her results here on Westphoria.
This month, we wanted a book that offered plenty of choices for a Valentine's Day gift—breakfast in bed. (Our significant others are so lucky.) And frankly, we'd just come off a solid month of our Eat Fresh Challenge, and we craved baked goods. The cookbook that beat out the contenders: Zoe Nathan's Huckleberry, a gorgeously produced, charmingly personal book that promises to fill our kitchens with brioche, doughnuts, savory frittatas, and other scrumptiosities from the LA bakery and café of the same name. So this month, we're deep in eggs, butter, and sugar.
And here's Zoe Nathan herself, from the book's introduction, blowing away our last bits of commitment to January's diet: "When someone comes into Huckleberry for breakfast and tries to abstain from pastries because they are trying to be 'healthy,' I constantly want to yell (and those who know me know that sometimes I do), 'Get off your juice fast! This is healthy; sitting down for a few moments and slowly eating a homemade muffin with a beautiful latte is good for you. Yoga is not the only place you should slow down and breathe!' "
A little recap of last month's Sunset Cookbook Club: We delved into Deborah Madison's The New Vegetarian Cooking for Everyone.
 *Senior Travel Editor Andrea Minarcek uncovered "a trove of herby goodness" when she cooked Mashed Potatoes with Herbs and Olive Oil.
 *Editorial Assistant Megan McCrea came to appreciate the power of cayenne and salt while cooking Cheese Toasts.
 *Senior Web Editor Jessica Mordo discovered that Roasted Cauliflower with Turmeric, Spice, and Cilantro would please a picky three year-old.
 *Digital Editions managing editor (and lifelong Deborah Madison aficionado) Erika Ehmsen found her culinary soulmate in Over-the-Top Holiday Sweet Potato Gratin with Red Chile and Cream.
 *Production Coordinator Margaret Sloan freed her inner Play-Doh artist and baked positively heroic Semolina Coins.
 *Research Chief Michelle Lau turned Many-Layered Strata-making into a fun family affair—with delicious results.
 *Photo Director Yvonne Stender baked a Winter Jewel Upside-down Cake so tasty that it will return for an encore next Thanksgiving.
 *Food Editor Margo True prepared a Kale Salad with Hot Cider Vinaigrette that was a revelation—so easy and tasty it's probably going to join her family's holiday canon.
Come into our kitchens! Leave comments on our posts, or share notes and photos from your own kitchens on Facebook, Twitter (@SunsetMag), or Instagram (@SunsetMag) using #SunsetCookbookClub.
Want more ideas for scrumptious breakfast delights? Check out these delicious dishes.
Keep Reading: