The Easiest Grilled Steak for Labor Day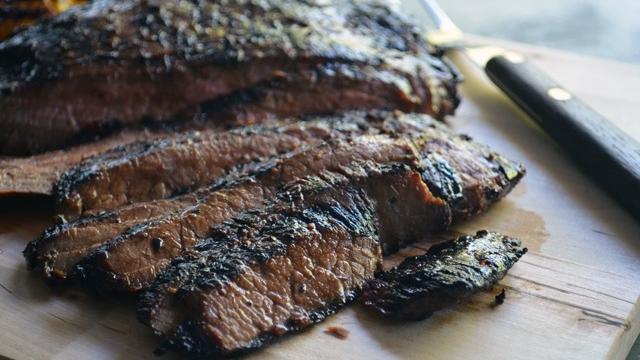 Simple and delicious, this ginger/soy steak is the perfect note to end grilling season on.
Anyone else feeling like a lazy griller at this point in the summer? Sure, you know how to mess with two-zone fires, and smoke with wood chunks, and all that. But if you just want to make easy, really delicious grilled steak for Labor Day, you need Sunset's recipe for Soy and Ginger Flank Steak. The salty-sweet teriyaki-style marinade goes together in about 5 minutes, especially if you use a food processor to mince the ginger and garlic. (Remember the lazy part?) Marinate the meat for a couple of hours, set the steaks on a hot grill (the recipe makes enough for 2 flank steaks), and they're done in 10 or 15 minutes. Easy!
A Few Options
Freeze the steaks in the marinade. You can start the recipe anytime you have a few minutes, and thaw it whenever. (It keeps 3 months in the freezer.)
Marinate the steaks in 2 bags so you can grill one now, one later.
Take the steaks camping. If you pack the meat and marinade frozen in your cooler, it will act like a mini ice block as it thaws.
Use the marinade to season veggies. After you put the steaks on the grill, dunk vegetables like sliced bell peppers and onion wedges in the leftover marinade and grill them alongside the steaks. (Just be sure they get nice and hot, since the marinade was used for raw meat.)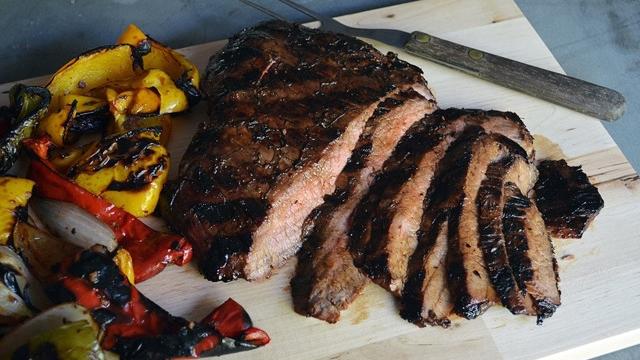 Soy and Ginger Flank Steak
SERVES 8 (MAKES 2 STEAKS) / 20 MINUTES, PLUS AT LEAST 2 HOURS TO MARINATE
Sunset reader Stephanie Stephens of San Leandro, California shared the recipe.
2 flank steaks (about 1 1/4 lbs. each), fat-trimmed
2 tbsp. minced fresh ginger
4 tsp. minced garlic
1/2 cup reduced-sodium soy sauce
6 tbsp. dry red wine
3 tbsp. honey
Put steaks in a 1-gal. resealable plastic bag. Combine remaining ingredients in a 2-cup measure and pour into bag. Seal bag, turn to coat meat, and chill at least 2 hours or until next day, turning occasionally.
Heat a grill to high (about 425°). Lift steak from marinade and grill (with lid closed), turning once, until as done as you like, 10 to 15 minutes for medium-rare.
Transfer steak to a cutting board and tent with foil. Let rest 5 or 10 minutes, then thinly slice across the grain.
---
Read the 2021 Harvest Issue Right Here
Get one year of Sunset—and all kinds of bonuses—for just $24.95. Subscribe now!
Keep Reading: