The Recipes You Should Be Cooking This September
From spiced short ribs to homemade gnocchi, these 20 dishes will get you in the mood for fall
As much as we dread saying goodbye to summer, there's a big part of us that can't deny the pure joy that comes with the start of a new season. September brings cooler temperatures, peak fig season, and an excuse to eat our favorite comfort food dishes in cozy sweaters. Now that we've started the transition away from grilling season, we're crushing on cozy stovetop dishes like Moroccan vegetable stew and seasonal produce like butternut squash, apples, and, yes, those last summer tomatoes. These are the recipes we'll be making on repeat this month.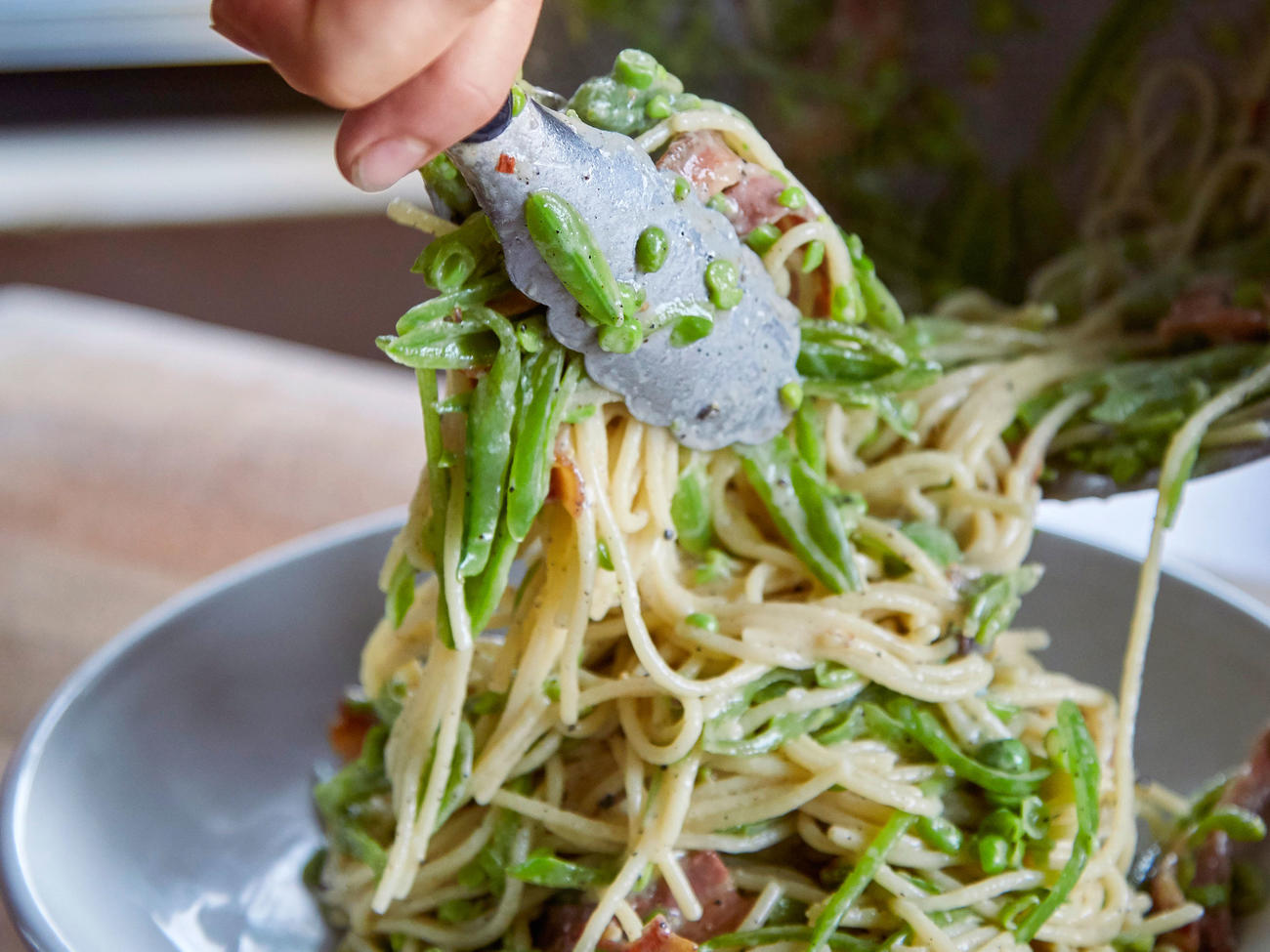 Weeknight
Pasta alla Gricia with Slivered Sugar Snap Peas
Guanciale (cured pork jowl) and pecorino are the base of this simple Roman dish from chef Joshua McFadden of Ava Gene's in Portland. McFadden also adds thinly sliced snap peas for a fresh, green note to the super-rich pasta.
Mu Shu Mushroom
This vegetarian take on the traditional northern China dish swaps out pork in favor of wild mushrooms. You can use cremini or other fresh mushrooms instead, or you can also use wood-ear mushrooms for a more traditional take.
Broccoli Romanesco with Green Herb Sauce
Don't let romanesco's otherworldly appearance intimidate you if you haven't cooked it before. This recipe only requires you to steam until tender, then top it with a rustic, herby sauce of parsley, oregano, thyme, lemon, capers, shallots, garlic, and extra-virgin olive oil.
Turnips Anna
There's such a hearty amount of bacon, cheese, and butter in this turnip-forward take on Pommes Anna, the classic French dish of thinly sliced potatoes, that you'll want to eat a slice and then settle in for the night. Pair with an acidic, Alsation-style white wine to cut through the richness. 
Chicken Sausage and Vegetables Sheet Pan Supper
We love a sheet pan dinner. They're fast, easy, and satisfying. This autumnal one includes onions, Brussels sprouts, Fuji apples, and chicken sausage.
 
Dinner Party
Roasted Cauliflower with Pickled Onion and Yogurt Sauce
This recipe brings Filipino flair to simple roasted cauliflower. The sweet, tangy pickled onions and currants are based on a condiment called atchara, and the vinegar in the yogurt sauce is inspired by sawsawan dipping sauces.
Fresh Goat Cheese and Radicchio Salad with Figs
Take advantage of fig season with this salad, which uses the fresh, ripe fruit for a touch of earthy sweetness. The bitterness of radicchio is offset by tangy goat cheese for the perfect fall bite. 
Chicken and Roasted Figs
Yep, more figs! This time, they get a nice jammy texture as they simmer with chicken in a garlic-honey sauce. For crisp chicken skin, resist the urge to spoon sauce over it during baking.
Butternut Squash Gnocchi
Fall is the ideal time for those fluffy, pillowy bites otherwise known as homemade gnocchi. These butternut squash dumplings are slightly sweet, and only need to be topped with melted butter and parmesan…lots of parmesan.
Grilled King Salmon with Asparagus, Morels, and Leeks
This stunner of a dish is the perfect main course for a family-style dinner. Use asparagus, morel mushrooms, and leeks, or get creative and use your favorite produce from the farmers' market in this endlessly versatile recipe.
Spiced Short Ribs with Roasted Baby Carrots and Cipollini Onions
Warm, comforting short ribs are paired with baby carrots and onions for a cozy dish that pairs best with a dark-fruited Petite Sirah.

Great for Leftovers
Farro Salad with Apples, Haloumi, and Herbs
Meet the recipe that will become the work desk lunch that you'll actually look forward to eating all week. Tip: This salad is best with apples that soften when cooked but still hold their shape, like Braeburn or Granny Smith. 
Moroccan Vegetable Stew
Make a batch on Sunday and enjoy bowlfuls through the week. This stew is full of nuts, spices, and vegetables like carrots, zucchini, eggplant, and cauliflower.
Harissa-Roasted Chicken with Chickpeas
If you're on Team Chicken Thigh, this is the dish for you. Bone-in chicken thighs are marinated in a yogurt-harissa mixture before roasting in the oven over chickpeas, onions, and carrots.
Smoky Tofu with Tomatoes
This recipe comes from San Francisco chef Brandon Jew of Mister Jiu's, who cold-smokes his tofu for 30 minutes before tossing into a hot wok with charred peppers and tomatoes. Instead we use smoked olive oil for an easier at-home version with the same smoky flavor.

Dessert
Almond Torte with Grilled Figs
Take further advantage of fig season with this torte, which we deem 100 percent acceptable to eat for breakfast, dessert, and everything in between. Almond flour gives it a rich, buttery texture and the combination of almond extract and sliced almonds heighten the flavor.
Marmalade Cookie Sandwiches
These elegant, snackable cookies are filled with orange marmalade and topped with a glossy chocolate coating.
Corn Flour and Orange Blossom Cake
Finally, all the flavor of cornbread baked into a fluffy, golden cake. Here, it's topped with whipped cream, crème fraîche, and curls of candied orange zest.
Almond Butter Cookies
It's a rookie mistake to eat these craveable cookies without a cup of tea in hand. Think of traditional almond cookies, but an even more buttery version.
Mini Almond and Grape Cakes
Inspired by the classic French financiers, these small almond cakes are dense and perfectly almond-y with just a hint of orange zest. After baking, the grapes become jammy and even sweeter. 
Keep Reading: