How to Throw an Elegant Hawaiian Feast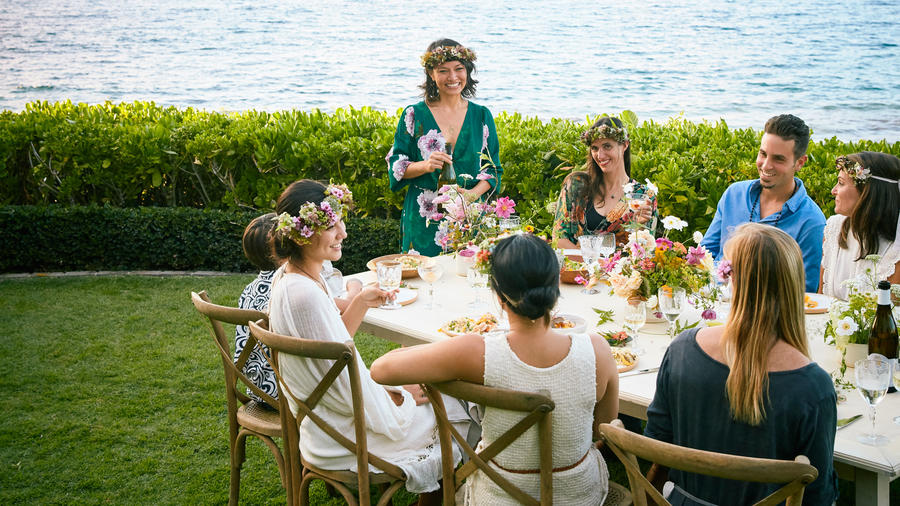 With a maker and food scene on the rise, a new kind of supper club invites you to slow down, craft, and indulge in Hawaiian delights
The aroma hits you first, a heady mix of briny air and sweet, citrusy plumeria. A garland of the white and yellow blossoms hangs between two palm trees at the entrance to a shady patch of lawn set just above an umbrella-dotted Maui beach. At the center stands an intimate dinner table draped with wildflowers and artisan ceramics—your first indication that this is no South Shore luau.
The dreamlike party is the creation of Amanda Robson, founder of the Feast Hawaii pop-up dinner series. Each event revolves around a farm-to-table meal and intricate crafts that use local materials, inviting guests to relax and tune in to their surroundings throughout the evening. Tonight's setting is the Four Seasons Resort Maui at Wailea, with the West Maui Mountains shrouded in a halo of puffy white clouds in the background. If you look to the Pacific Ocean, you can catch the faint shimmer of a whale's spout hanging above the sea. "Nature fuels our inner artists," says Robson, a Maui native and California Culinary Academy alum. "And it pulls us into the present moment."
Robson grew up in the sleepy up-country near Haleakala (the island's highest peak), where homesteaders have long cultivated crops using the rich, volcanic soil. But when she moved back to Maui four years ago after a career as a creative director in Los Angeles alongside her choreographer husband, Wade, she discovered a renaissance afoot. The rustic up-country towns of her youth—Makawao, Haiku, and Kula—were attracting a new generation of makers, organic farmers, and designers. So Robson created Feast Hawaii to bring them together onto one stage four times a year. Among them are Waikapu calligrapher Alannah Andersen, who writes the menus, and Hana's Karina Subijana, of Altar Ceramics, who hand-throws clay laced with iron to create speckled plates. "When people think of Maui, they think of the beach," says Robson. "But away from the touristy coast, there is this wonderful community living in the mountains and on farms. It's a slow, reverent lifestyle I want to share."
Maui's dining scene had also matured while she'd been on the mainland, she says, thanks to an uptick in chefs cooking with island ingredients. "Limes, sweet onions, ginger, corn—there's a wonderful subtlety to the seasons, and it comes through in what's grown here," says Robson, who uses the table as a canvas to showcase the island's local produce and flowers.
At today's dinner, she transports these up-country sensibilities to the beachfront lawn at Wailea. Each of the eight table settings is graced with a miniature bouquet of 'a'ali'i, tree magnolias, irises, roses, lavender, and hydrangea arranged by florist Mandy Grace. (The cuttings themselves were provided by Reba Dodge's Kula farm.) As chef Bella Toland of Travaasa Hana grills sweet Kauai shrimp over kiawe wood, mixologist Stephani Smith prepares a pitcher of camellias—a blend of grapefruit juice, chamomile-infused local honey, prosecco, and organic vodka that her husband's family distills in Kula. The slightly effervescent drink is smooth, with a hint of tartness, and goes down easy in the vintage etched coupe glasses that Smith garnishes with rosebud-shaped grapefruit rinds.
With cocktails in hand, guests kick off their shoes and spread out on vintage kantha blankets, where Dodge demonstrates how to weave various blooms into elegant lei po'o (flower crowns). At first, people are tentative as they trim stems and carefully braid raffia around bunches of Queen Anne's lace. But following a few camellia refills (why not, right?), creativity flows freely. Koa, Robson's 7-year-old son, passes up the pink and purple hydrangeas and instead builds a crown of triangular native palapalai ferns.
After everyone helps each other tie the floral tiaras around their heads, the group gathers at the table for a family-style feast. Guests fill their Maui-crafted ceramic plates with Bella's shrimp, now dressed in a zesty basil lemon pistou, as well as a marigold-flecked fried rice prepared by private chef MiJin Kang. Toasted macadamia nuts add a surprising crunch to Toland's juicy, bright papaya salad that's as colorful as the arrangement of zinnias and orchids at the center of the wooden dining table. The conversation lingers, revolving around crafting and different combinations of flowers to use at home in the future.
As if on cue, the sky begins to turn a cotton-candy pink during dessert—a tangy lime tartlet from Four Seasons' pastry sous chef Emily Rosenberg. Only when every last crumb of the fennel seed–studded graham cracker crust is gone do people pick up their smartphones for the first time all evening and leave the table with a sense of urgency. What's calling them? The island's celebrated sunset, making an appearance a few yards away at Wailea Point. Toasts are made, obligatory group shots and selfies ensue, and then Robson and her guests simply stand there and linger, each silently taking in the moment.
DIY Lei Po'o
Step 1: Prep
Gather botanicals that will hold up well without water, such as ferns, hydrangea, or globe amaranth. Cut to a 5-inch length and remove any leaves below the top 2 inches (the portion that the lei po'o will display at the end).
Step 2: Braid
Tie four 3-foot-long raffia cords (check craft stores) into a knot 6 inches from the end. Braid three of the strands. Lay a stem on top of the braid, then wrap the loose strand around the stem twice. Add another stem, slightly lower than the first, and wrap.
Step 3: Weave
Continue wrapping more stems until the lei is long enough to fit around the crown of your head. When finished, knot the braid and loose strand around the last three stems three times. Tie your lei po'o onto your head, and trim any excess raffia.
The Menu
The Camellia
Stephani Smith, founder and creative director of Garnish Craft Cocktail Catering in Maui, turned to chamomile flowers to flavor this delicate cocktail. For a garnish, she created a tiny camellia look-alike from coiled pink grapefruit zest.
Recipe: The Camellia
Grilled Shrimp with Basil Lemon Pistou
For Feast Hawaii, chef Bella Toland of Maui's Travaasa Hana resort added tender yellow corn sprouts to the platter. Grown indoors on the island year-round, they're a few weeks old and taste just like corn. This for-the-mainland version excludes them but is just as delicious.
Recipe: Grilled Shrimp with Basil Lemon Pistou
Fried Rice with Flowers
Fried rice is a Hawaiian staple, and MiJin Kang, owner of Nattokimchee Corporation in Maui, pretties hers up with flowers—folded into butter for dolloping on the hot rice at the end, to give it a glossy sheen, and also strewn on top. Any mild edible flower can be substituted for the marigolds and nasturtiums.
Recipe: Fried Rice with Flowers
Hibiscus Citrus Papaya Salad
Firm, smooth Maui papayas slice beautifully for this salad, created by Bella Toland to go with grilled shrimp. Although you can use Mexican papayas, they're a bit earthier-tasting and the slices tend to fall apart.
Recipe: Hibiscus Citrus Papaya Salad
Lime Tartlets with Orange Blossom Cream and Toasted Fennel
Emily Rosenberg, a pastry sous chef at the Four Seasons Maui at Wailea, added toasted fennel seeds to give the tart a subtle crunch. You may have leftover dough, but you can use it to make cookies (sprinkle them with turbinado sugar and bake at 325°). You'll have leftover lime curd too. It's delicious with ice cream or spooned into biscuits or onto pancakes, and lasts a month in the fridge.
Recipe: Lime Tartlets with Orange Blossom Cream and Toasted Fennel
Keep Reading: