Recipe: Churro Waffle Ice Cream Sandwiches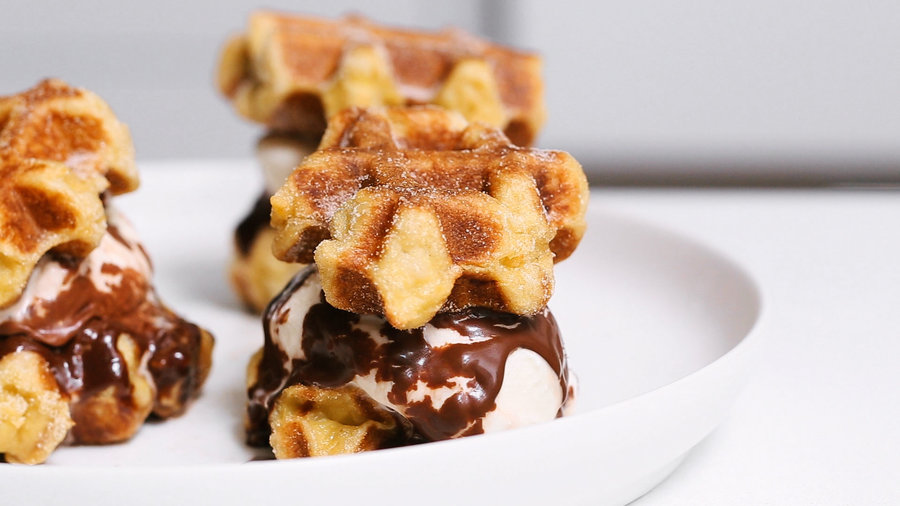 This decadent treat is just as tasty as it looks
MAKES 4 | ABOUT 10 MINUTES
1/4 cup unsalted butter
2 tbsp. brown sugar
1 tsp. vanilla extract
1/4 tsp. salt
1/4 tsp. cinnamon
1 cup all-purpose flour
4 eggs
1/2 cup heavy cream
4 oz. semisweet chocolate, chopped
1/2 cup sugar
1/2 tsp. cinnamon
Vanilla ice cream
1. In a medium saucepan, heat 1 cup water, the butter, sugar, vanilla, salt, and cinnamon over medium-high heat until bubbling at the edges. Add flour and whisk until no lumps of flour remain.
2. Remove from heat. Add the eggs one at a time, whisking well after each addition. The dough will be very glossy and thick. Let stand 5 minutes.
3. Meanwhile, preheat a Belgian waffle iron and spray with cooking spray. Spoon 1/4 cup dough into center of each of the 4 waffle sections. Close lid and cook until golden brown, 5 to 10 minutes. Repeat with remaining dough.
4. Meanwhile, microwave cream 2 minutes. Quickly stir in chocolate and set aside. Mix sugar and cinnamon on a small plate.
5. Coat cooked waffles in cinnamon sugar mixture. Top 4 waffles with ice cream and chocolate sauce, then top each with a second waffle. Sprinkle more cinnamon-sugar on top. 
Keep Reading: