This Is the Secret to Making Delicious Hot Pot at Home
Skip the wait that comes with eating out. A few tools and some special cuts from your butcher can do the trick.
We only recommend things we love. If you buy something through our site, we might earn a commission.
Hot pot is pretty simply defined by its name: It's a pot of hot broth served over a small flame to keep it bubbling while various meats and veggies are dipped in. While the ingredients found in a traditional hot pot may vary from region to region, Vietnamese hot pot tends to be much more vegetable-based while Chinese hot pot focuses on thinly sliced meats and seafood.
There is inarguable ease that comes from a night out with friends over a table at your favorite hot pot spot, though there can sometimes be long waits and time limits on tables—and ordering all of the meats and sides you want can create a pricey tab. 
We love to find ways to make some of our favorite dishes in the comfort of our homes, and hot pot is no exception. If you haven't yet attempted to create this memorable experience at your own kitchen table, we're here to help.
By investing in a few tools and requesting some special cuts from your butcher (or putting your knife skills to the test) you can have a simmering and delicious hot pot with all of the toppings your heart desires in your dining room. 
Some hot pots allow for two bases with a divider that splits the pot down the middle. This way, you can make a spicy broth on one side—perfect for meats and tofu—and a clear broth on the other for boiling vegetables that may need a little more time. 
To boost the flavor of the meats, try marinating them lightly—and don't forget dipping sauces. Keep reading for all of our tips to make hot pot at home, plus variations on traditional sides and flavor-packed bases.  
Essential Equipment 
There are a few ways to set up hot pot at home. You can use a hot plate with a pot on top for your broth. Or, if you're keen on doing it more often and are willing to make the investment in a standalone base, there are a variety of electric pots to choose from. Fly By Jing, makers of cult-favorite chili crisps, dumplings, and condiments, recently released an all-in-one hot pot set. 
The set comes with an electric pot, chopsticks, slotted spoons, and a soup base made with a "warming medley of ginger, star anise, and clove, and rounded out with Sichuan pepper extract to electrify your tastebuds," according to Fly By Jing's website.
If you're looking to build out your own hot pot set-up piece, you'll want to pick up a few tools. To hold onto each ingredient you dunk into the broth base, tongs or metal chopsticks work best. Similarly, slotted spoons help scoop out any larger items that may sink to the bottom of the pot and a ladle will spoon generous amounts of broth into each eater's bowl. 
Prioritize the Broth
Making Fly By Jing's hot pot base is as easy as adding water and bringing it to a boil. You can also create your own broth base with chicken and goji berries for a unique flavor profile, or lean into a vegetable-based broth with mushrooms and miso.
If your broth is too concentrated in flavor, you can add water as it starts to boil down. Pastes like gochujang and miso are great for adding a boost of heat and creamy umami flavor, while a simple chicken broth is nice for a lighter base if everyone isn't comfortable with spice.
The joy of a double-based pot is that two broths can be housed over one flame. Use one side for meat and the other for vegetables if catering to vegetarians, or a soft and spicy broth for those with sensitive taste. As you cook individual pieces of meat and add aromatics to the broth, it will deepen and make for a delicious soup to sip on when the meat is gone.
Ingredients to Dunk, Dip, and Devour
Root vegetables like taro, purple sweet potato, or even little Yukon gold potatoes make a great addition to hot pot, as they can sit in the broth until tender and add starchiness to the broth. 
Leafy greens are also a must-have. A combination of lettuce, cilantro, scallions, and Thai basil adds crunch and aromatic flavors when hot pieces of freshly cooked meat are wrapped inside. 
It's also easy to add seasonal ingredients to the pot like asparagus, eggplant, mushrooms, and snap peas. Traditionally, you'll see enoki mushrooms floating in hot pot broth, which can be found at most local markets. 
You'll want to make sure you have spicy, sweet, and sour sauces for dipping, depending on the ingredient. Some common sauces served alongside hot pot are sriracha, sambal chili sauce, hoisin, ponzu, sesame, and soy sauce. Mix a few of these together to create a combination tailored to your taste—or put a little of each in a small bowl.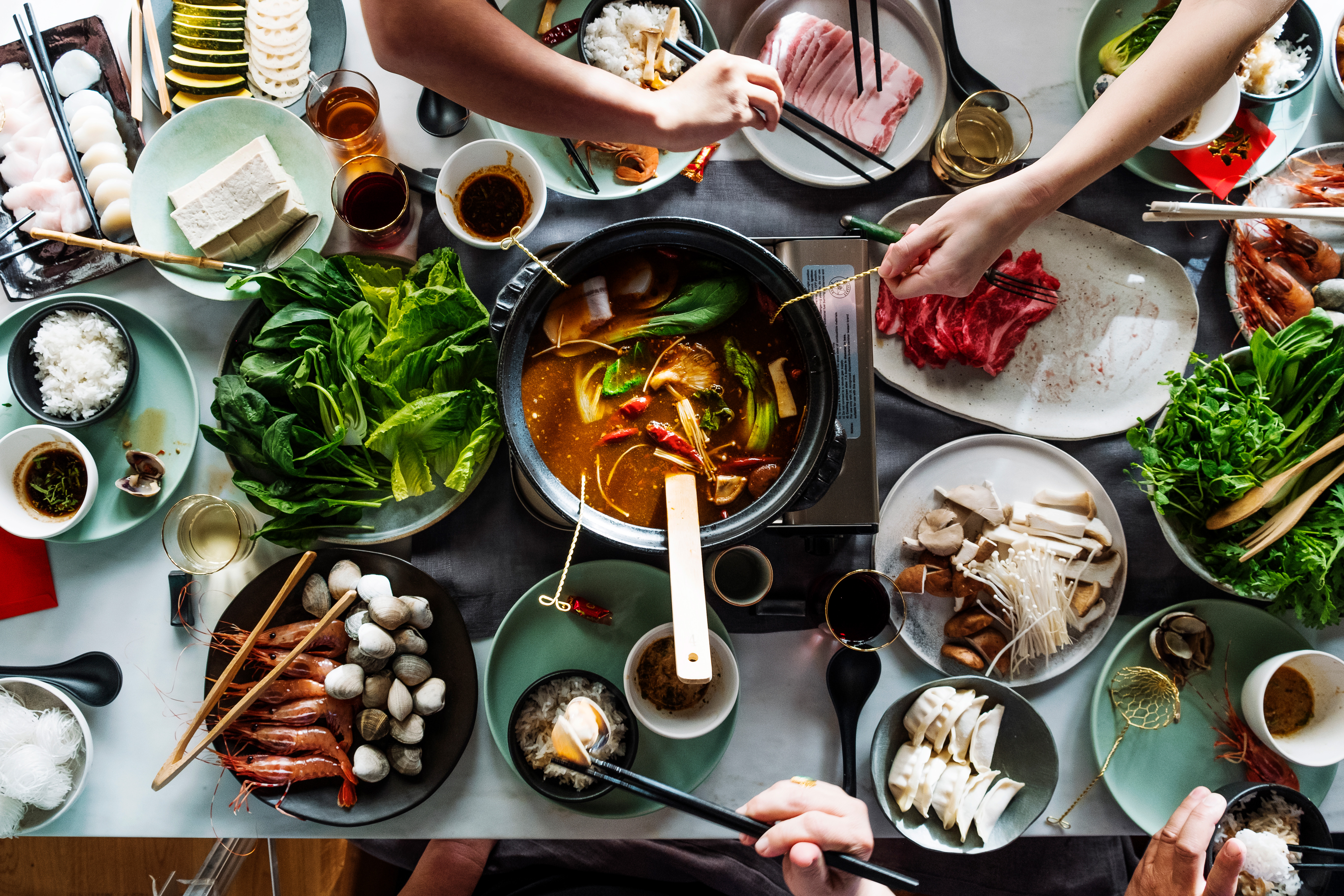 For the meat that makes for the main event of your hot pot dinner, just about any protein that lends itself to being thinly sliced will do. Pork belly, rib-eye, chicken thighs, and short ribs make for simple cuts that you can find at most butchers or grocery stores. 
Bulgogi, which is popular in Korean barbecue for its crispy exterior, cooks quickly in hot pot as well; you can find it at most Korean markets. If you can't find bulgogi or short ribs, a classic rib-eye steak can be sliced as thin as possible for a similar effect. 
To infuse your meat with more flavor before boiling it in savory stock, a simple marinade the night before serving or even a few hours before will amp it up. Combine rice vinegar, soy sauce, green onion, and a little brown sugar in a plastic bag with the sliced meat and let sit until ready to serve. 
Serve It All Up
When you're ready to serve hot pot, just put all of your ingredients in bowls or plates around the base and get cooking once it boils. Tossing heavier veggies into the stock first is a good place to start, as are eggs if you're using them. (They can be soft boiled in about six minutes).
The goal is to cook the meat as you want to eat it as opposed to cooking it and piling it up on your plate for later. This way you won't end up with tons of cooked leftovers. If you have any leftover meat and veggies, you can toss them into a pan the next day for a simple stir fry.
Meats like chicken may take longer to cook than items like beef depending on how thinly they're sliced, and mushrooms taste best after a few minutes but get mushy if left too long. Adjust the acid levels of each bite by squeezing lime wedges over cooked meat and topping it with herbs and aromatics.
However you hot pot at home, each one will get better and better as you find what your favorite flavors are.
---
Search All of Sunset's Recipes
Keep Reading: