Celebrate pesto's premiere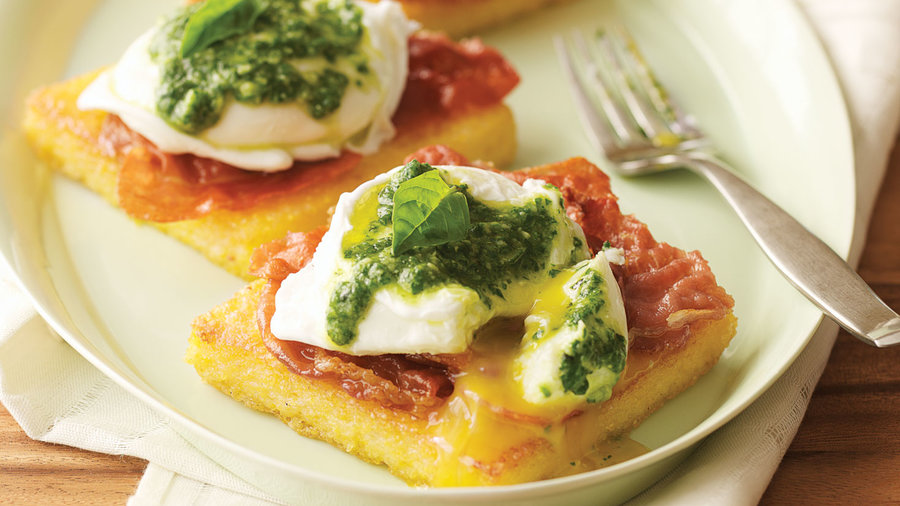 Try Classic Basil Pesto, Parsley Mint Pistachio Pesto, or whip up an Italian spin on Eggs Benedict
Back in 1946, when authentic Italian food was still exotic in this country, Sunset ran its first recipe for pesto, the traditional Genoese sauce of basil, pine nuts, garlic, parmesan cheese, and olive oil.
This was remarkable, given that the era was best known for the introduction of Betty Crocker Cake Mix (1947) and frozen french fries (1948). Spaghetti was beginning to lose its foreign accent, but pesto was unknown to most, having received its first American mention just two years earlier in the New York Times. According to Lynne Olver, food historian and editor of the Food Timeline website, that item was a brief recommendation for a brand of imported canned pesto paste. So Sunset's pesto recipe was likely the first in a major American publication.
For that bit of good fortune, we tip our hats to Angelo Pellegrini, the Tuscan-born English professor and Renaissance man whose writings on food, gardening, and living well (including his best-known book, The Unprejudiced Palate, first published in 1948 and still in print) made him one of the West's most beloved food authorities. Sunset had a long relationship with Pellegrini, who lived in Seattle until his death in 1991, and it's his pesto recipe that first graced our pages.
Pesto, he wrote, "is an extraordinarily pleasant experience both for the nostrils and the palate. Its only disadvantage is that it may unduly whet the appetite. I once knew a man in Florence who wagered he could eat 2 pounds of pasta al pesto … after a normal dinner. The prize was a barrel of Chianti. He won the wager and lived to drink the wine!"
Pellegrini's pesto recipe gave no exact amounts, just a little bit of this, a little bit of that. In June 1959, we returned to pesto with a more standardized recipe, which we reproduce here. 
Long after Sunset embraced pesto, the sauce was still unknown to most American cooks. "Fresh basil was not to be seen in the markets until the 1970s," says Jerry Anne Di Vecchio, who served as Sunset's food editor from 1980 to 2001. "That's when pesto finally came into its own." In the 1980s and 1990s, the sauce became a favorite of chefs and home cooks. We began to get creative, experimenting with different herb-and-nut combinations, as in our parsley mint pistachio pesto recipe from March 1999.
Our final recipe is a pesto dish for the ages, an August 1983 contribution from reader Frank Darlington of Seattle. Baked polenta squares are topped with crispy prosciutto, poached eggs, and pesto sauce. It's an Italian spin on eggs Benedict, which explains the name: uova Benedetto.
Classic Basil Pesto (1959)
Catering to modern tastes, we've reduced the ¾ cup olive oil in the original to a little more than ½ cup. The flavors remain true.
Parsley Mint Pistachio Pesto (1999)
A fresh variation from readers Krista Painter and Amy French, friends who first met in cooking school. According to the recipe notes, "On weekly trips to Pike Place Market, they gathered fresh ingredients for their experiments. One outcome is this rich, green pesto."
Uova Benedetto (Poached Eggs on Polenta with Pesto and Crisp Prosciutto; 1983)
We loved the headnote to the original recipe, which read, "Here is Benedict's robust Italian cousin … a sort of Chico Marx, raffish and resourceful, with neckcloth, short jacket, and elfish hat."
Keep Reading: