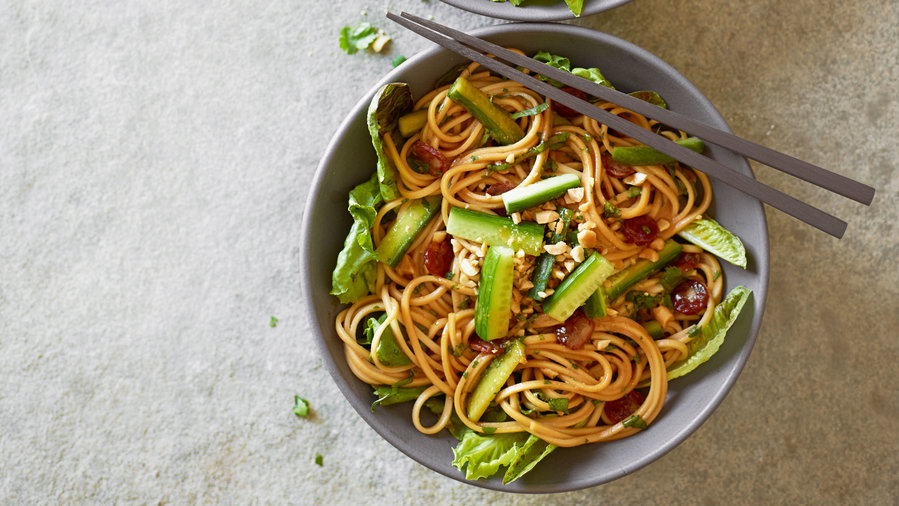 They're making forays into fast-food territory
Asia's answer to the Golden Arches is the noodle house. And in the West, where noodle houses have been dishing up cheap, fast food in ethnic neighborhoods for decades, noodles are establishing fresh turf. Satisfying noodle concoctions ― generous enough to make a whole meal ― are the essence of a swelling throng of bright, trendy restaurants. But going mainstream doesn't mean that the ethnic magic and good value are selling out.
Modest prices, fresh foods, quick delivery, and good tastes sum up the appeal of these new-wave noodle houses. At Oodles of Noodles in Kailua-Kona, Hawaii, everything on the menu is fresh and freshly made. At TK Noodles in California's Silicon Valley, where Tan Lu owns seven of these establishments, a generous portion of Chinese-style noodles costs as little as $2.75 ― add 75 cents for a really large serving. Many noodle houses, such as Noodle Planet in Los Angeles and Noodle Ranch in Seattle, feature a Pan-Asian lineup, including Chinese, Japanese, Thai, and Vietnamese noodle dishes.
In restaurants, noodle dishes are expeditiously composed in assembly-line order; they are also easy and relatively quick to make at home. For special ingredients, such as preserved vegetables, black soy sauce, or beef balls, you may need to shop at an Asian market. But a well-stocked supermarket will have all the basics and the Western alternatives.
THE SALT & PEPPER OF NOODLE HOUSES
Most noodle houses offer an assortment of condiments that you use to season the dishes. Some are basics like soy sauces, Asian fish sauce, white pepper, hoisin sauce, vinegars ― plain or with sliced hot chilies ― and hot chili oils, paste, and sauce. Others, such as the following, are simple to make and enhance most noodle dishes.
Recipes
Keep Reading: