4 delicious wraps for a back-to-school lunch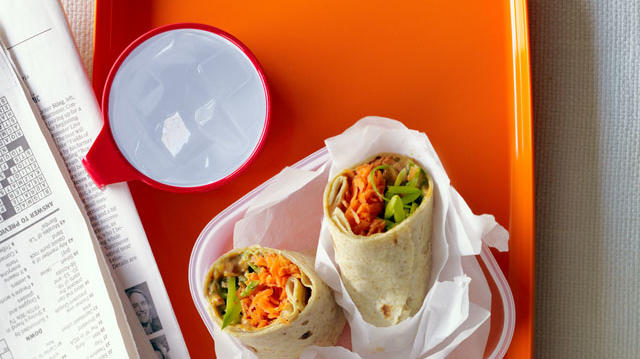 New school year, new ideas for lunch. Parents, we've got ideas to make back-to-school even easier for you: four wrap recipes. Pack these delicious sandwich alternatives for yourself or someone you love. 
Spicy Peanut, Carrot, and Snap Pea Wraps (see photo above)
When simple PB&J just won't cut it, use your favorite brand of peanut butter in this Asian -inspired wrap. Vegetables—mixed with spicy peanut butter—stay crisp until lunchtime.
Leftover chicken—mixed with herb-loaded dressing—gets the royal treatment in this tasty wrap. Kids think it's ranch dressing, and adults know it's something much better. Everyone will love it!
This wrap is the perfect choice for Meatless Monday, or any day you're craving salad but can't be bothered with packing a fork. The simple yogurt dressing will work with any vegetable combination you come up with.
Sliced Filet Mignon Wrap with Pear-Onion Relish and Blue-Cheese Dressing
Pack a filet mignon wrap for an extra-special lunch. Or keep it simple and on-budget by using leftovers or deli meat. We've heard it's also tasty with flank steak.
Keep Reading: