Top 15 Beginner Campgrounds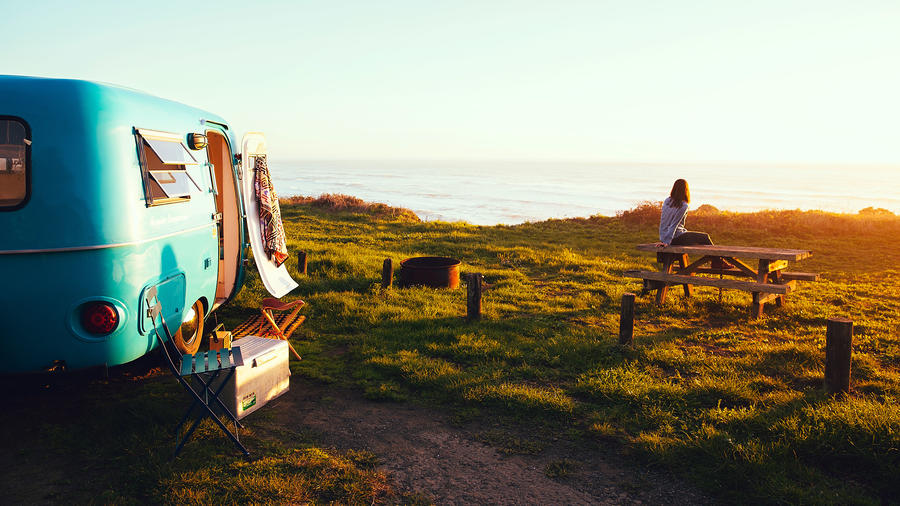 These campsites will turn even the most doubtful campers into true believers
Arizona
Wahweap Campground Glen Park National Recreation Area, Lake Powell 
What better payoff for taking the camping plunge than the finger canyons of Lake Powell? A waterfront campground comes with basic creature comforts (hot showers, shaded picnic tables). After breakfast, the main event: Rent a boat or kayak at the marina to explore what looks for all the world like Zion National Park filled halfway with water. From $23; 888/486-4665.
Fallen Leaf Campground, Lake Tahoe
Set between Lake Tahoe and smaller, mellower Fallen Leaf Lake, the campground makes it easy to enjoy swimming in and boating on both bodies of water. Beginners who feel iffy about sleeping on the ground can rent yurts with platforms and electric lights. You'll find hot showers and a general store. Showers, grocery, fishing, yurts/tent cabins/cabins; recreation.gov; from $32; open May 16–Oct 12.   
Howard Creek Campground, Westport–Union Landing State Beach
This blufftop campground on the Mendocino coast may be better suited for trailers than for tent camping: There's a steady wind off the ocean and not much privacy. But the view of the King Range meeting the Pacific will wow any first-time camper: It's as spectacular as any in California. parks.ca.gov; $25; no reservations; fishing and vault toilets. 
Main Campground, Samuel P. Taylor State Park
Sun-washed meadows, regal stands of coast redwoods shading quiet Lagunitas Creek—this West Marin park showcases Northern California camping at its loveliest. And it's a great place for beginning campers. The mostly paved Cross Marin Trail makes for easy hiking and biking, and civilization is close enough that when you realize you've forgotten eggs, a store is only a 15-minute drive away. Two cautions: Sites can be hard to book on weekends, and the drought may limit water use—check to see if you need to bring water. Fishing; parks.ca.gov; $35; $8 park entry.
North Beach Campground, Pismo Beach State Park
Set behind Pismo Beach's white sand dunes, this grassy camp supplies wind protection plus hot showers. From most sites, a two-minute walk leads to the waves. The wide beach is ideal for beachcombers, while surfers, kayakers, and anglers ply their pursuits in the water. The restaurants of downtown Pismo Beach, 1 mile away, provide dinner options. In winter, thousands of monarch butterflies roost in the eucalyptus trees. Fishing; slostateparks.com; $35.
Live Oak Grove Campground, Caspers Wilderness Park, Orange County Camp out under the oaks and sycamores in the Santa Ana Mountains without forgoing life's little necessities—like flush toilets. Get oriented to the great outdoors at the Saturday night campfire talk or on the Sunday morning ranger walk. The 2.5-mile East Ridge Trail makes a great beginner's hike. $27; 949/923-2210. 
New Brighton State Beach, Near Santa Cruz 
Set on a pine-shaded bluff above an endless white beach, New Brighton's 100+ sites get snapped up by those itching for a beach weekend—without the triple-digit nightly tab. The beach is the real draw, and the hot showers don't hurt, but another bonus is that if you forget your matches or just don't feel like cooking, you can easily grab takeout in town, a five-minute drive away. After all, this is vacation, right? reserveamerica.com; from $35; 831/464-6330. 
Colorado
Golden Gate Canyon State Park, Outside Denver 
Yes, this campground 20 miles from Boulder or Denver has extras like electricity, plumbing, and laundry. But wander beyond the campsites and you'll find big mountain appeal in nearly 12,000 acres of forest, rocky peaks, aspen-laced meadows, and miles of trails for hiking and mountain biking. If tent camping is a little too … rocky for you, reserve one of the cozy cabins or yurts ($60). $16;  303/582-3707. 
Idaho
Huckleberry Tent and Breakfast, Clark Fork
Yes, this one-of-a-kind resort near Sandpoint qualifies as camping: Canvas and screen are the only materials separating you from the great outdoors, there's no electricity, and a privy serves as your necessary room. But these three tent cabins come with quilt-covered bedsteads and wood-burning stoves. You'll cook your own camp-style dinner over propane burners in the screened outdoor kitchen, but in the morning, campers are served a hot breakfast featuring the property's garden-grown produce. Primitive toilets, fishing, showers, and yurts/tent cabins/cabins; huckleberrytentandbreakfast.com; $135; open early May–Oct 31.  
New Mexico
Sundial Springs, Gila National Forest
Steaming hot springs make this privately run campground northwest of Silver City feel as sumptuous as any spa. Ten RV and two tent sites overlook the San Francisco River, and campers enjoy access to two rock-lined mineral pools. Reserve one (from $20) for a private soak and views across hills where bighorn sheep are known to roam. Showers, fishing, yurts/tent cabins/cabins, and RV/ trailer hookup; sundialsprings.com; from $15; no children under 12.   
Oregon
Silver Falls Campground, Silver Falls State Park
Some of the waterfalls at this Cascade Mountains park, including 177-foot South Falls, drop from overhangs so large that hiking trails actually pass behind the splashing water. That's just one of the cool things about Oregon's largest state park, 25 miles east of Salem. Whether you come for mountain biking, strolling by huge western hemlock and lush sword ferns, cooling off in a Silver Creek swimming hole, or warming up by the fireplace in the 1930s stone lodge, you always have a hot shower to come home to. And even Fido can run (a bit) free: There's an off-leash area for dogs. Showers, fishing, yurts/tent cabins/cabins, and RV/ trailer hookup; oregonstateparks.org; from $19; $5/day park fee.   
Hoodview Campground, Mt. Hood National Forest
The name pretty much says it all: the shark's tooth summit of Oregon's signature peak rising from an alpine forest and mirrored in aquamarine. A prime position on the south shore of Timothy Lake makes Hoodview the most popular of the five campgrounds on this reservoir, where anglers, paddlers, swimmers, and water-skiers proliferate like mayflies. Newbies, wrap your hands around a steaming mug of cowboy coffee and just take in that surreal view. recreation.gov; $17; opens Memorial Day; 503/622-3191. 
Utah
Goblin Valley Campground, Goblin Valley State Park
Roughing it is de rigueur in Utah's rugged canyon lands (where even outhouses can seem like luxuries), but Goblin Valley, west of Moab, is the Ritz-Carlton of the desert. These 24 sites pamper campers with showers and with shade. Two yurts have wooden floors and bunk beds—even swamp coolers offering relief from summer heat. All sites enjoy views of eroded pinnacles and mushroom-shaped rocks; tenters should nab sites 10 through 12, which are tops for seclusion and scenery. Showers and yurts/tent cabins/cabins; stateparks.utah.gov; from $20; $8 park entry.  
Washington
South End Campground, Moran State Park
All five campgrounds in Moran State Park—on Orcas Island in the San Juans—are set among skyscraping evergreens and sit steps away from swimming, paddleboating, fishing, and 38 miles of hiking trails. But it's the 17 sites of the park's South End Campground that have all the creature comforts (showers, real toilets) without the crowds—and you can pitch your tent on the edge of a private beach along sapphire Cascade Lake. Showers and fishing; parks.wa.gov/547/moran; from $23; $10/day park fee.  
Wyoming
Lizard Creek Campground, Grand Teton National Park
Delightfully off the radar for most park visitors, this privately run lakeside campground gives campers the chance to enjoy stunning mountain views without the crowds that clog other parts of the park. Some of its 60 sites sit near the edge of Jackson Lake, with views of the jagged Tetons. Pines separate tents and trailers (the prettiest spots are designated a generator-free zone). And the nearby marina and restaurants increase your dining options. Fishing; signalmountainlodge.com; $22; $25 park entry; no reservations; open Jun 13–Sep 1. 
Unless noted, these campgrounds have potable water and flush toilets.
Keep Reading: