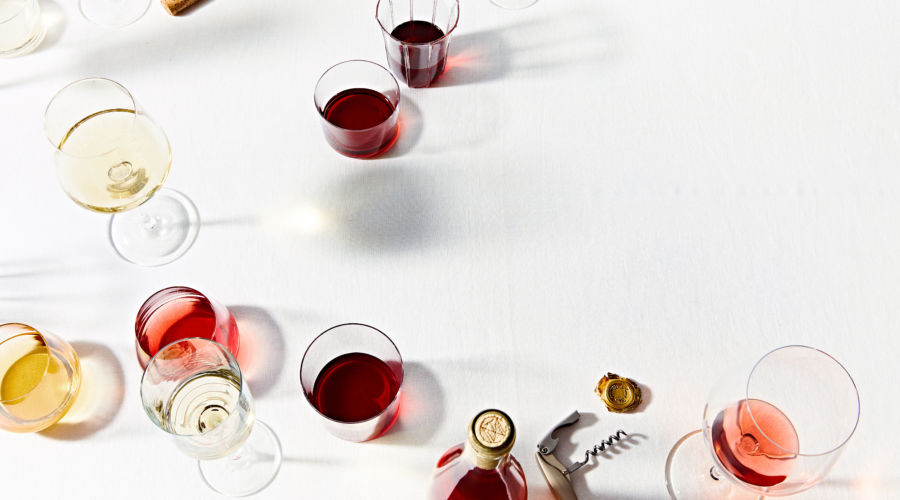 No matter where your tastes trend, our experts have found the bottles worthy of your attention
Sometimes, it's nice to let someone choose your adventure for you—especially when it comes to wine. Having 
a pro pick out tonight's pour is an opportunity to go bold, discover a new appellation or blend, and be utterly surprised. Which is why this year, we turned over the (bottle) keys to six of the West's most dynamic wine experts. Here, they talk about the best juice they've tasted over the past 12 months. Some bottles appear on grocery store shelves; others are rare finds that have to be hunted down. Rosé continues to impress, as do light reds. Labels touting organic and biodynamic farming are on the rise, and we noticed a groundswell of female winemakers joining the ranks. Also, our collective obsession with Pinot Noir isn't going anywhere (and we're good with that). So crack one of the 120 bottles on the vibrant list we've assembled here—think of it as a master toast to Sunset's big anniversary.
The Blind Taster, Patrick J. Comiskey
It's easy to be swayed by pretty labels and mouthwatering descriptions on a store shelf, but what if you take all of that away? Since 2003, Patrick Comiskey has been blind-tasting nearly 1,000 Northwest wines each year as a newspaper and magazine critic. He also wrote the book American Rhône, a look at the renegades who fell for grape varieties from France's Rhône Valley—think Grenache, Viognier, and especially Syrah. "California winemakers certainly led the charge," he argues, "but some of the most exotic and savory American Syrahs come out of Walla Walla, Washington." He's followed the Syrah trail through the wide Columbia Valley down into Oregon, discovering plenty of other gems along the way, from graceful Willamette whites to age-worthy Cabernets. These essential Northwest bottlings are what he's earmarked as modern classics.
2017 EVESHAM WOOD BLANC DU PUITS SEC (EOLA-AMITY HILLS; $16) "Mostly Pinot Gris, this white blend takes advantage of the aromatic pop of Gewürztraminer. With its lovely floral perfume, it's always charming."
2017 KING ESTATE PINOT GRIS (WILLAMETTE VALLEY; $19) "One of the most satisfying, affordable whites in the country: brisk, lingering citrus and apple flavors."
2017 WILLAKENZIE ESTATE PINOT BLANC (WILLAMETTE VALLEY; $28) "Pinot Blanc is often more austere than Pinot Gris. This one's always vibrant and minerally."
2016 CHATEAU STE. MICHELLE & DR. LOOSEN EROICA RIESLING (COLUMBIA VALLEY; $20) "Nothing like German Riesling, but it sure is delicious: juicy and pure, with flavors of ripe yellow apples."
2016 WALTER SCOTT LA COMBE VERTE CHARDONNAY (WILLAMETTE VALLEY; $28) "Ken Pahlow makes extraordinary Chardonnay. La Combe Verte is all vivid lemon-lime tones and salty tang."
2016 COWHORN VIOGNIER (APPLEGATE VALLEY; $35) "This channels warm Southern Oregon days and cool nights into sunny tree-fruit flavors that linger."
2016 ÀMAURICE BOUSHEY VINEYARD VIOGNIER/MARSANNE (YAKIMA VALLEY; $35)
 "An incandescent white wine grounded in the weight of Marsanne, lifted by the peachy succulence of Viognier."
2016 MAISON L'ENVOYÉ STRAIGHT SHOOTER PINOT NOIR (WILLAMETTE VALLEY; $20) "A great, affordable intro to Oregon Pinot Noir, with wafts of forest floor underneath its red fruit."
2015 CRISTOM JESSIE VINEYARD PINOT NOIR (EOLA-AMITY HILLS; $65) "Steve Doerner's Pinot Noirs are legendary in the Pacific Northwest. This one's delightfully spicy—think cherry juice infused with Earl Grey tea."
2015 HEDGES CMS (COLUMBIA VALLEY; $14) "The Hedges family's wines are as good
 as ever. This blend
 of Cab, Merlot, and Syrah is all dark plums and firm grip."
2015 TWO VINTNERS MERLOT (COLUMBIA VALLEY; $32) "Morgan Lee wants to resurrect Merlot. With wines like this—in a lush yet modest style all their own—he may well succeed."
2016 AMAVI CELLARS SYRAH (WALLA WALLA VALLEY; $33) "A benchmark that always over-delivers: purple currant fruit with savory lavender and peppercorn accents."
2015 REYNVAAN IN THE ROCKS SYRAH (WALLA WALLA VALLEY; $85) "Hailing from 'The Rocks' (a band of deep cobblestones south of Walla Walla), this is stylish, luxurious, and exotic, with wild scents of bacon, olives, and smoke."
2016 SLEIGHT OF HAND FUNKADELIC SYRAH (WALLA WALLA VALLEY; $75) "Pearl Jam superfan Trey Busch brings the funk: smoke, bacon, olive, and charcuterie scents, with succulence and driving acidity."
2014 MARK RYAN WINERY CRAZY MARY MOURVÈDRE (RED MOUNTAIN; $48) "Mourvèdre thrives in the warm Red Mountain sun. Think peppery beef jerky, with singing red fruit underneath."
2016 SYNCLINE WINERY SUBDUCTION RED (COLUMBIA VALLEY; $22) "Small portions of Counoise and Cinsault in the blend build spicy complexity, meeting smoky Syrah and heady Grenache."
2015 CANVASBACK CABERNET SAUVIGNON (RED MOUNTAIN; $40)
 "A newer project from Napa-based Duckhorn Wine Company, this has a plush feel to its red fruit, leavened by the fine, dusty, sagelike quality you often get from Red Mountain."
2015 GRAMERCY CELLARS JOHN LEWIS SYRAH (WALLA WALLA VALLEY; $85) "The 2015 shows the burly concentration of a warm vintage. It's a robust, savory wine with dark, figlike fruit."
2015 L'ECOLE NO. 41 ESTATE FERGUSON (WALLA WALLA VALLEY; $65) "These grapes grow on a wind-whipped hill; the basalt bedrock might account for the wine's enduring power. Its leafy edge and impressive structure will reward aging."
2014 ANALEMMA BLANC DE NOIRS SPARKLING WINE (COLUMBIA GORGE; $59) "Made from Pinot Noir grown in the cool Columbia Gorge, this is a bracing sparkling wine: tart strawberry flavors, rippling lemony acidity, and a fine, sophisticated texture."
The Explorer, Randy Clement
Silver Lake is Los Angeles's indie-chic neighborhood, and Silverlake Wine is its vinous epicenter, the place where Angelenos seek out edgy new-wave bottles. Co-owner Randy Clement helms other booming wine venues too, like the Arts District's Everson Royce Bar and, most recently, Triple Beam Pizza in Highland Park. Expect the unexpected at them all. Chillable red? Heck, yeah. Biodynamic orange wine? Bring it. "There's even real wine in aluminum cans now," he adds. These on-fire selections are a journey in a glass.
NV CANTINA FURLANI NATURALE METODO INTERROTTO BRUT NATUR (TRENTO; $40) "Funky sparkling wine from alpine Italy. It's cloudy, but it's got lightning. Think electric lemonade."
2015 SUCCÉS VINÍCOLA LA CUCA DE LLUM TREPAT (CONCA DE BARBERÁ; $20) "Trepat is indigenous to northeastern Spain—this earthy red is one of our go-to's for fall."
2017 KONTOZISIS ORGANIC VINEYARDS A-GRAFO RODITIS (THESSALY; $28) 
"Here, white grapes are left on their skins for 35 days. It has the grip of a red wine and glows brilliant orange."
2017 FIELD RECORDINGS SKINS WHITE WINE (CENTRAL COAST; $25)
 "It's a California orange wine, a blend of Chenin Blanc, Pinot Gris, and Verdelho. Delicious and original."
2016 JACKHAMMER KRISTY'S VINEYARD CHARDONNAY (MONTEREY COUNTY; $16) "Our friends at Jackhammer created a delicious Chardonnay served up in a 500 ml. can. Careful: It goes down easy."
2017 SUBJECT TO CHANGE WINE CO. FELIZ CREEK METHOD ANCESTRAL SPARKLING WINE (MENDOCINO COUNTY; $27) "The winery's first try at sparkling wine is bright and clean—like they've been doing it forever."
2016 ANDREA SCOVERO CIAPIN (BARBERA D'ASTI; $24) "I love this hypertraditional wine from the hills of northern Italy: dark, deep, yet delicate."
2017 ANGELENO WINE COMPANY THE MEADOW ROSÉ (LODI; $22) "Jasper Dickson hit a home run with this dry rosé named after a green space where locals go to fly kites."
2017 TRAIL MARKER WINE CO. BARTOLOMEI VINEYARD ROSÉ OF CARIGNAN (MENDOCINO COUNTY; $21) "Juicy
 and round, more strawberry than mineral. We get a killer custom label by artist Eric Junker."
2017 VINI RABASCO CANCELL…ATO VINO ROSSO (MONTEPULCIANO D'ABRUZZO; $25) "Some 2016 fruit harvested too late blended with 2017 grapes picked extra early creates a lively, chillable red."
2016 MANOLIS GARALIS LIMNIO (LEMNOS; $24) "From an island in the northern Aegean, it's pure volcanic dirt and ash; there's fruit, but you have to really look for it."
LES VINS CONTÉS R17 ROUGE (VIN DE FRANCE; $22) "The poster child for natural wine in the Loire Valley: light and elegant, with earthy red fruit."
2017 DOMAINE VICO BLANC (CORSICA; $20) "From old vines on the island of Corsica, it has a real identity, like drinking well water with a good mineral content and a lick of sunshine."
2016 TENUTA DELLE TERRE NERE (ETNA ROSSO; $23) "The volcanic slopes of Mount Etna in Sicily give this both elegance and an unmistakable rocky complexity."
2016 KOEHNEN WINE COMPANY TERRA ALTA VINEYARD GRACIANO (CLEMENTS HILLS; $23) "Music collector John Koehnen's delicious Graciano drinks like the first time you heard Nirvana, and it only exists in Los Angeles in a few lucky bars, restaurants, and shops."
2015 SAARLOOS & SONS COURAGE CABERNET SAUVIGNON (SANTA YNEZ VALLEY; $48) "Here is a case of a longtime grape-farming family turning out authentic, honest California wine: It's a pure, fluid Cabernet."
2016 
NIKOLAIHOF HEFEABZUG GRÜNER
VELTLINER
 (WACHAU; $26) "Biodynamic farming creates
a Grüner with unbelievable precision: bone-dry, floral, and herby."
2016 STOLPMAN VINEYARDS LA CUADRILLA RED WINE (BALLARD CANYON; $22) "Made by Stolpman's vineyard workers, the blend is nearly three-quarters Syrah, so it's meaty and white-peppery."
2015 DEROSE VINEYARDS DRY FARMED OLD VINES ZINFANDEL (CIENEGA VALLEY; $35) "From Alphonse DeRose, 
it goes right to the edge of how fruity Zin can be and takes one step back."
2017 MARTHA STOUMEN WINES
POST FLIRTATION RED (CALIFORNIA; $25) "When this exuberant blend of Zinfandel and Carignan comes into the shop, it's immediately gone."
The Value Hunter, Stevie Stacionis
You might think a hip Bay Area wine-shop owner would be dropping serious cash when shopping for her own drinking pleasure. 
Not so, says Stevie Stacionis, who opened Oakland's casual, light-flooded Bay Grape bottle shop with her husband, Josiah Baldivino, in 2014. "Typically, we're spending $15 to $25," she says. "Up to $40 if we're feeling splurgy." Luckily, she finds, that's the sweet spot if you want to drink artful wine without spending an arm and a leg. She stocks plenty of options for all wallets, including budget-conscious grad students and local artists, to peruse while they sway to the vinyl on the store's turntable. So what's delicious, relatively affordable, and perfect for some weeknight chilling? Lately, Stacionis has been thrilled by these value rock stars, all of which will set you back less than $30.
2016 JEZEBEL PINOT NOIR (OREGON; $18) "Everybody wants a great Pinot Noir for under $20, and that's nearly impossible. But this is it! It has those classic Willamette notes, like forest floor and cola spice."
2016 INCONNU MERLOT (CONTRA COSTA COUNTY; $28) "Merlot doesn't get enough love; this has all these dark, supple, and velvety notes, without the pronounced tannins of a Cab."
2017 RAFT WINES LOVE RANCH COUNOISE (MADERA; $27)
 "This one's so light that it's almost like: Is this a full-bodied rosé? We always keep some bottles of it chilled."
2016 LEAH JORGENSEN TOUR RAIN VIN ROUGE (OREGON; $25)
 "New World Cabernet Francs are usually so over-ripened, you lose those green notes. But this one, blended with some Gamay, has the herbal notes I crave."
2015 LA STOPPA TREBBIOLO 
(EMILIA ROSSO; $20)
 "A small producer makes this wine by herself. It's more savory than fruit-driven and so perfect for food. I mean, Emilia- Romagna is the heartland of the most amazing food in Italy!"
2017 TRIENNES ROSÉ (IGP MÉDITERRANÉE; $20) "It's light in color, dry—that's what everyone wants in a rosé right now—with decent but not searing acidity and such purity of flavor."
NV SORELLE BRONCA EXTRA DRY (VALDOBBIADENE PROSECCO SUPERIORE; $19) "One of the best Proseccos that I've had, from two lovely sisters who farm biodynamically. There's a little bit of sweetness to it but more in a fruity, juicy pear-drop kind of way."
GRUET NV  BLANC DE NOIRS (AMERICAN; $17) "The family behind it is originally from Champagne and delivers classic, almost Champagne-like notes. You can open lots of bottles at a party."
NV FILIPA PATO 3B ROSÉ EXTRA BRUTO (PORTUGAL; $20)
 "Filipa Pato is working with Baga and Bical grapes in Bairrada—hence the 3Bs. This is one of my favorite wines to bring as a host or hostess gift."
2016 UPHOLD WHITE WINE FOR THE PLANET (CALIFORNIA; $15) 
"This white has weight to it but is mostly minerally and fresh. Profits go to support environmental groups."
2017 ÀMAURICE VIOGNIER 
(COLUMBIA VALLEY; $28) "Viognier can feel really rich, but there's a great freshness and floral aroma to this bottle. We had it with crab a few months ago, and it was so pretty and luxurious."
2017 DAY WINES VIN DE DAYS BLANC (WILLAMETTE VALLEY; $18) "A blend of five grapes, including Riesling and Pinot Gris, this white is fresh and simple in a really good way. You can crush the whole thing while you're watching Netflix."
2015 ALMA DE CATTLEYA CHARDONNAY
 (SONOMA COUNTY; $24)
 "A classic California Chardonnay, rich and buttery with that great mouth-coating texture, but with more citrus than tropical fruits."
2017 MARCH WINES REDWING VINEYARD OLD VINE RIESLING (SANTA CLARA COUNTY; $25) "An evocative dry Riesling—maybe because it's from the Santa Cruz Mountains, where I would want to enjoy this after a hike."
2017 DOMAINE ADÈLE ROUZÉ (QUINCY; $18) "Sancerre is almost
a name brand for Sauvignon Blanc in France, but it's often $30 or more these days. This wine from Quincy—just next door—hits that same grassy, minerally side of Sauvignon Blanc."
2016 TAMI GRILLO (TERRE SICILIANE; $18) "Grillo is still made into dessert wines, but here's one that's dry, almost briny. With all the fresh seafood in Sicily—and on the West Coast—it's so appropriate."
2017 DOS MINAS TORRONTÉS (VALLE
DE CAFAYATE; $13)
 "This is my guilty pleasure. It's so floral, it's almost obnoxiously aromatic, with notes of peach and lemongrass and citrus and jasmine. I want to drink it all the time."
2017 ERIC KENT ROSÉ (SONOMA COAST; $22) "Here's a rosé that's very dark in color, so people are afraid it's going to be sweet. It's not. It has enough meatiness to totally hang out with something like weeknight burgers."
2017 TENDU RED WINE (CALIFORNIA; $21) "It's a blend of Aglianico, Montepulciano, and Barbera; it's in a liter bottle; it's $21; and it's so fresh and versatile— just what I want to drink every night."
2015 LAND OF SAINTS GRENACHE + SYRAH (SANTA BARBARA COUNTY; $22) "Angela Osborne of A Tribute to Grace also makes an easy-drinking lineup of wines. This blend is really juicy, a bit spicy, delicious with food or just on its own."
The Chef, Tanya Holland
A lot of restaurant chefs like wine, but most don't sweat the details—that's the server or sommelier's job. Then there's Tanya Holland. Long before she opened Oakland's modern soul-food outpost Brown Sugar Kitchen and competed on Season 15 of Top Chef, she worked in a Manhattan wine shop, then jetted off to France's Burgundy region for cooking school. She recently closed her beloved eatery but will bust out her vino game in full force when she reopens it in a bigger space in the Uptown neighborhood. "I love Rhônes and Burgundies, and California Pinots that are made in a Burgundian way," says Holland. You'll find all of the above (and plenty more) among her recommendations for hosting and entertaining when food is involved.
2017 DOMAINE TEMPIER ROSÉ (BANDOL; $42) "One of my first cookbooks was Lulu's Provençal Table, about the woman behind Domaine Tempier. When I drink the wine, I feel like I'm part of that East Bay–to-France connection."
NV DOMAINE CHANDON ROSÉ (CALIFORNIA; $26) "Champagne isn't something you can buy all the time, but here's a well-priced California option that is consistent, dry, and user-friendly."
NV GLORIA FERRER BLANC DE NOIRS (CARNEROS; $22)
 "I love this Pinot Noir–based sparkling wine at the beginning of a meal, with a snack like my andouille gougères."
2017 BODEGA JAVIER SANZ REY SANTO RUEDA VERDEJO (RUEDA; $13) "The ultimate affordable white. It's bright, tropical, and tastes like grapes—but not in a sweet way. I buy it for the restaurant all the time."
2017 RAFT JONQUILLE LOVE RANCH
 VIOGNIER (MADERA; $25) "I've always liked Viognier's floral quality and fullness. This one's just perfect, especially with a piece of really good sautéed salmon, maybe with spinach on the side."
2017 GOBELSBURG SCHLOSSKELLEREI GRÜNER VELTLINER (KAMPTAL; $16) "It's just so easy to drink with this fresh elderflower quality. It's a great hors d'oeuvre wine, maybe even alongside almonds."
2015 CHIMNEY ROCK ELEVAGE BLANC (NAPA VALLEY; $50) "Elizabeth Vianna's Sauvignon Blanc–based blend is crisp and lively, but you definitely taste the warmth of the California sun."
2016 BRUNO COLIN (CHASSAGNE-MONTRACHET; $92) "A great white Burgundy is heaven in a glass. You feel the weight of that lovely Chardonnay, and you're tasting flowers, herbs, toast, wet stones—it's a sensory overload."
2016 REGIS BOUVIER CLOS DU ROY (MARSANNAY; $39) "The smell is intoxicating, like if roses and strawberries rolled in the hay and had a baby. A real value for red Burgundy."
2015 DOMAINE DE LA CÔTE BLOOM'S FIELD PINOT NOIR (STA. RITA HILLS; $70) "Perfect with rib-eye: more savory than heavy, but definitely big enough to stand up to red meat."
2016 KUTCH PINOT NOIR (SONOMA COAST; $39) "Jamie Kutch makes refined, Burgundian-style reds in Sonoma. This one's balanced, with a subtle note of cherry and a distinct earthiness."
2016 CAKEBREAD TWO CREEKS VINEYARDS PINOT NOIR (ANDERSON VALLEY; $43) "Their wines are great if you have a crowd. I'd serve this at a big family holiday dinner because it's so lush and welcoming."
2017 DOMAINE DE FONTSAINTE ROUGE (CORBIÈRES; $16) "For the price, it's really substantial. I know that people who like a big red are going to like it; it's deep."
2016 KUNIN WINES PAPE STAR RED WINE (CENTRAL COAST; $28) 
"If I had to name a favorite grape, Grenache is it. This Grenache, Syrah, and Mourvèdre blend is magic—restrained and subtle."
2013 BONNY DOON 
LE CIGARE VOLANT (CENTRAL COAST; $45) "Randall Grahm's wines have been so consistently good for so many years, especially the flagship Grenache-led blend."
2016 DOMAINE DU VIEUX TÉLÉGRAPHE "TÉLÉGRAMME" (CHÂTEAUNEUF-DU-PAPE; $48) "Grenache, Syrah, and a few other grapes working together in harmony. It's very complex and great with food: red meat, pasta, you name it."
2016 WENTE VINEYARDS ARTIST SERIES GSM (LIVERMORE VALLEY; $55) "The Wente family's been making wine in Livermore for over a century, but here is a newer one from them. I love it with smoked meats or pulled pork."
2014 BROWN ESTATE CHAOS THEORY (NAPA VALLEY; $40) "The family behind Brown Estate is African American, and I love their Zin-based blend. It's a big red, but it's balanced."
2014 ASHES AND DIAMONDS CABERNET FRANC (NAPA VALLEY; $75) "Their tasting room is beautiful: midcentury modern, open-air. This bottle rolled off my tongue: so smooth and silky and juicy."
2015 GOMBAUDE-GUILLOT POM 'N' ROLL (POMEROL; $49) "It was a tannic bomb at first, so I decanted it and it softened into this lovely, deep, berry-fruited wine. It would be amazing with barbecue. Probably worth investing in a decanter."
The Pinot Guy, Michael Alberty
"If I could only take one grape with me to
 a desert island, Pinot would be it," says Oregon native Michael Alberty, who covers wine for Portland's The Oregonian newspaper. That's partly because he grew up with the fruit—Alberty's father worked with Elk Cove founder and Oregon Pinot pioneer Dr. Joe Campbell. Pinot is a versatile shape-shifter, says Alberty. Native to France's Burgundy region, it can
 be fermented into a luscious and fragrant red, a frisky rosé, or even a crimson Champagne. He's followed its rise in popularity for decades, first as a shop owner in the early 2000s and now as a full-time reporter. His Pinot obsession knows no borders, and his
 list of must-try bottles reflects that globe-trotting attitude.
2014 THE EYRIE VINEYARDS ORIGINAL VINES PINOT NOIR (DUNDEE HILLS; $80) "From its transparent ruby color and brambly red fruit to its earthiness and almost oysterlike salinity, this is the bar by which I measure greatness in the Willamette Valley."
2015 PONZI RESERVE PINOT NOIR (WILLAMETTE VALLEY; $65) "A full-bodied expression of Ponzi's oldest vines: dark red fruit, anise, and pie crust."
2016 KELLEY FOX MIRABAI PINOT NOIR (WILLAMETTE VALLEY; $35) "Mirabai, a 16th- century Hindu poet, is the perfect avatar for this silky pour. I taste wild strawberries, fresh thyme, and hibiscus."
2015 RUBY VINEYARD
 & WINERY FLORA'S RESERVE PINOT NOIR (CHEHALEM MOUNTAINS; $125) "This one should be more well-known. Flora's Reserve brings restrained aromas of rose petals and spices."
2016 FARMLANDS PINOT NOIR (WILLAMETTE VALLEY; $20) "A great value. Bright blackberry and cherry fruit in every sip and something savory, like a cellar floor."
MMXVI A.D. BECKHAM CRETA PINOT NOIR (CHEHALEM MOUNTAINS; $60) "It ferments in handmade clay vessels. Tart red fruit meets red brick dust."
2017 BROOKS PINOT NOIR (WILLAMETTE VALLEY; $28) "If this early release is any indication, Willamette Valley's 2017s are worth buying and saving."
2016 DOMAINE NINOT VIEILLES VIGNES
 (MERCUREY; $29) "When people say Burgundy is too expensive, 
I send them to wines like this. It's organically farmed, with an earthy, rough-around-the-edges quality I enjoy."
2015 DOMAINE GILBERT ET CHRISTINE FELETTIG VIEILLES VIGNES (CHAMBOLLE-MUSIGNY; $54) "Lacy and refined—imagine a bouquet of violets doing a slow, elegant waltz."
2016 DOMAINE MARC ROY VIEILLES VIGNES (GEVREY-CHAMBERTIN; $82) "A slippery texture and bursts of delicious fruit from one of my absolute favorite Burgundy producers."
2008 ARCADIAN WINERY SLEEPY HOLLOW VINEYARD PINOT NOIR (SANTA LUCIA HIGHLANDS; $55) "Here is a current release, and it's still lively—plum flavors with aromas of cinnamon and pork fat."
2016 AU BON CLIMAT PINOT NOIR (SANTA BARBARA COUNTY; $24) "My favorite 'bang for the buck' option from California. Macerated strawberries, raspberry candies, and modest alcohol."
2016 FLOWERS PINOT NOIR (SONOMA COAST; $54) "A bridge between warm California and cool Oregon. There's richness but also firm acidity and enticing smoke and orange peel aromas."
2016 ANTHILL FARMS CAMPBELL RANCH VINEYARD PINOT NOIR (SONOMA COAST; $48) "Bright fruit, gardenias, and pine needles evoke the small coastal vineyard in the redwoods."
NV LELARGE-PUGEOT EXTRA BRUT 1ER CRU ROSÉ (CHAMPAGNE; $55) "Champagne worthy of a special event. It's 100 percent Pinot Noir, which means red berries and chalky intensity."
2017 FOSSIL 
& FAWN SILVERSHOT VINEYARDS PINOT GRIS (EOLA-AMITY HILLS; $25) "Pinot Gris is related to Pinot Noir, and you can tell when it's fermented with skins. Pale red, this has the meat and cherry notes
 I associate with Pinot Noir."
2017 JK CARRIERE GLASS WHITE PINOT NOIR (WILLAMETTE VALLEY; $28) "If you enjoy white peaches, lemon drops, and chamomile, you
 will find this pale copper-white version delicious."
2017 JULES TAYLOR PINOT NOIR (MARLBOROUGH; $24) "My hedonism hall-of-famer: a monsoon of dark chocolate–covered cherries."
2017 ANDRÉ DEZAT & FILS LES CELLIERS DE SAINT-ROMBLE ROUGE (SANCERRE; $24) "A new find. Who wouldn't love a light-bodied wine with scents of hay, violets, and campfire?"
2016 DOMAINE DROUHIN OREGON PINOT NOIR (DUNDEE HILLS; $45) "Drouhin was the first French producer to purchase land in Oregon. This vintage is spectacular: fresh- turned earth, violets, and that signature Dundee Hills cherry fruit."
The Somm, Marin Preske
Ask a trendy restaurant's sommelier what they're drinking these days, and there's a good chance it'll be something European. That's certainly true of Marin Preske, an L.A.-based somm who has done stints at 
food temples like Terroni, Osteria Mozza, and, most recently, the red-hot NoMad. "Barolo, Burgundy, Champagne, and German Riesling," she recalls. "I only started really seeking out California wine after I moved here in 2010." She's since found a lot to love, especially wines grown near the cool California coast. What do they all share? "Purity of fruit, focus, elegance, and subtlety," she says. Need some Golden State zest at your table? Look no further than these racy, distinctive wines that have recently caught her eye.
2016 TATOMER KICK-ON RANCH RIESLING (SANTA BARBARA COUNTY; $35) "Kick-on Ranch is one of the coolest and windiest sites in Santa Barbara, and it makes pure, precise Riesling. Try it with sushi."
2014 TYLER N BLOCK BIEN NACIDO 
VINEYARD PINOT NOIR (SANTA MARIA VALLEY; $75) "From a small plot of old vines planted in 1973, this 2014 is layered with the most incredible aromas, like sweet wild raspberries and blood orange."
2015 LUTUM 
DURELL VINEYARD CHARDONNAY 
(SONOMA COAST; $60) "Winemaker Gavin Chanin works with some of the best vineyards in Sonoma and Santa Barbara. Right between San Pablo Bay and the mountains, Durell is heaven for Chardonnay."
2015 HIRSCH VINEYARDS RASCHEN RIDGE ESTATE PINOT NOIR (SONOMA COAST; $85) "The remote Sonoma Coast is extreme: cliffs plunging toward the Pacific, radical temperature shifts, raging winds. This Pinot Noir is as vibrant and exciting as its surroundings."
2016 LITTORAI THE HAVEN VINEYARD CHENIN BLANC 
(SONOMA COAST; $80) "Littorai turns out renowned Chardonnay and Pinot Noir, but it was the Chenin Blanc that captivated me on my last visit: crisp, pure, and unbelievably fragrant."
2016 CERITAS CHARLES HEINTZ VINEYARD CHARDONNAY 
(SONOMA COAST; $59) "Full of floral and sweet citrus notes, precision, and salinity, this is the opposite of buttery Chardonnay."
2016 SANDLANDS TROUSSEAU 
(SONOMA COAST; $28) "Low in alcohol with delicate notes of roses and berries, it's the kind of wine I want to drink on a long, lazy picnic."
2015 ARNOT-ROBERTS QUE SYRAH VINEYARD SYRAH (SONOMA COAST; $70) "There's something special about coastal Syrahs: Spicy aromatics with that telltale pepper note and an addictive freshness."
2011 PAX GRIFFINS LAIR VINEYARD SYRAH (SONOMA COAST; $65) "It's all dark fruit, black pepper, and smoke. And thanks to Pax Mahle's winemaking (and a chilly vineyard site) there's a finesse to that intensity."
2015 ENFIELD WINE CO. WATERHORSE RIDGE CABERNET SAUVIGNON (FORT ROSS-SEAVIEW; $70) "Understated is an adjective I rarely use for California Cabernet, but Enfield's version is quiet and refined."
2017 CRUSE WINE COMPANY RICCI VINEYARD SPARKLING ST. LAURENT (CARNEROS; $30) "A festive bubbly full of cherry and spice notes made from St. Laurent, an Austrian red grape."
2017 HANZELL SEBELLA CHARDONNAY
 (SONOMA COUNTY; $30) "This bottling comes predominantly from Hanzell's younger vines. It's pure fruit, minerality, and crispness in total harmony."
2016 STOLPMAN VINEYARDS GRENACHE (BALLARD CANYON; $34) "Stolpman is my go-to for introducing guests to Santa Barbara County wines; their Grenache is 
so pretty but it has substance as well."
2014 THE OJAI VINEYARD SOLOMON HILLS SYRAH (SANTA MARIA VALLEY; $65)
 "This comes from a tiny half-acre plot originally planted as an experiment because it was thought to be too cold for Syrah. It's brooding and incredibly distinctive."
2015 SANDHI SANFORD & BENEDICT PINOT NOIR (STA. RITA HILLS; $45) "Rajat Parr and Sashi Moorman nailed it with this earthy, elegant yet concentrated Pinot Noir with enough bright fruit to taste authentically Californian."
2016 BROC CELLARS EAGLE POINT 
RANCH COUNOISE (MENDOCINO COUNTY; $27) "More often than not, I crave a gulpable red that's light, bright, and easy-drinking. Broc's Counoise ticks all the boxes, especially with a slight chill."
2014 MOUNT EDEN ESTATE CHARDONNAY (SANTA CRUZ MOUNTAINS; $64) "A graceful and restrained Chardonnay that should age incredibly well if you have the willpower to hold onto it."
2004 MAYACAMAS CABERNET SAUVIGNON (MT. VEEDER; $250)
 "I was blown away when I discovered old bottles of Mayacamas. Mt. Veeder's sunny yet cool slopes allow Cabernet to ripen slowly, and
 the re-released 2004 is supple 
and dramatic."
2015 MATTHIASSON VINEYARD REFOSCO (NAPA VALLEY; $45) "From breezy southern Napa, this is juicy yet savory, full of black plum, fresh herbs, and a peppery bite. It can take you from antipasti through a main course."
2012 WENZLAU VINEYARD CUVÉE L'INCONNU BLANC DE BLANCS (STA. RITA HILLS; $54) "Like Champagne, the western part of
 the Santa Rita Hills is chilly. Maybe that's why this is so appealing, with a mineral streak that evokes some of my all-time-favorite Champagnes."