Wine and Fruit—a Surprisingly Tough Pairing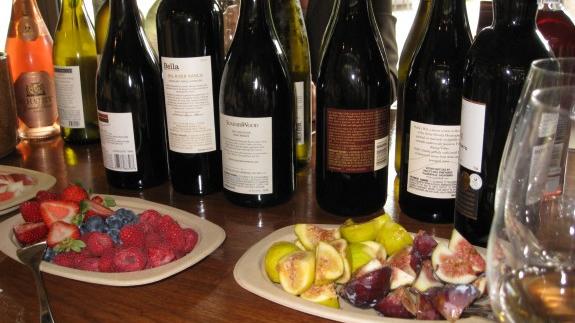 I've paired wine with everything from Skittles to Triscuits. But to be honest, I had never sat down to a pairing with straight, fresh fruit—until a couple of days ago.
My job description seems to include tasks that lean toward ludicrous at times. I've paired wine with everything from Skittles to Triscuits. But to be honest, I had never sat down to a pairing with straight, fresh fruit—until a couple of days ago. Fascinating exercise.
You'd think that fruit would be a natural with wine, considering that many of the descriptors we use for wine are overt fruit flavors. But it's not all fun and games. Obstacle number one: the sweetness of fruit. Whenever your food is sweeter than your wine, the wine turns sour and astringent. On the other hand, the ripe fruit in wine can seem sweet even if it isn't, to make the pairing work. And then there's the relative acidity in the fruit and the wine to consider … Serious stuff.
For this tasting, we had stone fruit (apricots and white peaches), mixed berries (raspberries, strawberries, and blueberries—a disperate pairing trio if there was one), and fresh figs (green and purple). Here's how it went down.
Stone fruit first.
We started with a shoo-in: barely off-dry Riesling, a varietal inherently stone-fruity, with racy acidity. And yes, it nailed the pairing; the flavors were seamless, and the sweetness levels jived. But we didn't stop there. We moved through Grenache Blanc, a crisp, stone-fruited white Rhône grape (good flavor match, but way too dry); Albariño, a beautiful, aromatic white Spanish grape (but with the fruit … meh); and Gewürztraminer, the main white grape of Austria, spicy and floral (eew-boy, the wine turned to soap with the fruit). One last sip worked—a barely, barely off-dry blend of Chenin Blanc and Viogner, with a tiny bit of spritz on the palate. As one cohort (uncharacteristicly serious) put it, "The wine enjoys the presence of the fruit."
The wines:
Chateau Ste. Michelle Cold Creek Vineyard Riesling (Columbia Valley, Washington; $20)
Pine Ridge Chenin Blanc/ Viognier (Clarksburg, California; $14)
On to mixed berries.
I couldn't help but start us off with sparkling rosé here—all those wild berry flavors in the bubbles … But this one, from New Mexico (okay, it was Gruet, a perennial value favorite of mine, great on a Tuesday night) was very tart and too dry for the fruit. Maybe still rosé? Not bad, with echoing flavors, but still too dry. We tried red—Pinot Noir (full of berries, right?). Oh no, the wine went totally astringent. Zinfandel. No again—too alcoholic. And I thought berries would be easy.
In desperation, I pulled out a Grenache, the spicy, red-fruited main grape in the Rhône Valley's Châteauneuf-du-Pape, and bingo—the raspberries and strawberries locked right into the wine's sweet-seeming fruit for a delicious match. Not ready to give up on pink bubbly, though, I finally tried a rosé cava from Spain. There was the match I imagined: riotous berry flavors and congenial sweetness—yum.
The wines:
Segura Viudas Brut Rosé Cava (Spain; about $35)
SummerWood 2009 Grenache (Paso Robles; $34)
Finally, figs.
Nailed it on the first try with a Sèmillon, the white Bordeaux grape that usually gets mixed with Sauvignon Blanc. In that blend, it often adds a honeyed fig character, which, it turns out, is comfy with real figs. A couple of random tries—the cava again, and Zinfandel—netted nothing. But finally we moved on to Port. Tawny was promising, but a reserve had a fresh note along with its dried-fig character—just the ticket, as they say.
The wines:
Chatom 2011 Sèmillon (Calaveras County; $16)
Dow's Trademark Finest Reserve Porto (Portugal; $18)
Keep Reading: