What to Eat This Week: Crickets … in Portland, of Course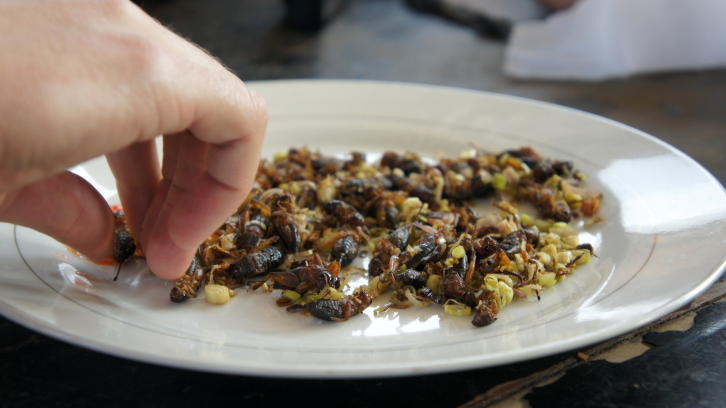 Move over, kale: This new superfood darling has legs. Six of them. And this week, Portlanders are digging in at the Cricket Cook-Off.
Move over, kale: This new superfood darling has legs. Six of them. And this week, Portlanders are digging in at the Cricket Cook-Off.
Back in my college days, bug-eating contests were de rigueur at our end-of-year bacchanalian celebration, where my fellow students would fill an amphitheater to watch stoner bros and theater divas alike indulge in antennaed tidbits made palatable by copious amounts of cheap alcohol. Today, more and more people are choosing to eat bugs, not on a Survivor-style dare to impress their crush from Chem 201, but because they actually want to—and because many claim it will save the planet.
The idea of grasshopper smoothies might seem outlandish, but people around the country are lining up to pay for the pleasure of adding the novel protein to their diet, and calling it eco-friendly to boot. Proponents of working cricket flour into everything from crunchy crackers to chocolate chip cookies cite the fact that our growing global population may double the demand for meat by 2050.
And according to Exo Bars, the cricket-flour protein bars popular among the Paleo and Crossfit set, crickets produce 100 times less greenhouse gases than cows, don't require land clearing, and need up to 2,000 times less water to raise, all while providing a complete protein that's rich with Vitamin B, iron, and calcium. If we can collectively get over the "ick" factor, supplementing our meat intake with some locally raised, eco-friendly insects could be a game changer.
Here in Portland, where we're known for proudly eating the weird stuff, the cricket craze is heating up. Over the past few years, no less than three cricket-flour companies have jumped onto the scene, and local chefs and home cooks are eager to get cooking. On December 9th, those adventurous eaters and recipe mavens looking for a tasty challenge will gather at the city's first-ever Cricket Cook-Off to serve up and sample savory and sweet dishes made with whole crickets and crickets that have been milled into a fine, nutty flour.
Julia Raymond—co-founder of Food Bytes, the food and tech community that's hosting the cook-off at Portland shared creative office space WeWork—is keeping the featured recipes under wraps, but hints that coffee cake with cricket streusel will certainly make its way onto attendees' sample plates.
Want to join the fun? Entry to the cook-off is just $5, and you can nab your tickets here.
Because I've been a vocal proponent of working insects and other oddball protein sources into our diets, I was roped into judging the competition—let's just hope I won't need too many shots of cheap whiskey to make it through the night.
Keep Reading: