What to sip this weekend: Christmas tree–trimming edition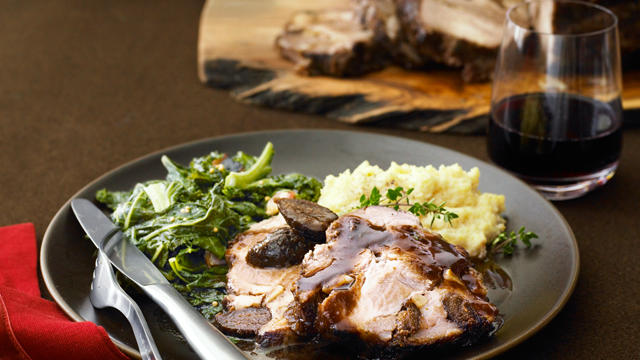 In my book, the weekend after Thanksgiving is just too soon to head out and snap up a Christmas tree. (It's also too soon to queue up for Black Friday or get the jump on Cyber Monday, but that's another rant.) The weekend after that, though (meaning this weekend), is perfect. It's December, and Christmas music in the mall makes you smile instead of snarl. The mood is right. Whether you pile into the SUV and head into the hills to cut your own or trek across town to the Christmas tree lot and buy a handsome Douglas, the prospect of an evening of pulling out the memory-laden ornaments to launch the holidays in the house is welcome.
It's also an excuse to commence heavy holiday wine drinking. But to be clear, that doesn't mean indiscriminate holiday wine drinking. For the tree-trimming party, it's all about matching your menu of choice. In my house, the main dish that night is always a long-braised pork or beef stew—something that you can assemble in a dutch oven early in the day and let bubble away slowly on the stove or in the oven while you tend to tree acquisition.
This year, it's going to be one of my favorite Sunset recipes for Mexican-style red chile stew: Colorado Fandango, a dish we got from Chef Christine Keff, of the former restaurant Fandango in Seattle. Beef and pork are combined in a supremely easy sauce of New Mexico chiles, onion, and garlic, and simmered to fork tenderness.
All of this, of course, is preamble to What should you drink with this?! The warm spice of the chiles pushes your wine choice toward a rich and generously fruity red. One with layers of spice to keep up with the stew, but one that goes easy on the alcohol level, because high alcohol punches up the heat of the chiles and can start fires on your palate.
There are a ton of rich blends out there, made up of a dizzying array of grape varieties, from Syrah and Merlot to Petit Verdot and Malbec. (The red blend category is the fastest-growing category in the U.S. market—just check the shelves at your local grocery store!) To my taste, though, the blends that work best with my beloved Chile Colorado are those that have a hefty splash of Zinfandel in them. There's a time-honored tradition here: Zin is the most historic grape we have on the West Coast (California particularly), and most of the generic red blends produced after we put Prohibition behind us were based on the variety (think jugs of "Heary Burgundy"). Today, Zinfandel blends are getting better than ever. Here are some terrific ones:
Dalliance 2012 Red (Lake County; $20). Zinfandel, Syrah, and Barbera lead here, with notes of vanilla, cinnamon, and cherry dominating.
Francis Ford Coppola Director's Cut 2012 "Cinema" (Sonoma County; $39). Mostly Cabernet and Zinfandel, this is a crowd-pleaser, with plush but juicy red fruit and a long, spicy finish.
Husch 2013 Garzini Ranch Old Vines "Heritage" (Mendocino; $30). Dark fruit and bold tannins mark this mix of Petite Sirah, Zin, and Carrignane. Decant it to bring out those dark aromas and flavors.
Jeff Cohn Cellars 2013 "The Impostor" (California; $35). Zin leads in this ripe and lushly textured wine, delivering juicy blueberry, blackberry, cola, and warm spice.
McNab Ridge 2010 Coro Mendocino (Mendocino; $40). Juicy mixed berries are spiked with black pepper and wrapped in pretty florals. This is one of 12 wines that are produced annually in the Coro Mendocino project—all blends, with the requirement that 50 percent of each is Zinfandel. This one is 63 percent, with the remaining mostly Petite Sirah with a tiny bit of Pinotage.
Oakville Ranch 2012 Field Blend (Napa Valley; $55). Bright raspberry blends with chocolate and spice through a long, juicy finish.
Paraduxx 2012 Proprietary Red by Duckhorn Wine Co. (Napa Valley; $48). Paraduxx is Duckhorn's winery built on Zinfandel-Cabernet blends. This one is only 37 percent Zin, with 60 percent Cab and a dash of Petit Verdot, and the Cabernet comes through with serious structure, cassis, spice, pepper, and mocha. The Zinfandel lends an appealing lushness.
Keep Reading: