We cook up a winter feast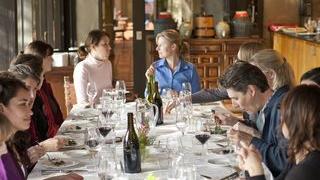 We've been at it again—swirling, sipping, and noshing! Yesterday the one-block team celebrated our most recent harvest with a feast f...
We've been at it again—swirling, sipping, and noshing! Yesterday the one-block team celebrated our most recent harvest with a feast from our homegrown vegetables; homemade wine, butter, salt, and cheese; and home brew beer and mead.
Sitting down to the salad courseSome highlights, in no particular order:
• A huge roasted squash soup bowl
The squash in the oven• Browned butter: Swoon-worthy. Drizzle on the soup, or just suck it up with a straw?
• Steak fries made from potatoes stored in our improvised "root cellar"—delish
Stephanie Dean, making the steak fries• Taking time out to cook and celebrate home-grown food: immensely satisfying (as if we needed reminding)
The menu
Sliced raw purple kohlrabi with sea salt and lemon
Oven-baked steak fries with green chile mayonnaise (see recipes below)
Winter Caesar with purple kale, red mizuna, escarole, dandelion greens, and aged gouda dressing
The salad
Roasted Marina di Chioggia squash and cipollini onion soup in a squash shell
Whole-wheat rolls
Homemade sweet butter and homemade salt
Ricotta-honey tart with caramelized Meyer lemons and kumquats
Margo True, making the tarts
Sunset Chardonnay, Syrah, October ale, wheat beer, and meadThe soup
Thanks, Johanna (our test garden coordinator), for saving those handsome Marina di Chioggia squash from the garden invaders. I made soup out of puréed roasted chunks from one squash along with roasted cipollini onions and some homemade vegetable broth, then ladled it into a whole roasted, hollowed-out squash.
It was so heavy, Margo and I had to carry it to the table together. Everyone ooh'd and ahh'd, so of course I was totally pleased.
Margo and I bring in the soup while Amy Machnak stands ready to serve it.We passed bowlfuls topped with more of the roasted vegetables and a drizzle of browned homemade butter. Some people were overheard discussing the possibility of browned butter facials.
The soup with toppingsThe drinks
Stay tuned for an update later this week on how our brews, wine, and mead tasted, many months after they were made.
Stephanie Dean, Alan Phinney, Johanna Silver, and Dana Smith enjoy the drinks
The fries with green chile mayoHere's a sneak preview from our One-Block cook book, to be published this coming March.
Oven-Baked Steak Fries with Green Chile Mayonnaise
We didn't have steak, but managed to eat plenty of these regardless, especially dunked in the mayo.
MAKES 4 servings TIME about 45 minutes
1 pound 'Yukon Gold' potatoes, cut into 1/2-inch-thick
wedges
2 tablespoons extra virgin olive oil
1/2 teaspoon fine sea salt
Green Chile Mayonnaise (recipe follows)
1. Preheat the oven to 425°F. Place the potato wedges on a rimmed baking sheet, drizzle with the oil, and sprinkle with the salt. Toss the potato wedges to coat evenly.
2. Roast, turning the wedges halfway through, until golden and crisp, about 35 minutes.
3. Transfer the fries to a platter, spreading them out evenly (they will stay crisp longer on a platter than heaped in a bowl), and season with more salt, if you like. Serve with the mayonnaise.
Green Chile Mayonnaise
A fiesty spread that's good on sandwiches, too. Have ingredients at room temperature to help the mayonnaise thicken. (If the egg is straight from the refrigerator, put it in warm water for several minutes before you use it to help it warm up.) Seed the chile if you want less kick.
MAKES About 1 cup TIME 5 minutes
1 large egg
2 garlic cloves, minced
1/2 to 1 red or green serrano chile, finely chopped
11/2 to 2 teaspoons fine sea salt
2 tablespoons lemon juice, plus more to taste
1 cup extra-virgin olive oil
In a blender, whirl together the egg, garlic, chile, 11/2 teaspoons of the salt, and 2 tablespoons lemon juice until the mixture thickens slightly, about 1 minute. With the motor running, add the oil through the top of the blender in a slow, steady stream, whirling until all of it has been incorporated and the mayonnaise is thick. Whirl in more salt and lemon juice to taste, if you like.
Make ahead : Up to 4 days, covered and chilled.
---
Photos by Spencer Toy, Sunset imaging specialist
Keep Reading: