Too many lemons? Make Nepalese lemon pickle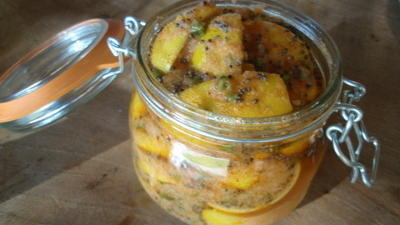 Here in sunny California we have beautifully floral, thin-skinned Meyer lemons hanging on the trees year-round. But I know you folks in oth...
Here in sunny California we have beautifully floral, thin-skinned Meyer lemons hanging on the trees year-round. But I know you folks in other areas can get Meyers in grocery stores, so I wanted to tell you about my experiment to make one of my favorite condiments, Indian-style lemon pickle.
It's sour, salty, spicy, and incredibly tasty with basmati rice, lentils, chicken, and just about any dishes from that part of the world.
Actually, I first tried the recipe in Nepal. I had been trekking in the Himalayas for 10 days (just me, a cook, and two porters), and one afternoon we stopped in a village and the cook and a villager began some animated bargaining. Pretty soon, the feathered object of their negotiations was sequestered under a big overturned basket. (Sorry, Nugget and friends. Some chickens do not live the cushy life.)
Anyway, to cut to the chase, so to speak, before I knew it, the cook was serving up daal-bhaat on a little mat next to my tent. Daal-bhaat is kind-of the national dish of Nepal—rice, lentils, some simmered meat, and at least one type of chutney, or pickle as they call them.
Yes, I have made my way to the point here. The Meyer lemon pickle! So that's when I first tried this mixture that I love so much. I got to thinking about how to make it, and figured it couldn't be too different from making preserved lemons.
In fact, the technique is just the same (cut up Meyer lemons, add a bunch of salt, and let them sit for a couple of weeks), except I've added mustard seeds, a big jalapeño, a bunch of cayenne, and some oil. Here's what it looks like.
So far, it tastes just the way I was hoping—salty, hot, sour, and earthy from the mustard seeds. I'll check it again in a couple of weeks and let you know how it's coming along. Anyone else make pickles/chutneys like these?
Nepalese lemon pickle
MAKES  3 ½ cups TIME 30 minutes, plus at least 2 weeks to chill
1 ½ tbsp. brown mustard seeds1 lb. Meyer lemons (about 8 small), stem ends trimmed1 ½ cups kosher salt1 jalapeño chile, minced2 tsp. cayenne2 tbsp. canola oil
1. Toast mustard seeds in a small frying pan over medium heat, shaking occasionally, just until they begin to pop, 5 to 7 minutes.
2. Rinse lemons, quarter lengthwise, and discard obvious seeds. Put in a large bowl and stir in salt. Use a potato masher or wooden spoon to press lemons and extract some juice. Stir in mustard seeds, jalapeño, cayenne, and oil.
3. Transfer lemon mixture to a wide-mouthed jar (to hold at least 3 ½ cups). Press lemons to immerse in juice. Seal jar and chill at least 2 weeks and up to 6 months. In the first few days, press fruit down occasionally to submerge in liquid.
4. Use the pickle in small amounts to season your favorite foods from the sub-continent.
Keep Reading: