Thanksgiving Potluck: Many-Layered Strata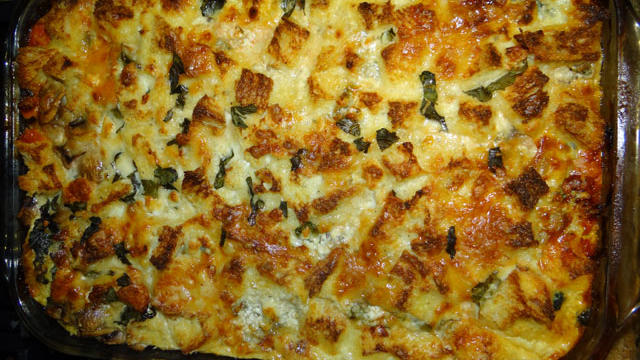 This month, we're cooking our way through Deborah Madison's freshly revised New Vegetarian Cooking For Everyone. Here, research chief Mi...
This month, we're cooking our way through Deborah Madison's freshly revised New Vegetarian Cooking For Everyone. Here, research chief Michelle Lau makes a slightly complicated yet delicious strata. 
I've always loved Thanksgiving. It's that fun combo of family and food. The turkey, the mashed potatoes, the stuffing, and the pumpkin pie. Every now and then, I like to mix it up and make something totally unexpected. When I saw this strata recipe, I thought it was the perfect vegetarian update on traditional stuffing. I'm game to try new recipes, so I couldn't wait to get started on our virtual potluck.
Why this recipe? I've always turned to strata during Easter. It's been my family's answer to all the eggs in the fridge and the heap of leftover ham. Add bread, cheese, and milk, and it all becomes a brand new dish. I've pretty much thrown it all together on a whim, but never with a fancy, formal recipe. And I liked the idea of going totally vegetarian. Plus, you can't really go wrong with bread, cheese, and eggs. It's fontina, after all!
What's it like to make? Madison doesn't lie. She writes in the header of the recipe that "this dish is a bit of a chore to assemble." It's true. With all the prepping of this dish, I was exhausted. There was spinach stems to remove, mushrooms to thinly slice, bread to cube, and cheese to grate. I kept reminding myself this was for Thanksgiving, and that great dishes always are worth the trouble (right?). Luckily, I recruited my children to help in the hope that making the dish would encourage them to eat it. But as any parent knows, young kids in the kitchen can be loads of fun, but easily doubles the time spent. While the kids destemmed an endless pile of spinach leaves, I sliced mushrooms, and then quickly followed with cutting bread cubes. In the meantime, the kids were still attacking the spinach. Then, my sous chef son asked to switch it up, and started grating cheese while my daughter decided to snack on the tiny pieces. Between bites of cheese, she managed to say, "Yum! This cheese is soooo good!" One hour later (whew, that's a long time), we were finally done prepping, and I moved on to the cooking. The actual assembly of the strata was quick, and the kids loved seeing all of the colorful layers come together. They were dismayed, though, to see their big mound of spinach leaves quickly wilt down to a handful. "That's it?!" my son exclaimed incredulously. But, overall, my plan was working! The kids were definitely interested in the dish and excited to see what was next. Problem was, the dish needed to sit in the fridge overnight or for at least several hours, and I think I was starting to lose my fickle fan club. Another major downer: the kitchen looked like a disaster, and I had a mountain of dishes to clean.
How did it turn out? After leaving the strata to chill overnight, we were more than excited to try our creation the next day. But we had more waiting to do. It turns out the dish needed to come to room temperature before baking. And it took an hour to bake. My hungry son was anxious and started asking every 5 minutes if it was ready. The kitchen smelled divine, so I couldn't blame him for asking. Finally, the strata came out of the oven with its puffed crust on top and its golden hue. I got a lot of oohs and ahhs, and we were ready to dive in. The crushed tomatoes added great flavor and the layers of spinach, mushroom, and cheese were delicious. The children easily ate up their servings, and my son (a slightly picky eater) even asked for more.
Will I make it again? Yes! For special occasions, this is a nice dish, almost a meal in itself. But as a go-to recipe for simple dinners, I'd rethink it. Madison lists an option to make the strata without all of the veggie fanfare, with just tomato and basil. That seems like a better bet for my family and me. It'll help cut down on the prep time (not to mention those dirty dishes), and avoid my son having to pick around the spinach and mushrooms. The tomatoes and fontina cheese were a clear favorite in the strata, and I plan on working that into my recipe repertoire. 
Many-Layered Strata
Butter and smashed garlic for the pan1 (28-ounce) can crushed tomatoes, of 3 cups tomato sauce made from         fresh or canned tomatoesSea salt and freshly milled pepper2 tablespoons olive oil or a neutral oil1 pound mushrooms, thinly sliced2 bunches spinach, stems removed, leaves washed but not dried4 eggs2 1/2 cups milk5 cups cubed bread, crusts removed2 tablespoons chopped marjoram or rosemary, or 3 tablespoons slivered        basil1 cup grated fontina cheese, mozzarella, or Monterey Jack1/2 cup crumbled Gorgonzola
Directions:
Lightly butter or oil a 9 by 12-inch baking dish, then rub it with a clove of crushed garlic. Make the tomato sauce if you intend to do that. Otherwise taste your canned tomatoes and season them, if needed, with salt.
Heat the oil in a wide skillet. When hot, add the mushrooms and sauté until they begin to color, about 5 minutes. Transfer them to a bowl and season with salt and pepper to taste. Return the skillet to the heat, add the spinach, and cook until wilted. Finely chop then season the spinach with salt and pepper to taste. Beat the eggs and milk with 1/2 teaspoon salt and freshly milled pepper.
Spread 3/4 cup of tomato sauce in the baking dish. Cover with a layer of bread, followed by the spinach, half of the herbs, and half the fontina. Add a second layer of bread, cover again with tomato sauce followed by the mushrooms, the rest of the fontina, the herbs, and half the remaining tomato sauce. Add a third layer of bread and cover with the rest of the tomato sauce and the Gorgonzola. Pour the egg mixture over all. Cover and refrigerate overnight or for several hours, but allow it to come to room temperature before baking.
Heat the oven to 375ºF and bake until browned and puffed about an hour in all. Let cool 5 minutes before serving.
Strata with Tomato and Basil: Omit the mushrooms and spinach from the strata and use crushed tomatoes rather than a sauce if you want to make it really easy. Season well with salt and pepper and be sure to use all of the tomato.
Keep Reading: