Thanksgiving Potluck: Kale Salad with Hot Cider Vinaigrette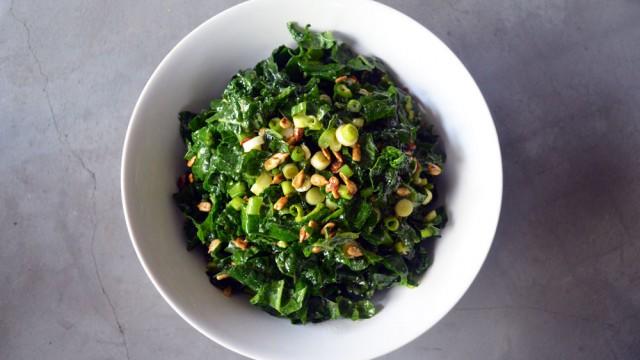 Kale is not passé! Deborah Madison's new kale salad will make you love these dark leafy greens all over again.
This month, we're cooking our way through Deborah Madison's freshly revised New Vegetarian Cooking For Everyone. In our last Thanksgiving installment, food editor Margo True ends our potluck with a delightful kale salad.
In my family, you don't mess with Thanksgiving. A group of fairly adventurous eaters, we are committed to the beloved and the familiar on that one happy day. Turkey, gravy, stuffing, mashed potatoes, cranberry sauce, some kind of green vegetable, a green salad, and pie(s)—that's the canon. That said, once this vital scaffolding is in place, we permit add-ons like coffee creamed onions (weird but good) one year for me and Dad, and sometimes (sometimes!) variations, but they'd better be good. This recipe is that good.
Why did I choose it? Because I'm always looking for recipes that our readers might enjoy: simple but never boring, and a pleasure to make. Deborah Madison is better at this than anyone, and her kale salad—the only one in the book, by the way—barely occupied any space on the page, yet promised some intriguing techniques and flavors.
What's it like to make? So easy and gratifying, and, best of all for Thanksgiving, almost completely do-ahead! The night before, I did everything except the last step.
First I rinsed and dried the kale, and then stripped the leaves from the stems with my hands (faster than using a knife). Then I stacked them and cut thinly crosswise. Finito.
Then I glazed the glazed sunflower seeds, and they were a revelation! I'd always thought sunflower seeds were a total bore—because, I realized when I tasted these, I'd never had good ones. I toasted the seeds until golden, and they were as rich and crunchy and snack-worthy as almonds. Then I sprinkled them with soy sauce and stirred vigorously to keep them from clumping, and shook on some shichimi togarashi (a Japanese chile-seaweed-sesame blend). Each seed ended up coated in pungent spice.
The vinaigrette, which I made right before tossing the salad, was a simple matter of whisking together apple cider vinegar with a little Dijon mustard and olive oil on a stovetop till thickened.
I enjoyed Madison's instructions to wipe out the pan with a tongful of kale.
How did it turn out? To soften the tough leaves, kale salads usually involve tedious hand-massaging (yes, really) or at least a half-hour of sitting around in vinaigrette. This recipe skipped all that and went straight to yum. I heated up the vinaigrette, poured it over the kale (to which I'd added sliced green onions and the glazed seeds), and instantly the kale softened into glistening lusciousness. It was tender and so packed with flavor that my boyfriend and I ate the entire bowl. Good thing no one else was at the table.
Will I make it again? Indubitably and repeatedly. I've already made it twice, and for Thanksgiving I plan on making a triple—quadruple? batch. My family will love it. Maybe it'll even make it into the canon.
---
KALE SALAD with GLAZED SUNFLOWER SEEDS and HOT CIDER VINAIGRETTEServes 2 to 4
"There are so many good kale salads now," writes Deborah Madison, "and yet the idea of such a thing never even popped up when Vegetarian Cooking for Everyone was a work in progress. Foods change. This is one of the simpler kale salads I make, tossed (and somewhat wilted) with a hot vinaigrette. You can certainly add more to it—sliced apples, crumbled feta cheese, fresh oregano, and so forth."
1 bunch Tuscan kale, enough to make 4 cups slivered, stems removed first¼ cup Glazed Sunflower Seeds with Shichimi Togarashi (see below)4 green onions, including a few inches of the greens, thinly sliced1 tbsp. organic apple cider vinegar [really worth it to get organic—it's much more flavorful than conventional apple cider vinegar]1 tsp. mustard [I used Dijon]3 to 4 tbsp. olive oil [an extra-virgin one will have the best flavor]Sea salt and freshly milled pepper
1. First, prepare the kale and have it ready in a shallow bowl. Glaze the sunflower seeds if you haven't done so already. Toss them, along with the onions, with the kale.
2. Whisk the cider, mustard, and oil together in a small skillet. Heat until bubbling, then pour it over the kale and toss immediately. Pick up some of the kale with tongs and use it to wipe out the pan. Taste and season with salt and pepper to taste.
Glazed Sunflower Seeds with Shichimi TogarashiMakes 1 cup
1. These soy­ sauce–glazed sunflower seeds are a good and inexpensive nibble and a great ingredient for salads. …The seven-spice Japanese powder gives the seeds a little kick, but if you don't have it, simply leave it out. It's still good.
1 cup raw, hulled sunflower seedsSoy sauce or tamariDash shichimi togarashi [I used a few dashes because I love it]
1. Heat the sunflower seeds in a skillet, scooting them back and forth every few minutes, until golden. Turn off the heat and sprinkle soy sauce over the hot seeds. Slide the pan rapidly back and forth to coat the seeds, season with the shichimi togarashi, then turn them onto a plate to cool. You don't need a lot of soy sauce, probably about a teaspoon in all.
Keep Reading: