Team No Gardeners Left Behind: It's Go Team all the way. Never mind the searing heat and a hailstorm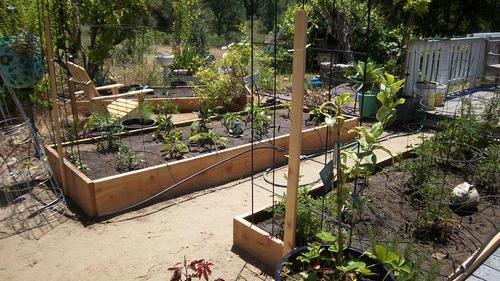 This post catches up with the team as summer hit them full force, in late June. Brand-new raised beds in Anne's garden, with veg...
This post catches up with the team as summer hit them full force, in late June.
Brand-new raised beds in Anne's garden, with vegetables already thriving.
Summer is finally here, and along with it, 104° temperatures. Team No Gardeners Left Behind is not complaining, because it is what our gardens need. All the cool spring weather and the devastating Newman hailstorm in May put our gardens about a month behind.
But things are looking up. Cheryl is growing her veggies in raised beds, and her plants grew faster than those planted directly in the ground across town.
Cheryl's tomatoes (with squash in foreground). Even in June,
when most of the country's tomatoes were still babies, hers looked great.
In Elsa's garden, tomato, jalapeño, bell pepper, and melon plants are doing well, and so is the new lemon tree. All of this while she has been off on a cruise to Mexico!
In the spirit of the One-Block Party contest, I've had fun planting new crops along with the tried and true. In the teacher's lunch room here at Yolo Middle School, I heard such praise about lemon cucumbers and Sungold cherry tomatoes that I just had to try them.

Sungolds, left (they began ripening a few days after this photo was taken).
Right: lemon cucumber.
I also decided to plant a pink lemonade blueberry plant. Yes, blueberries that are pink.
You got to love it.

This pink lemon blueberry plant is bound to create a lot of anticipation.
At UC Davis's Picnic Day, ag students were giving away free tomatoes. I came home with an unknown plant and decided that rather than planting it in the ground, I would plant it upside down. It is doing as well as the tomatoes planted in the more traditional manner!  

Karen's UC Davis tomato,
obviously loving life upside down.
Our pomegranates, grapes, lemons, and peppers are doing well, too.
A baby pomegranate.
If the weather cooperates and the snails leave the plants alone we have the makings of a good feast. I begin each morning picking those snails out of my garden…and Cheryl is raising snails for escargot…We seem to be working at cross purposes here!
Anne's gardens are taking off too. Her newly built planter boxes are filled with veggies. She's also growing food indoors.
Lettuce likes it under Anne's gro-lamp.
And her chickens are still happy in their new home.
By Karen March, team leader
Posted and edited by Margo True, Sunset Food Editor
Keep Reading: