Team Gray Sky Growers preserves strawberries and apricots, and makes cheese and gluten-free scones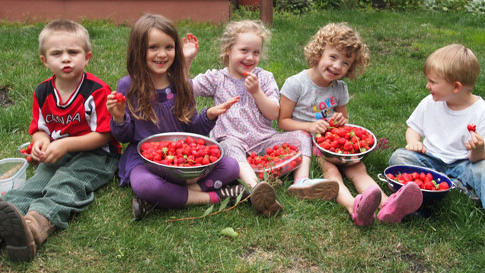 Based in Olympia, Washington, the Gray Sky Growers are six families united under a common purpose: to win Sunset's One-Block Party c...
Based in Olympia, Washington, the Gray Sky Growers are six families united under a common purpose: to win Sunset's One-Block Party contest. And, of course, to have a great time. Being in a cool climate, they're mixing cool-weather crops like kale and kohlrabi with the warm-weather plants like berries. The Gray Sky Growers plan to fish for salmon and brew some beer, too. We fully anticipate that their feast will be full of good stories about how they grew, made, or hunted all the ingredients on the table. 
The Stolls always have a bumper crop of strawberries, and the neighbor kids love coming over to pick (or eat) their way through the yard. 
The little garden helpers are (from left to right): Larsen, Maya, Ella, Maxine, and Anders.
We all like keeping the harvest, and preserving is a great way to do that.

Strawberries before jamming.
Strawberries after jamming.
 Then we made apricot jam—with Eastern Washington apricots. 
Emily and Joellen, members of Team Preserve, filled 25 jars with delicious apricot jam.
From jams to cheese
This cheese was made with milk from an organic dairy in Lynden, Washington.
Straining the curds; the liquid drizzling out beneath is the whey. Remember Little Miss Moffat?
Draining excess moisture from the curds.
The finished cheese.
Amaranth Update
Our amaranth isn't ready quite yet—it needs to dry on the plant—and since it won't yield enough to make many treats, we continue to work on our gluten-free baking skills using other flours.
Amaranth seed head, nowhere near ready.

Gluten-free baking on a Saturday afternoon, with little Beatrice helping.
Gluten-Free Scones
Adapted from the Joy of Cooking "Classic Currant Scones"


1 1/2 cup rice flour
1/2 cup tapioca Flour
1/3 to 1/2 cup sugar, depending on how sweet you like your scones
1 tbsp. baking powder
1 tsp. salt
6 tbsp. Earth Balance Natural Spread (for dairy-free) or butter 
1 egg
1/3 cup milk (or water if you want it dairy-free)
Turbinado sugar, for sprinkling 1. Preheat oven to 400.° Mix rice flour, tapioca flour, sugar, baking powder, and salt together in a bowl. Using a fork, crumble Earth Balance spread into flour mixture. Stir egg and milk into flour mixture. 
2. Divide mixture into two balls and flatten on parchment paper–lined baking sheets Sprinkle turbinado sugar on top (see photo, above).
3. Bake 10-12 minutes, or until browned on top. Let cool, then cut each flattened "ball" into fourths.
Editor's note: I suggest that after baking, you spread scones liberally with homemade jam!
By Joellen Reineck Wilhem, team leader
Posted and edited by Margaret Sloan, Sunset production coordinator
Keep Reading: