Team Food Court builds a salad bar and makes dandelion wine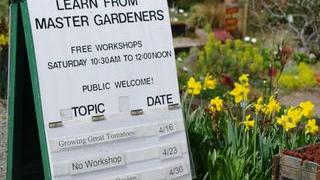 The following is Team Food Court's spring update. Their summer update will follow shortly. As ringleader of Team Food Court, you mig...
The following is Team Food Court's spring update. Their summer update will follow shortly.

As ringleader of Team Food Court, you might say I have a gangrene thumb. I know what to do with fruits and vegetables once they're grown, but I have absolutely no idea how to grow them. For me, the garden is the most daunting part of this project.
At first I tried to find a gardener who would like to be an advisor, but that seemed far too expensive. I asked questions at my local nursery, but as patient and wonderful as the nursery people are, they don't have time to sit down and give me a full tutorial. Then, at the farmers' market, I met the lovely ladies from the Master Gardeners, and the heavens opened.
Every Wednesday and Saturday, the Master Gardeners work in Bellevue. I go see what they are planting; I take them bugs or wilting leaves to ask advice; and I steal their ideas (we've started a pea/bean arbor for the kids to tunnel under).
    
I also get a nice cup of coffee from Master Gardener Steve Walker (above).
Our salad bar, in straw-bale raised beds.
We've built straw-bale raised beds (a cheap and easy alternative to traditional raised beds), which will slowly decompose and turn into wonderful compost for next year. I'll admit our only experience with this process was seeing it on YouTube and thinking, Hey, that looks easy!
Our somewhat damaged head of lettuce.

As a healthy Food Court, we created a salad bar, which started producing in June. We lost only one head to botrytis. Botrytis is wonderful for some wines, but not so great for lettuce.
Speaking of wine, we've turned a joke into a challenge.
We live in a tiny house on a lot that we refer to as a field rather than a yard. The hope is that by gardening in the front yard, we will have an opportunity to engage our neighbors. They've seen us build the straw-bale garden, tend the berry patches, and fuss with the chickens.  But by the first week of April I realized they would probably prefer I mow the lawn and kill the dandelions. The neighborhood gardeners and maintenance guys wave and shake their heads every time they drive by. My mother was the 10th person to joke, "You should make dandelion wine." And with that, the picking began.
I told the kids we were practicing for an Easter egg hunt.
After two hours of picking and cleaning, I ended up with enough dandelion flowers (a full 12-quart stock pot) for a gallon of wine. After steeping a dandelion tea for three days, I headed to Mountain Homebrew & Wine Supply and very timidly asked what to do. Kindly, no one laughed at me. They sent me home with winemaking equipment and a fine Champagne yeast. Our dandelion wine has been fermenting in the mudroom/distillery/greenhouse, and we are about to do some bottling.
We had a delivery of more straw bales for tomatoes, vines, and peppers. We roped in family to create the drip irrigation system. What a marvel it is! Water flows magically every 12 hours, and the system keeps me from doing a lot of extra work.
Drip irrigation gets the peas sprouting (left). Above: Seedlings (starts) before planting.
 
Now we sit and wait. The pea arbor has small shoots coming up, and I'm hopeful that we'll get some sunshine so they can grow. The mudroom has tomato, peppers, basil starts, pumpkins, and squash just waiting to go in the ground.
 
 
Master Gardeners. Mountain Homebrew. Our irrigation-savvy family. Our list of trusted experts grows. I might just shake this gangrene thumb. 
Me, starting fermentation for dandelion wine. 

By Jennifer Harvey, team leader
Posted and edited by Margaret Sloan, Sunset Production Coordinator
Keep Reading: