Team Bad Skunks' Tomato Tales (in Which Unloved Tomatoes Find a Home)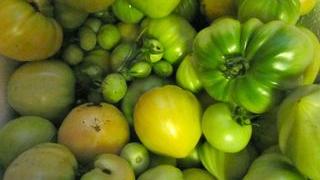 Team Bad Skunks is a group of food exchangers in Los Angeles, near Highland Park, who like to have fun. Everyone in the group grows food—...
Team Bad Skunks is a group of food exchangers in Los Angeles, near Highland Park, who like to have fun. Everyone in the group grows food—interesting things like nopal cactus, loquats, and burdock along with standbys like beans and peppers, as well as lots and lots of fruit. Team leader Max Wong raises bees and makes preserves from produce her neighbors forage from the area and bring to her. Then she delivers the jars to them as thanks. "It was a cinch to convince them that a summer's-end block party challenge was a good idea," says Max. "Who doesn't need another excuse to have a party?" This post catches up with the team at the end of summer, shortly before they had their feast—the final event for all 10 teams competing to win Sunset's One-Block Party contest.

Saved from Marta's waste bin.
While parking my car today, out of the corner of my eye I happened to catch my neighbor, Marta, tossing a tomato into her green yard-waste bin. (My peripheral vision for wasted vegetables is very good). 
I screeched to a halt and ran over to her yard. She was indeed filling her waste bin with her tomato plants—tomatoes still attached. 
"I don't know what I did wrong," Marta grumbled. "I only planted three plants and they grew too big. I'm tired of picking tomatoes. It's just been terrible having this many tomatoes grow."
Yes. Marta. We all know the horror of having too many home-grown tomatoes. What a burden. 
Did I mention that our tomato plants—our official One-Block Party Contest tomato plants—look terrible? Even though we added a load of manure to our yard last fall and have been consistently amending the dirt in our veggie patches, the salty clay soil of our backyard continues to stunt our plants.
Our pathetic tomatoes.
So I was extra happy that Marta gave me twenty pounds of tomatoes to bring home. I'm making the ripe ones into ketchup and turning the green ones into fried green tomatoes and pickled green tomatoes. 

Marta's tomatoes, safe in my kitchen.
Marta is not my only neighbor who is outraged by the productivity of her tomato plants. Noel, my next-door neighbor and fellow Bad Skunk, detests them. But he grows them to give to company when they come over. They're like garden party favors for him.
Then there's Estrellita, who invites me over to her house every day to pick tomatoes because she hates them so much.
Estrellita's house and extravagantly healthy tomatoes.
Yes, this giant, lush hedge of tomato plants are all volunteers. Estrellita does nothing to encourage their growth. If only the weeds in my yard were this productive. And delicious.
Thank goodness our neighbors are A: So good at growing tomatoes and B: so good at not eating them. 
By Max Wong, Team Leader
Posted by Margo True, Sunset Food Editor
Keep Reading: