Sunset Eat Fresh, Day 4: Whoops.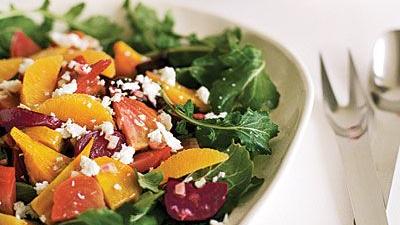 Roasted Beet Salad with Oranges and Queso Fresco, one of my favorites. Who: Trina Enriquez, copy editor I'm giving up: Chocolate (officia...
Roasted Beet Salad with Oranges and Queso Fresco,one of my favorites.Who: Trina Enriquez, copy editor
I'm giving up: Chocolate (officially; unofficially, all refined/added sugars in desserts)
My biggest challenge: The Marketing team threw a good-bye party for a coworker on Tuesday and, in true Sunset fashion, this involved oodles of sweet things. Chocolate cream pie, blueberry pie, strawberry rhubarb pie, apple pie, cookies. But most chocolate cream pie. I gazed at that lush mound dusted with chocolate shavings and felt pretty glum. But steered clear!
So I may as well confess now that the next day (Wednesday, Day 3), I forgot—you might say conveniently—that there must be sugar added to things that are not overtly desserts. Like the spiced yogurt muffin I had with my green juice for breakfast. Oh, and um, that the chicken mole enchiladas I ate for dinner had CHOCOLATE in them! Oops. No wonder they tasted so good.
Coping mechanisms: I am an incorrigible optimist (or maybe I just prefer not to dwell on failure), so I look at the gains. Been eating more mixed greens and fruit this week. Managed not to buy spendy gourmet chocolate or macarons the way I often do—which has not happened since maybe 2008. Strangely, I've also been craving something savory. Like, so-mouthwatering-it-makes-your-cheeks-hurt savory. (That must be why I went for the mole enchiladas! Ha.) Plus I've been drinking more water; instead of reaching for a snack, I reach for my mug.
Today I feel: A little doh! about the enchiladas, but oh well. Hey, not all moles contain chocolate, right? At least I ate a salad for lunch.
(photo: James Carrière; styling: Karen Shinto)
Keep Reading: