Smashed Avocado Toast from Huckleberry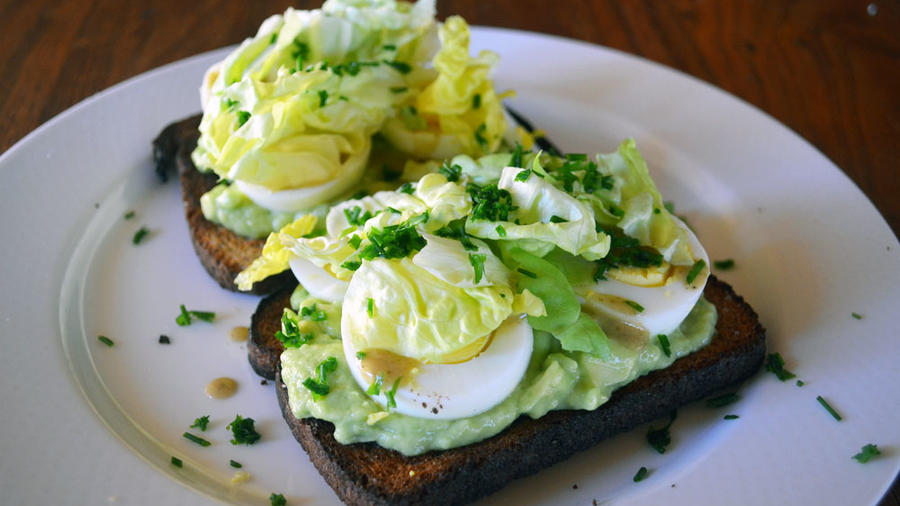 Copy Editor Trina Enriquez took on toast—and overcame her past prejudices about avocados. I don't know much about cooking, which is em...
Copy Editor Trina Enriquez took on toast—and overcame her past prejudices about avocados.
I don't know much about cooking, which is embarrassing to admit when you work at Sunset. But I love to eat, so in the spirit of the new year, I figured it'd be a good challenge to take on a recipe for the Cookbook Club. Everyone's gotta start somewhere, right? And if you're starting from the beginning, you may as well learn the right way.
Why this recipe? I've never liked avocados. People ask me, "How is that even possible?!" But when I think of avocados I think of guacamole, and guacamole looks to me like green goop. Still, I feel sort of guilty about it because every year my parents give me dozens of avocados from their backyard trees, yet even after giving most of those away, I end up with a few sad ones in my fridge. So I figured it was time to kick the old prejudice and figure out something tasty to make with them. (Plus, I love anchovies.) Anyway, how hard can it be to make a sandwich?
What was it like to make it? I was a little nervous, actually! I didn't want to end up with yolks that were green and whites that were rubbery, and I wanted to emerge with my thumbs intact. So the night before I made it at work, I read through the recipe, cross-checked its egg-cooking method with Sunset's, and Googled "how to cut an avocado." Luckily, since the recipe called for "very ripe avocados," I chose from my stash those practically turning to guac as I handled them, and their pits fell out easily.
About making the toast, though, I was mad. Why should I fire up the oven to 500° just to toast four pieces of bread?? Can't I just use a toaster? Sheesh. But the recipe says we use the oven, so we use the oven. (Besides, I didn't see a toaster in the office kitchen where I was preparing this.)
And you know what? The toast turned out differently than it probably would have if I'd used a toaster and then drizzled on the olive oil afterward—which might have made the bread too pliable to hold up the avocado and sliced egg.
As for the rest of the ingredients, I didn't buy enough anchovy tins (my best guess is that you'll want a little more than 2 oz. anchovy fillets to cover you for this recipe). I added a pinch or two more of salt to the dressing to make up for the lack of anchovies.
How did it turn out? Creamy, crunchy, buttery, with enough zing from the dressing to counterbalance the richness of the avocado and cooked yolk. I halved the extra pieces of toast and put them out in the common area for passing coworkers to sample. The toasts were snarfed up in about five minutes. "It looks so healthy," said one coworker.
Will I make it again? I did the next morning, in fact! Minus the egg but with lots more anchovy dressing.
I especially liked that I could trust this recipe to walk me efficiently through the process of making something both pretty and flavorful, without dumbing down the process or the product.
---
SMASHED AVOCADO TOAST with HARD-BOILED EGGS and ANCHOVY DRESSINGServes 4
Ingredients:
8 eggs
DRESSING1/2 cup (120 ml.) extra-virgin olive oil3 tbsp. red wine vinegar6 or 7 anchovy fillets4 1/2 tsp. Dijon mustard4 1/2 tsp. capers in brine, drained1/4 tsp. kosher salt1/4 tsp. freshly ground black pepper2 tsp. honey4 tsp. chopped fresh chives
4 very ripe avocadosKosher salt2 lemons; 1 juiced, 1 cut into quarters4 slices of your favorite breadExtra-virgin olive oil for drizzling1 head butter lettuce, washed and torn
1. Put the eggs in a medium saucepan with water to cover by about 2 in. (5 cm). Bring to a boil, then immediately turn off the heat, cover, and allow to sit for 12 minutes. Remove the eggs from the pan and refrigerate on a dish until cool.
2. To make the dressing: Combine all the ingredients except the chives in a blender or food processor. Blend until homogeneous, transfer to a small bowl, and fold in the chives. Set aside.
3. Preheat your oven to 500°F (260°C).
4. When the eggs have cooled, peel off the shells. I find this easiest to do under a little running water. Slice the eggs into 1/4-in. (6-mm.) rounds and set aside.
5. Scoop the flesh from the avocados and transfer to a bowl with 3/4 tsp. salt and the lemon juice. Using a fork or a potato masher, lightly smash the avocados.
6. Arrange the bread on a sheet pan, drizzle with olive oil, sprinkle with salt, and toast in the oven. When the bread is toasted, drizzle 1 1/2 tbsp. of dressing over each slice. Top with the smashed avocado, the more the better, followed by 2 sliced hard-boiled eggs. Drizzle with 1/2 to 1 tbsp. more dressing to taste. Top with a small handful of the lettuce and squeeze 1 lemon quarter over each.
This must be eaten the moment it's made. Does not keep well.
(photos: Carol Shih)
Keep Reading: