How to Prepare for an Earthquake and Tsunami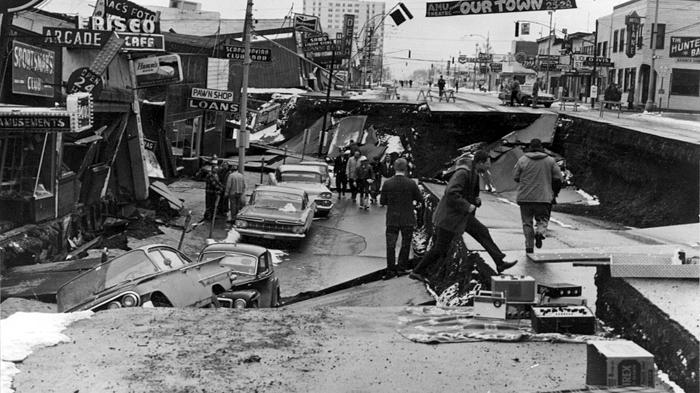 Downtown Anchorage. Photo by U.S. Army, 1964. Figure 45, U.S. Geological Survey
The 50th anniversary of the Great Alaska Earthquake and Tsunami reminds us where we live—and to be prepared
Fifty years ago, a magnitude 9.2 earthquake rumbled deep and long in Alaska's Prince William Sound, severely damaging Anchorage and triggering a tsunami that killed more than 100 as it struck the coasts of Alaska, Oregon, and California. "The earthquake lasted approximately 4.5 minutes and is the most powerful recorded earthquake in U.S. history," says the U.S. Geological Survey, which has compiled a 50th-anniversary retrospective of the Great Alaska Earthquake and Tsunami with seismic data and hundreds of photos.
In the Ring of Fire, it's only a matter of time before the next big quake—and its potentially resulting tsunami waves. But there are steps you can take to prepare your family to survive the shaking and subsequent damage until help arrives.
Earthquake preparedness
Since you can't predict where you'll be when a quake hits, the San Francisco Fire Department's Neighborhood Emergency Response Team (NERT) training program advises that you create a disaster and reunification plan—sketching out what you'll do in an emergency and where you'll meet up with family if you're not at home together—plus 3 earthquake kits: One for your home, one to carry in your car, and one to leave at work. (Have kids? Work with their teachers to create school kits with food, water, a comfort item, a family photo, and a note from you.)
Your work and car "go kits" can often fit in a backpack and are intended to get you safely to your reunion spot—and have a backup site in case the first one is damaged or inaccessible. Include:
Sneakers
A change of clothes
Flashlight
Portable radio
First aid kit
Some money (in small bills)
Some food and water
Your main kit at home should contain a lot more food and water. Enough to last each member of your family—including pets—for 5 to 7 days, says NERT (not just 72 hours as the mantra of late has been). Take our fire kit—designed for one of the West's other natural disasters—and augment it with food, water, and:
Fire extinguisher
Bleach or other water purification method
Warm clothes
Work boots and work gloves
Can opener and a few pots and pans
Dishes, cups, and utensils
Wrench for turning off water and gas (if there's a leak)
Toilet paper, heavy-duty plastic bags, and duct tape (or store some of your kit in a small trash can that you can use as a "honey bucket")
Soap and other hygiene items
Money (in small bills)
Prescription medications and glasses
Copies of insurance coverage and out-of-state emergency contact's phone number
Leash and pet carrier, plus pet photo in case you get separated
Store your kit in a big trash can or cooler on wheels near a ground-floor door or in your yard—or in a shed, so raccoons can't break in and party with your supplies. Keep your camping gear nearby and you'll have access to temporary shelter, sleeping bags, lanterns, and your gas camp stove.
And when a quake hits, NERT and many other earthquake-awareness groups still advise that you drop, cover, and hold on.
Tsunami preparedness
This year's Tsunami Preparedness Week intentionally coincides with the Alaska quake's anniversary, with federal, state, and local agency–sponsored events in coastal towns. Check out the USGS and National Oceanic and Atmospheric Administration to learn when and how to head for the hills—and how long to stay away. As the Anchorage Daily News points out in an anniversary article about tsunami warning systems, warning sirens saved lives in Hawaii after the Great Alaska Quake, but residents of Crescent City, California, came back too quickly after the first and smaller waves hit—it was the fourth wave "that is estimated to have reached 22 feet," according to a Humboldt State University geology professor in the Anchorage Daily News article. "More than 100 homes were destroyed. Eleven people died. Total damage was estimated at $23 million."
If you live near the coast, don't take chances—take steps to be prepared.
Keep Reading: