An olive oil tasting: brand new and not-so-new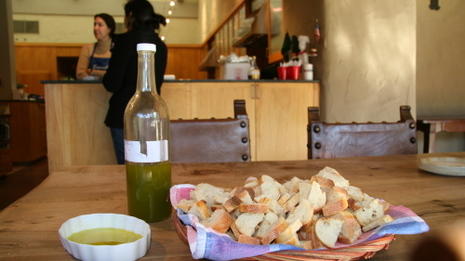 By Margo True, Sunset food editor Left: Our just-pressed oil, back in late November. The day after we...
By Margo True, Sunset food editor
Left: Our just-pressed oil, back in late November.
The day after we'd picked and pressed our olives, we had a quick tasting of the new oil (often called by its Italian name, olio nuovo). It was a deep, bright green and thick with tiny flecks of olive, and we loved it. It tasted intensely of the fruit itself, without the nasty bitterness you get from biting into a raw olive.
Associate travel editor Rachel Levin, bravely eating an olive straight off the tree. "Yuck!"
It's practically miraculous how pressing can quickly transform nasty fruit into delicious oil.
Our oil was fairly peppery, too. Slurping a small spoonful on its own induced slight coughing. (This is considered a good thing in the extra-virgin olive oil world.) But it was nothing compared with the intensely pungent olio nuovo from a few other artisanal California producers, like, for instance, Pietra Santa (where we'd pressed our fruit). Theirs is very delicious, and VERY pungent, in true Tuscan style. A three-cough olive oil.
Why was ours relatively mild, even though we'd used Tuscan olives in our oil? It's because the olives had been grown in a cool, misty climate, just outside Santa Cruz. Hot weather develops the spicy flavors in an olive, just as it does in chiles (if you've ever tried to grow them in cool weather, you'll find out that they end up tasting grassy, not hot).
Mild Olio Nuovo: a future big disappointment?

Even though it tasted wonderful as olio nuovo, did our oil have enough character to withstand months of settling? Would we open up a bottle after three months, only to find something that tasted more like canola oil?
Our fears were groundless. We've just tasted the oil, and even though its color has gone from vibrant green to golden, it still has plenty of flavor—smooth, buttery, and peppery on the finish. It'll be just right for cooking our One-Block Feast.
Our oil today.
Keep Reading: