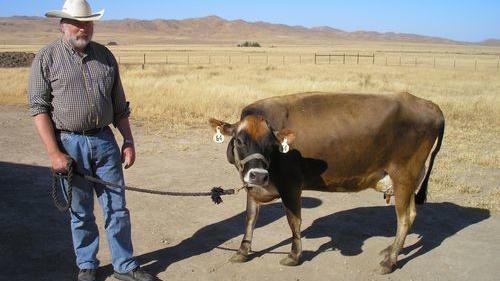 Without further ado, here is the newest addition to the one-block team: Holly, the Jersey cow. Standing next to her: Ron Garthwaite, ow...
Without further ado, here is the newest addition to the one-block team:
Holly, the Jersey cow. Standing next to her: Ron Garthwaite,owner of Claravale Farm, where Holly lives.After all our efforts to find a new cow, it was with immense excitement that Team Cow finally ended up on a dairy farm, picking out our very own Jersey. Claravale is near Pinnacles National Monument, in a remote, grassy valley. It spreads over the site of a ghost town, Panoche. A few remaining century-plus-old buildings of that town still stand, including a post office with a note chiseled into the walls about the great San Francisco earthquake of 1906—felt even down here. It's a lovely, alluring place, with a vegetable garden, a pistachio orchard, dozens of healthy-looking chickens running around, and a milking herd of about 55 Jersey cows.
The old Panoche post office at Claravale Farm.
Owner Ron Garthwaite led us over to the milking barn and let us choose our cow. We didn't exactly know what we were looking for, so this took a while.
Team Cow tries to decide on a cow.
Of course beauty and charisma swayed us at first. We picked out a gorgeous fawn-colored creature who looked like sweetness itself. But then it occurred to us that we ought to ask about milk production, since that was the main point, and also docility, since we really didn't want to be kicked while learning how to milk. Ron then steered us to a few other choices, and that's how we found Holly: productive and gentle, but also quite cute. Her price: $2,500, but we sold most of her milk in advance back to Claravale, since we knew we wouldn't be able to use it (and Claravale definitely could). Therefore, the cost per year worked out to be $270.
Holly.We named her Holly after Hollister, the closest big town. Technically her name is No. 64 (see the ear tag in the photo?)
Then a few of us had a crack at milking her by hand. This is harder than you might think; when you're new at it, milk shoots all over the place, down your sleeve, sideways, and onto your feet. Often it doesn't come out at all. Still, it was extremely fun. Then Ron attached the milking unit, known in the dairy trade as a "claw." Despite the unfortunate name, it's actually more comfortable for Holly and a much faster way to milk—and captured close to 4 gallons for us.
The "claw."Claravale's milk was amazing. It tasted sweet and pure and curiously light, even though we knew it had a high butterfat content. We all stood around having some, with the peanut butter and jelly sandwiches we'd packed.
Team Cow's pb&j and Jersey milk picnic.Then we carefully poured it into quart canning jars we'd brought along, nestled the jars into a giant cooler full of ice (with a thermometer in one jar to monitor the temperature; it rapidly dropped to 40°F and stayed there), and hustled back to Sunset.
We ended up drinking most of it (everyone got some to take home). And we turned it into strawberry milkshakes, too, with fresh strawberries from our garden and honey from the hives. It was deeeelicious.
Strawberry shakes.
Keep Reading: