Mashed potatoes and sausage gravy from Heartlandia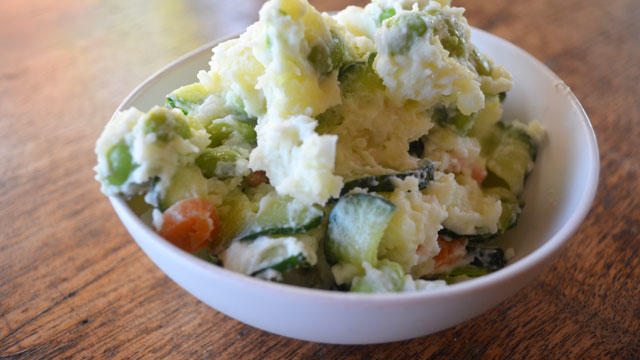 When Associate Art Director Soni Obinger took on Mashed Potatoes and Sausage Gravy, she discovered a whole new way to tackle taters. W...
When Associate Art Director Soni Obinger took on Mashed Potatoes and Sausage Gravy, she discovered a whole new way to tackle taters.
Why this recipe?For this round of Cookbook Club, I wanted to try my hand at a savory dish since the last dish I made was a dessert. This recipe caught my eye, as it's not something I make very often, and it seemed super simple­—almost too good to be true!
What was it like to make it?The potatoes were so easy to make! I was really quite surprised, and I wondered, as I made the dish, why I don't make mashed potatoes more often. Then I remembered: Oh right, the amount of full-fat sour cream and butter is the reason.
I've made mashed potatoes in a variety of ways before: mashing with a masher, mashing with a pastry cutter (don't ask), putting the potatoes through a ricer. But I had never before thought of whisking them in a Kitchen-Aid, so that was a nice trick to learn!
In terms of the gravy, making it definitely took a lot longer than I thought that it would. I have to be honest: I've never made gravy before. (My mom's in charge of Thanksgiving, so she usually takes care of that). So I'm not sure whether this recipe is longer or shorter than the average gravy recipe. I just don't think that I would take the time to make it again, since there are a lot of steps.
One other note: I had a really hard time finding herbes de Provence without lavender—as the recipe instructed—at my local Safeway (and they carry 4 different brands!).
How did it turn out?Since they were whipped instead of mashed, I was a little worried that the potatoes might end up being an odd texture, or that their skin might ruin the whisk. Happily, the potatoes came out really light and creamy, though there were some chunks here and there. I think that it definitely helped that the potatoes were super hot and soft when I whipped them with the butter and sour cream. I do appreciate that the recipe specified that the sour cream should be full-fat, because I am definitely known to substitute nonfat Greek yogurt for sour cream all the time.
The gravy was quite tasty, if a little salty. I will say that if you, like my husband, don't like the flavor of breakfast sausage, this gravy is probably not for you. But the consistency and texture were great, and of course, the gravy went well with the mashed potatoes.
Will I make it again?I would probably use the technique that I learned for making the mashed potatoes again, but I will probably use my nonfat Greek yogurt trick, where I substitute Greek yogurt for full-fat sour cream. I'll also add some garlic! I think I'll skip making gravy, and hope my mom shows up with some of hers.
---
MASHED POTATOES WITH SAUSAGE GRAVYServes 6"At The Cat, we serve mashed potatoes and gravy 365 days a year and tell our cooks to think of the potatoes as the binder for all the sour cream and butter we whip into them," writes Adam Sappington. "I use sour cream instead of milk in my mashed potatoes because I love the tang it brings to the dish. Leaving the peel on the potatoes gives the dish a bit of color and a rustic look."
2 pounds medium red potatoes, scrubbed and halvedKosher salt8 oz full-fat sour cream6 tbs (3/4 stick) unsalted butter, cut into 1/2-inch cubesFreshly ground black pepperSausage Gravy (below), for serving
Place the potatoes in a medium stockpot and add cold water to cover. Bring to a high simmer over medium-high heat. Season the water with salt. Simmer until the potatoes are fork-tender, about 15 minutes.
Drain the potatoes and transfer them to the bowl of a stand mixer fitted with the whisk attachment. Add the sour cream and butter and whip on low speed for 10 seconds. Raise the speed to high and whip for 10 seconds more. Season with salt and pepper.
Divide the mashed potatoes among six plates and, using the back of a large spoon, make a well in each mound of potatoes. Generously ladle the gravy over the potatoes and dig in. (Alternatively, you can serve the potatoes family-style in a large bowl and pass the gravy on the side.)
SAUSAGE GRAVYMakes about 2 ½ cups"When it comes to slow-cooked sauces like this meaty gravy, I always reach for dried herbs because they maintain the integrity of their flavor throughout the cooking process far better than fresh herbs would," writes Adam Sappington. "I especially like to use herbes de Provence in this gravy because it contributes a lot of the background spices I'm looking for in one ingredient. Just make sure your herbes de Provence doesn't include lavender–you don't want your gravy to taste like your grandmother's neck!"
4 thick-cut bacon slices, halved lengthwise and roughly chopped1/3 pound bulk pork breakfast sausage1 medium yellow onion, roughly chopped1 qt chicken stock1 ½ tbs herbes de Provence (without lavender)1 ½ tsp chili flakes1 ½ tsp kosher salt, plus more for seasoning1 tsp freshly ground black pepper, plus more for seasoning4 tbs (1/2 stick) unsalted butter, cut into 1/2-inch cubes6 tbs all-purpose flour
In a medium saucepan, cook the bacon over medium heat, stirring occasionally, until crisp, about 5 minutes. Add the sausage and cook, stirring occasionally, until browned, about 5 minutes. Add the onion and cook, strirring occasionally, until translucent, about 8 minutes. Add the stock, herbes de Provence, chili flakes, salt and pepper and bring the mixture to a simmer.
Meanwhile, in a medium stockpot set over medium heat, warm the butter until it melts. Add the flour and whisk to combine. Cook, whisking frequently, until the roux is the color of peanut butter, about 10 minutes.
Gradually ladle the bacon-sausage mixture into the pot and stir to combine with the roux. Bring the mixture to a simmer over medium heat, stirring occasionally. Simmer, stirring occasionally, until the mixture has thickened enough to coat the back of a spoon, about 20 minutes. Remove the gravy from the heat and season with salt and pepper.
Keep Reading: