Homemade Red Chile Tortillas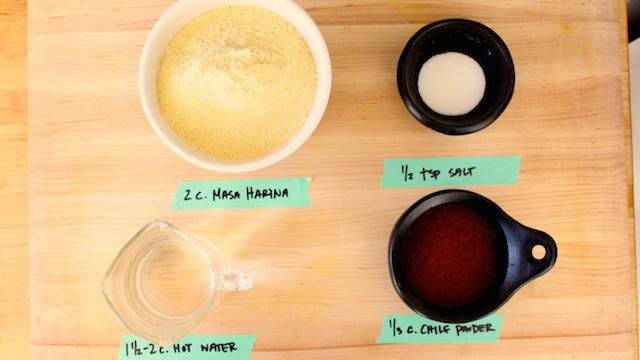 We asked the talented Delilah Snell to share her recipe for homemade tortillas, an easy DIY project with a big flavor payoff. Snell is c...
We asked the talented Delilah Snell to share her recipe for homemade tortillas, an easy DIY project with a big flavor payoff. Snell is co-founder of Patchwork Show, an arts and craft festival with locations across California, and Craftcation, an annual maker and business conference. She cohosts a podcast and blog about her adventures at dearhandmadelife.com. Delilah also freelances in event planing and logistics, loves to garden, and works on various food preservation projects. 
Making homemade tortillas is easier than you think, and so worth it, because everyone can taste the freshness of the masa. Recently I put a spin on them, as I had some sweet, earthy red Hatch chile powder from a trip to New Mexico. The DIY Red Chile Tortillas look amazing, and they add a depth of flavor to any dish that typically uses tortillas. And they can bring on the heat! My favorite ways to use them? Simple cheese quesadillas and grilled fish tacos.
DIY Homemade Red Chile Tortillas Recipe
2 cups masa harina (corn flour) – you can purchase the flour at any Mexican grocery store or from Bob's Red Mill
½ tsp. salt
1/3 cup mild chile powder, such as Hatch
1½ to 2 cups hot water
TOOLS (optional)
Tortilla press—available at cooking stores or Mexican grocery stores. You can also use your hands to pat each tortilla into a disk.
Comal—a flat griddle used for toasting spices or cooking/warming tortillas. If you don't have one, a flat-bottomed pan (I prefer cast iron) works great.
In a bowl, combine all the dry ingredients with your hands, getting any clumps out of the masa and making sure the chile powder is well incorporated.
Slowly add hot water while mixing with one hand. Don't add all the water at once, or the masa might become too soggy. You want the masa to have a slight spongy feel—it needs to be damp but still hold its shape when you roll a small amount in your hand and press your thumb into it.
Once you have the desired consistency, cover the masa and let it rest for an hour. Prep the tortilla press by cutting a plastic bag so it covers the top and bottom—this will help keep the tortillas from sticking to the press. Set the comal/pan on the stove and turn the heat to medium.
Scoop out 1/3-cup portions of masa and roll each in your hand to make a little ball. Set 1 ball in the center of the press between the plastic and press down. Peel it from the plastic and place it on the hot comal.
Cook the tortilla about 2 minutes, until the underside has a drier, lighter red color than the wet masa. Flip the tortilla over and cook the other side 1 to 2 minutes. You may need to use your first couple of tortillas to determine the correct cooking time, because it will depend on your stove, heat, cooking vehicle and thickness of tortilla.
As the tortillas are ready, stack them on top of each other and wrap in a towel to keep warm. Repeat to cook all the tortillas.
Keep Reading: