A Homegrown Passover Menu
Fresh produce shines in recipes made for a Passover meal in the Napa Valley, including wine-braised short ribs with spring vegetables, and meringue cups with strawberries.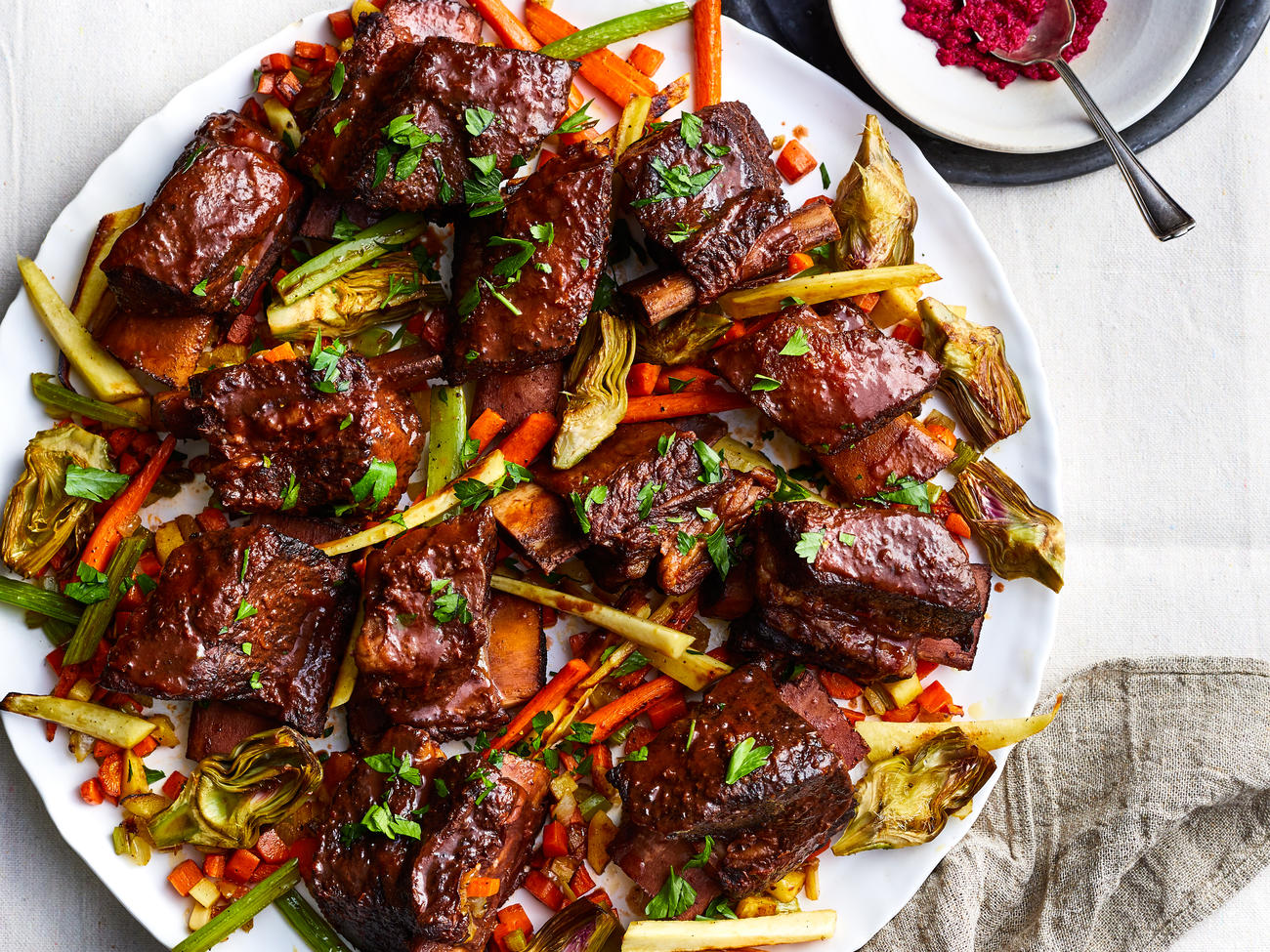 It's the first night of Passover. As the sun sets, friends and family assemble outdoors under a canopy of oaks and olive trees, and Amy Giaquinta lights a ceremonial candle to begin the Seder.
Her garden flourishes just a few feet away. Its beauty isn't so surprising, considering she's a specialist in custom-growing heirloom tomato seedlings for local wineries and restaurant gardens and sells tomatoes to Dean & DeLuca.
Just this morning she harvested basketfuls of vegetables, herbs, and Meyer lemons for the feast: haroseth (a relish of dried garden figs and lemons); fresh horseradish beet sauce; braised short ribs with parsnips, carrots, baby artichokes; home-canned tomatoes; and lemon curd in crisp meringues.
Now the candles glow in the dusk, and her son Jeremy, her friend Rabbi Sydney Mintz, and Mintz's son Eli bring out guitars and a saxophone for a jam session. Giaquinta smiles and says, "I love the music. And I love sharing the fruits of the garden. It's what changes any meal, whether it's a bowl of soup or a feast, into something special."
Below are several of Amy Giaquinta's favorite Passover recipes. They range from the traditional, like sinus-clearing maror, to the more unconventional, like an apple-free haroseth. The mixing of meat and dairy is minimal in all recipes, meaning they can all be made kosher with few if any modifications. These hearty dishes, with their winter-on-the-cusp-of-spring flavor and zing are simple enough to make any time, but perfect for observing a holiday surrounded by loved ones.
The Menu
Fig, Onion, and Lemon Haroseth
For this savory-fruity relish, served with matzo, Giaquinta uses her own lemons and dried figs rather than the more commonly used apples.
Horseradish Beet Sauce
This vibrant, shocking pink sauce, called maror, is served with matzo along with haroseth (see preceding recipe) as part of the seder ceremony. It's also great with short ribs during the meal.
Wine-Braised Short Ribs with Parsnips, Carrots, and Artichokes
A deeply flavorful send-off to winter ― with lots of spring vegetables thrown in. Giaquinta drew her inspiration from The Gourmet Jewish Cook (William Morrow Cookbooks, 1999) by pal Judy Zeidler.
Parsnip Mashed Potatoes
Adding parsnips gives potatoes an earthy sweetness. The recipe is a variation on a dish made by Nicole Trutanich, an L.A.-area friend of Giaquinta.
Carrot and Sweet-Potato Tzimmes
Giaquinta roasts two root vegetables to sweetness for this classic Jewish dish, wonderful alongside short ribs and always a hit with her kids at Passover.
Meringue Cups with Strawberries and Meyer Lemon Curd
Nothing welcomes spring like sweet berries and tangy-floral Meyer lemons. The recipe is from Karen Mitchell, owner of the Model Bakery in nearby St. Helena. For a non-dairy kosher meal, skip the curd, and fill meringues with sliced berries and sweetened berry purée.
---
Search All of Sunset's Recipes
Keep Reading: