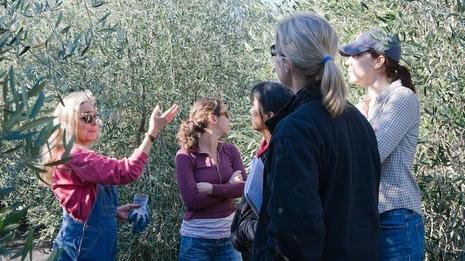 By Rachel Levin, Sunset associate travel editor We rolled up the dirt driveway toward Valencia Creek—and what's gotta be the cutest li...
By Rachel Levin, Sunset associate travel editor
We rolled up the dirt driveway toward Valencia Creek—and what's gotta be the cutest little farmhouse in all of  Aptos, a quiet town just outside of Santa Cruz.
Surrounded by blooming flowers, fields of lavender, and 1800 olive trees, out comes Chris Banthien. Finally, a smiling face to all the phone calls! Clad in overalls and a pink sweatshirt, her blond hair blowing in the slight breeze, she was a full-on farmer living the good life. My first thought: What am I doing in San Francisco? My second thought: I want to run an olive farm!
"Welcome Team Olive!" said Chris. We introduced ourselves—a copy editor, a travel editor, a photographer, and a couple of food editors—here to help pick! (And, um, because we were short on time—to also purchase 800 pounds of olives for pressing later that afternoon.)
First, she led us to a row of trees where a  professional picker was hard at work, as Valenica Creek Farms was already on Day 3 of their week-long harvest. This guy was using an olive rake, which seemed to be moving a-mile-a-minute, removing the olives from their branches while magically leaving most of the leaves undisturbed. A large net covered the ground, catching the falling fruit.  Looked easy enough.
"I thought you guys would work over here," Chris said, pointing to a group of Ascolano trees, each barely taller than my 5 feet-two inches. "Ascolano olives are bigger; easier to pick," she said and handed us a bunch of buckets. "Go to it."
"Is there any sort of technique we should know about?" asked one member of Team Olive. Good question, I thought. "Nope. You just pick," replied Chris with a laugh.
And that's what we did. Scattering ourselves among the trees—glove-free and carefree, happy for such a beautiful day away from our desks.
At times we talked. But mostly we took advantage of the silence, plucking the perfectly smooth, green olives in peace; their oils naturally moisturizing our wintry, dry hands. "This is so meditative!" said Margo True, reading my mind. Of course what was a meditative exercise, might've turned monotonous had we spent all day picking the 800 pounds of olives we needed.
Instead, five of us amateurs harvested 70 pounds in one hour. Not bad. Luckily, Chris and her business partner, Bruce Golino, had kindly set aside 21 additional crates of olives for us—Tuscan varietals (Maurino, Leccino, Frantoio, Pendolino, and Ascolano) picked earlier that morning.
Due to oxidation, time was of the essence. And so, with a wave — and a lovely gift from Chris: bars of soap made from olive oil and lavender—we were off, rambling down the road with 22 crates of loose olives packed into the back of our two cars. Plus one additional 35-pound crate riding shotgun on Amy Machnak's lap.
Destination: Pietra Santa Winery to press!
Photos by Kimberley Burch, Sunset
Keep Reading: