Our Go-to Grocery List for a Stocked Fridge and Pantry
The basics that make up a stocked pantry all in one place.
When I was growing up, my mother was always into cleanses and maintaining our health through what we ate at home. When I got caught drinking at a party in high school, I was greeted the next morning not only with a hangover but also a cayenne ginger shot and some kind of liver cleansing soup—and a two-week grounding. Through the adventure of healthy eating came the tip to "shop the outside aisles of the store." The outer aisles are known for housing fresher foods, including produce, meat, and dairy, the building blocks of a healthy homemade meal. Mayo Clinic goes into it a little more about what the center aisles are packed with that you don't want as opposed to the outer ones. 
Then, as a fifteen-year-old pastry intern at Chez Panisse, I would have a tray of a thousand blueberries (I never counted but it was a lot) placed in front of me as I started my seven am shift. The pastry chef would pull out four, have me taste them, and explain why they were the best. My task for the day would then be to weigh out and sort the berries; the perfect ones went in a fruit bowl for dinner service, and the others turned into sauces or galettes. This sorting skill, and having grown up in the outer aisles, instilled a unique pride in me when it came time to go grocery shopping
When the day came that I finally moved into my very own apartment—sans roommates—my first trip to the grocery store was a true treat. The varieties of pasta I would pick to fill my pantry, the cartons of beef, chicken, and veggie stock; the buns, bread, and peanut butter-filled pretzels (one of the few snacks I indulge in buying along with Cheez-Its)….my fridge would be stocked forever, I thought at checkout. Forever lasted one week….and then I was out of pasta, stock, meat, and fresh herbs, meaning another trip to the store would soon appear in my cards. 
Moral of the story, no matter how stocked your fridge or pantry is, you will still need to go to the store again, at some point. When my twenty-something friends started asking me what I buy at the grocery store to enable me to cook every night, I had to stop and think. How would I guide someone who might not be as familiar with the aisles of a store as I am to still leave feeling like they have everything they need? I would start by writing lists, I decided. A basic list to guide an essential grocery trip; and that list is below!
With these items in your fridge and pantry, you should have all the basics for any recipe you're in the mood to whip up. While you may have to make a trip to the store for specialty items, like maybe short ribs if you're braising, or jackfruit if you're trying to transform a veg, you can whip up tons of easy recipes for dinner with just these items in the cupboard.
Basic Grocery List for a Stocked Fridge and Pantry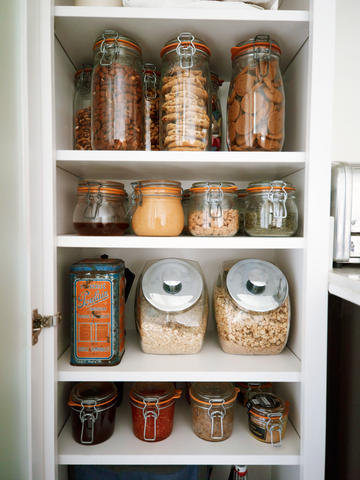 Grains and Baking
Pasta
All-purpose flour
Cornstarch
Baking powder
Baking soda
Sugar
Sliced bread (or whatever type of bread you prefer)
Hamburger buns
Tortillas
Rice
Peanut butter
Jam
Spices (cinnamon, cloves, allspice, ground ginger), kosher salt,
Oats
Produce
This is a big preference thing, if you know you don't like something on the list below, don't get it; if something special is in season and sparks your interest, grab that too! This list is pretty generic to most average grocery store offerings. 
Yellow and red onions
Garlic
Green onions
Herbs (cilantro, parsley, oregano, basil)
Bell peppers
Tomatoes (I go for cherry tomatoes)
Mushrooms
Sweet potatoes
Russet potatoes or baby potatoes
Spinach
Oranges
Lemons
Limes
Meat and Dairy
Eggs
Milk
Butter
Cheddar cheese
Parmesan cheese
Chicken thighs (I stick with bone and skin on)
Ground beef
Italian sausages
Fresh or frozen shrimp
Salmon or halibut filets
Canned Goods and Oils
Canned beans (garbanzo, pinto, kidney)
Whole canned tomatoes
Tomato paste
Chicken broth
Beef broth
Veggie broth
Olive oil
Canola oil
Apple cider or white vinegar
Hot sauce
Soy sauce
---
Read the 2021 Harvest Issue Right Here
Get one year of Sunset—and all kinds of bonuses—for just $24.95. Subscribe now!
Keep Reading: