Eat Fresh, Day 9: Juicing inspiration, in bulk and with pint-size sidekicks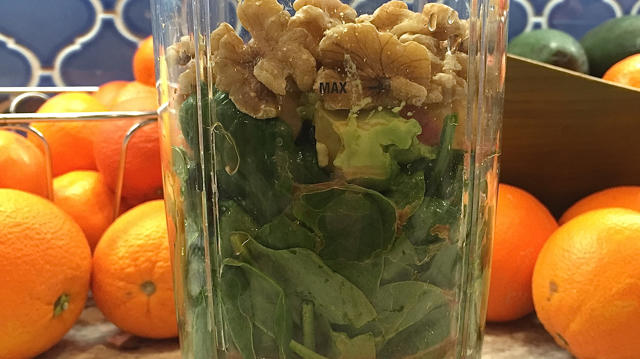 Who:  Erika Ehmsen, Managing Editor of Sunset's Digital Editions (for your iPad, Android, etc.) This year, I've decided to:  Juice ...
Who:  Erika Ehmsen, Managing Editor of Sunset's Digital Editions (for your iPad, Android, etc.)
This year, I've decided to:  Juice whole produce daily in a blender (not a juice "extractor," which removes a lot of fiber).
I chose this because:  My food pyramid leans toward grab-and-go breakfast bars, and I'm not consuming enough fruits and vegetables each day.
This weekend was:  An opportunity to go to my closest natural-foods store, Rainbow Grocery in San Francisco. I roamed the intimidatingly stimulating aisles and aisles of bulk herbs, nuts, and produce and came home with easy-unzip mandarins, rice-based protein powder, a refillable swing-top glass jar of dates, and some crazy supplements (like "Green Power Blend," with wheatgrass, spirulina, kelp, and more). Lots of inspiration for experimental concoctions.
My biggest temptation to cheat:  When my husband brings me a breakfast bar and a mug of coffee in the morning, in a kind effort to get me out the door faster. A ready-made "meal" is right there, at my fingertips. No need to go downstairs and fire up the blender for breakfast.
Coping mechanisms:  I've enlisted my kids as cheerful kitchen helpers. Their pediatrician has encouraged them to "eat a rainbow" of fruits and vegetables each day, so they've had fun advising me on combos. My daughter allowed me to blend in some spinach as long as I let her toss in some cranberry juice and blackberry honey. And my son wanted to blend every fruit on our counter, then excitedly poured cups of his drink to share with the rest of the family. (Note: I'm leaving my superfood supplements out of the juice blends I share with the kids. Why? Because I don't know enough about their potency and potential side effects.)
Recipe I'm really digging:  This basic ratio—adapted from the standard recipe that comes with the NutriBullet blender/extractor—works with just about any combination of fruits and vegetables (you could even go all-veggie, if you don't mind a super-vegetal flavor). Keeping in mind that you want to allow at least an inch of space at the top of your blender, add:
1/4 to 1/2 of blender full of spinach or kale (1 to 2 packed cups)
+
1/2 to 3/4 of blender full of fruits and/or vegetables (thick peels and seeds removed)
+
1 1/4 cups water, almond milk, coconut water, or other liquid*
*If using yogurt, thin it a bit or you'll have a milkshake consistency … which can be weird when your concoction is almost all veggie.
But if you like a thick drink, try this bit of magic: Blend in an avocado half (peeled, of course). It'll thicken up a thin juice blend and give it a smooth texture and exotic richness.
Share your favorite veggie/fruit juice combos by tagging your posts with #SunsetEatFresh on Facebook/Twitter/Instagram. And follow me on Twitter @esquared415 and Instagram @esquared415.
Keep Reading: