Curried Carrot Soup from Homegrown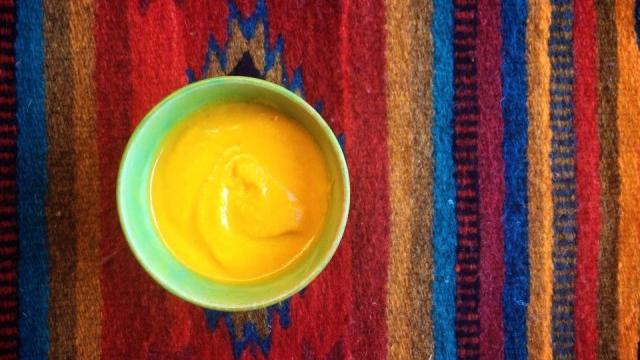 Senior Copy Editor Trina Enriquez found that making Curried Carrot Soup was pure aromatherapy. Every time I buy a new cookbook, I'm sure i...
Senior Copy Editor Trina Enriquez found that making Curried Carrot Soup was pure aromatherapy.
Every time I buy a new cookbook, I'm sure it will be the one to spur me into cooking more often. Yet I'm also the person who's memorized local takeout lunch specials, the person who'll split one meal in two so she doesn't have to cook later, and who's not above eating cereal for dinner.
So when Sunset Cookbook Club time rolls around, I view participation as an impetus to help me overcome kitchen inertia. It helps to be held accountable!
Why this recipe?Soup is nonthreatening. In fact, it's probably the most forgiving thing you can make for yourself. Plus eating it always feels like a hug.
What was it like to grow carrots for your recipe?Confession: I didn't. I knew, realistically, that I'd end up buying a bag of them from the farmers' market when the time came. As luck would have it, though, on the very night I planned to make the soup—the night before the Homegrown picnic lunch we were having at work—I left the office at about 7:20 p.m. That left me barely enough time to dash to the nearest farmers' market, which closed at 8. (Evidently I didn't plan this very well.)
As I sat in traffic counting the minutes, I thought, Would it be so horrible if I just grabbed a bag of carrots from Trader Joe's or my local grocer? Sure, the ideal is to lovingly tend your own produce and eat the food you grow yourself. But wouldn't a typical user experience be to head to the nearest grocery store, toss a bag of carrots in your basket, and be on your way?
Then I thought, No, no, for the sake of this particular recipe, I have to at least get the carrots directly from a grower. So off I ran, scouting the market as vendors were shutting down for the evening, and found exactly one stand with a bin of carrots piled sideways.
"How much are these carrots?" I asked the vendor.
"$4 a pound," he replied. Wha?!
I gulped and bought $8 worth of carrots.
What was it like to make the dish?On the drive home, I kept thinking, These better be some damn good carrots. Of course, I also had to keep reminding myself of why it's a good idea to invest in small, local farms. And once I began to cut up the carrots, I did feel better; it's soothing to chop things up after a long day! Not to mention that leaning over the pot to sniff the ginger and onion in the butter was pure aromatherapy.
One question (coming from the copy editor in me): Since the ingredients list indicates "1 yellow onion, diced," how about saying something like "8 peeled carrots, roughly chopped," instead of simply "8 carrots" with separate instructions to wash, peel, and chop them in the recipe steps? That way, all the dicing and chopping is consistently kept in the ingredients list.
How did it turn out?Besides its proper carroty taste, the soup revealed hints of curry, then a whiff of ginger—and it truly is best with the honey drizzled on right before serving. I was surprised that the recipe called for seasoning with salt only at the very end, but the layers of flavor gave complexity to an otherwise simple-sounding soup.
Will I grow this again? Will I make this dish again?Well, I'm sure not buying $8 carrots again. (Maybe $6 carrots, tops??) But yes! This is the kind of soup I crave as the chill of deep autumn approaches. Its color reminds me of turning leaves, or of the November birthstone citrine.
It's like a flag for the Republic of Soup.CURRIED CARROT SOUPServes 4 to 6
"This soup is full-bodied, and has a nice balance of flavor between the curry spices and the sweetness of the carrots and honey," writes Heather Hardison. "Most of the ingredients are pantry staples, and the prep time is fairly quick, making this a great soup for a weeknight meal."
8 carrots3 tbsp. unsalted butter1 yellow onion, diced1 tbsp. minced fresh ginger1 tbsp. curry powder½ cup (120 ml) heavy cream4 cups (960 ml) vegetable broth1 tbsp. honey1 tsp. salt
Wash, peel, and roughly chop the carrots. In a large pot over medium heat, lightly brown the butter. Add the onion and ginger and cook, stirring frequently, until fragrant, about 3 minutes. Add the carrots and sauté for 10 minutes, and then add the curry powder and cook for 1 more minute. Pour in the cream, stirring and scraping the bottom of the pot to deglaze it. Cover the pot and cook for 5 minutes, checking every so often to make sure it doesn't get dry. Add the broth, bring to a simmer, and cook until the carrots are very tender, 10 to 15 minutes more. Using an immersion blender (or an upright blender, in batches), purée the soup until it's completely smooth. Stir in the honey and salt and serve warm.
Excerpted from Homegrown by Heather Hardison (Stewart, Tabori, & Chang, 2015). 
All photographs: Trina Enriquez / Sunset Publishing
Keep Reading: