Easter, sunshine (and disastrous DIY dyes)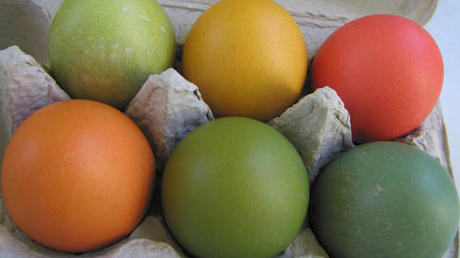 by Elizabeth Jardina, Sunset researcher Obvious-yet-profound revelation of the day: The connection between eggs and Easter is not ...
by Elizabeth Jardina, Sunset researcher
Obvious-yet-profound revelation of the day: The connection between eggs and Easter is not a coincidence.
I feel like a fool even admitting this, but until I had a real relationship with real, live chickens, I didn't really consider that they might have a laying season. But — duh — of course they do! Chickens lay sporadically when it's cold and dark and wintery. Then as the lightness of spring comes their laying cranks up. We're getting six eggs nearly every day, and the weather is as springy and spectacular as I've ever seen it. These things are related.
And of course a basketful of eggs is a longtime Easter tradition. I thought about that this afternoon as I took my basket to pick up our blue, green, pale brown, and rich ecru eggs.
I wanted to do something special with our bounty of colorful (and delicious) eggs for the holiday.
My inspiration? The ever-fabulous Pam Zsori, whose housemartin blog is a favorite around here, and whose spring design tips are in our April issue of Sunset. (Now on newsstands, people.)
I was browsing her blog when I came across this idea — pure genius:

Rather than the sacchrine palette Easter-egg dye usually imparts, these eggs were sophisticated, gorgeous, surprising. She dyed brown eggs. Look at how marvelous they are!
Energized by this stroke of brilliance, I decided that I too would dye our colorful eggs to achieve new colorful heights. And rather than use those old-standard dye pellets, I decided that I would go with all-natural dyes. (Ha, ha. This seemed like a good idea at the time.)
I did some research, consulting the natural dye instructions at Plantea.com. Since they recommend hot dye methods over cold ones, I decided that's what I'd use. But I thought 30 minutes was too long to boil eggs — I wanted then hard-cooked, not over-boiled. Since I'd recently read instructions for making perfect hard-cooked eggs every time, I tried to incorporate that timing into making the eggs. Also, at this point, the prospect of using our precious eggs from our own chickens for this weird experiment started to seem like a bad idea, so I bought brown eggs from Trader Joe's (along with white eggs, which would act as a control group).
As for my natural dyes, I went with things I had on hand or could buy at TJ's. (It was a Tuesday night. Time was tight.)
Although experienced natural-dyers go with onion skins and other such ingredients, I went with the three most-staining things I could come up with: blueberry juice, beets, and mustard. (Natural dyeing techniques favor the lazy refrigerator-cleaner. I swear, I opened that blueberry juice in December, so I didn't feel bad about using it to dye my eggs. Also, I had no fewer than three open bottles of mustard; who knows when I opened those.)
The beets I pureed, then added water, and the mustard I thinned with water. I added white vinegar to each batch, because that's supposed to help the dye stick.
Then I put my eggs on the stove, brought them to a boil in the (very vivid) dye/juice/weird runny mustard, then let them sit, covered for 14 minutes, as our instructions specified for tasty hard-cooked eggs. Then, they went into the fridge to cold-soak overnight.
Let's just call this a failed experiment and get it over with:

The pretty blue, green, and brown eggs you see here are eggs as they came straight from the chicken. The creepy black ones were dyed with blueberry (color that, by the way, unattractively flakes off when you touch them) and the mustard-dyed ones were crazy-blotchy. You don't even see the beets, because rather than the violet I was hoping for, they turned out uneven beige.
The good news is that they're cooked perfectly. Now I just have to figure out how to use up 14 hard-cooked eggs.
Keep Reading: