Brown butter, maple syrup, and orange glazed carrots from Heartlandia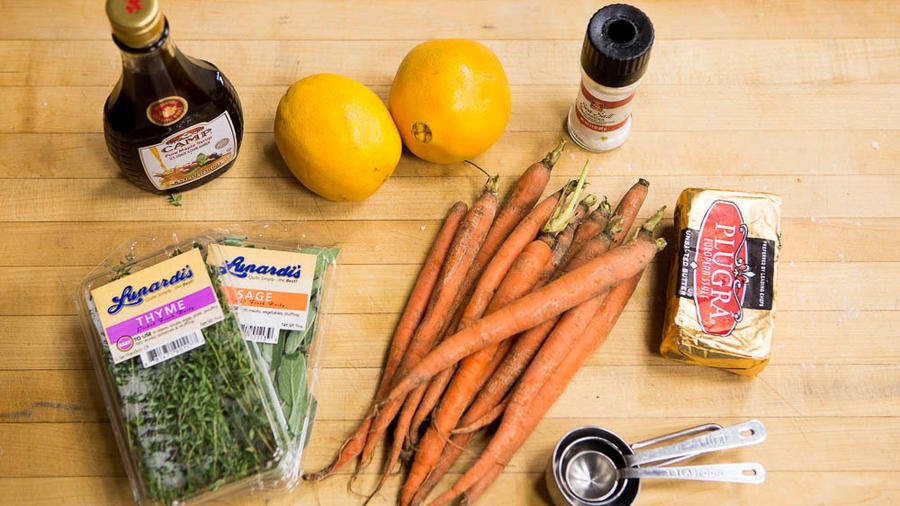 Editorial Assistant Alexandra Deabler discovered a side dish so easy, beautiful, and delicious, she can't help but make it again.
Any good vegetarian will tell you: Thanksgiving is "all about the sides." However, my meat-free menus have been lacking in recent years. The traditional lineup—a roasted root vegetable medley and sautéed garlic kale—was getting boring, and my legions of fans (a.k.a. my parents) had started complaining about my side dish rut.
Then, last week, I stumbled upon this—a recipe involving carrots, fresh herbs, and maple syrup. I knew it would be my path to redemption from uninspired menus of Thanksgivings past.
Why this recipe?
Cooked carrots and I are pretty good friends, especially during the winter when they're in season. However, the company that I keep has a more complicated relationship with the beta-carotene-rich veggie, in that they hate it. When I saw the recipe, I knew that this would be a game-changer. I would force everyone to a) like vegetarian foods during a meat-centric holiday, b) like cooked carrots, and c) like me better for having introduced this dish to them.
What was it like to make it?
Imagine making the easiest skillet dish that you have ever made. Now add carrots. That's what it was like to make this dish. It was so simple I was embarrassed. I was brought-up with the idea that holiday food had to be time-consuming, stressful, and involve at least 40 different obscure and expensive ingredients for it to be good. This recipe used one pan, six ingredients, and it only took 20 minutes—15 of those minutes being completely hands off. And you don't have to peel the carrots!
How did it turn out?
Visually, the dish turned out beautifully, or, in Associate Art Director Soni Obinger's words, "Wow, that looks so professional." The maple-citrus glaze and the wilted herbs coating the carrots really did make it look like I had meticulously slaved away over the dish.
In reality, I just precariously shoveled carrots onto a platter and ladled sauce all over them. Taste-wise, the carrots also turned out beautifully. The citrus added a brightness to the nutty butter and the sweet syrup. However, once the carrots started to cool, the glaze began to coagulate, and they looked very unappetizing. My recommendation would be to cook this right before serving.
Will I make it again?
Yes. It is three steps. One, brown butter. Two, drop in carrots and cover. Three, serve. I used one measuring cup. It's too easy to not make again. Plus, the oohs and aahs over how pretty the carrots looked is motivation enough for me to try it again, and again.
---
BROWN BUTTER, MAPLE SYRUP, AND ORANGE GLAZED CARROTSServes 4
"I'm always trying to figure out inventive side dishes that make use of the few vegetables available to me in the winter months," writes Adam Sappington. "In the past, I've made maple-glazed carrots and orange-glazed carrots to introduce some bright flavors into a winter diet. This dish combines those two recipes and ties their flavors together with brown butter and fresh herbs."
4 tbs. (1/2 stick) unsalted butter¼ cup freshly squeezed orange juice¼ cup pure maple syrup1 pound medium carrots, unpeeled, trimmed2 tbs. finely chopped fresh sage leaves2 tbs. finely chopped fresh thyme1 tsp. kosher salt, plus more for seasoning
1. In a large-lidded skillet set over medium heat, melt the butter. Cook, whisking frequently, until the butter solids are brown and start to smell nutty, about 5 minutes.
2. Add the orange juice and maple syrup to the skillet and whisk to combine. Add the carrots and toss to coat. Add ¼ cup water and the sage, thyme, and salt. Bring to a boil. Reduce the heat to low, cover the skillet, and cook until the carrots are tender when pierced with the tip of a knife, about 15 minutes.
3. Remove the skillet from the heat and transfer the carrots to a serving platter, keeping the liquid in the pan. Return the pan to the stove, raise the heat to high, and cook until the liquid is syrupy, about 5 minutes. Spoon the sauce over the carrots. Season with salt and dig in.
Keep Reading: