Bottle-shock: When a good wine goes bad (for a little while)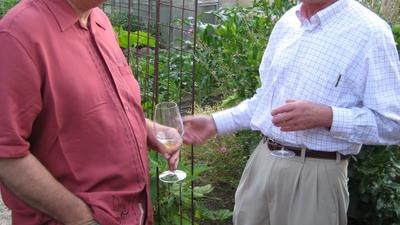 Amateur winemakers are prone to first-timers' mistakes. So it should be no surprise that we were bitten by bottle-shock not once but tw...
Amateur winemakers are prone to first-timers' mistakes. So it should be no surprise that we were bitten by bottle-shock not once but twice.
First off, what's bottle-shock? If you've been following Team Wine's blog, you'll likely remember me and Sunset wine editor Sara Schneider talking about how our two wines have been alive from the day we picked and crushed the Syrah grapes straight through to bottling both it and our Chardonnay. And bottle-shock is literally the wine being shocked at being transferred into a new environment (the sterilized bottle) from the environment it was used to (typically an oak barrel; in our case, a glass carboy).
In response to this new environment, the wine gets shy and retreats into itself, tightening up, even acting a bit sour, for at least a few days (sometimes weeks) before settling down and remembering its true self—the wine we remembered sampling on the day we bottled it.
How and why does it happen at bottling? Here's a definition of "bottle sickness" from the Wine Dictionary at Epicurious.
And it can apparently happen again when you travel with a bottle, getting it all shook up. Or when a truck rumbles a bottle too much on the way to a wine shop. I especially enjoyed this debate on Chowhound—I'd never heard "dumb" applied to a wine before.
What happened in our case? Our Chardonnay wasn't quite ready to bottle when we hosted a series of One-Block dinners this past summer (to thank the people who helped us along the way, and to share our food and wine with like-minded locavores we admire). That's Thomas Fogarty winemaker Michael Martella (who sold us our Syrah grapes and pressed Chardonnay "juice") above, at left, with home winemaker Dan Brenzel (who loaned us his expertise and equipment), at our first party. Note that Michael's glass is empty; Dan said Michael refilled it several times that evening—a good sign that our wine was a keeper!
So instead of committing the wine to individual bottles, we filled up five 1-gallon jugs with Chardonnay to serve at the soirees. The following quotes are Sara's impressions of our Chardonnay, from just after it we "jugged" it (her description matches what we'd thought earlier in the day, when we sampled the wine before transferring it into jugs) through a rough patch and back into glory.
Our Chardonnay's coming-out party, on the day it was "jugged""When we poured the Chardonnay the first day, for a party that winemaker Michael Martella came to, it was bright and vibrant, with acidity but in an elegant way. It had a softness and balance to it, so that the fruit flavors—racy citrus, green apple, and pear—were integrated. The wine was all in one piece; everything worked together."
Eek, just a few days later"When we poured it at the next party just a couple of days later, though, that great acidity was hanging out like an appendage or something—a part that didn't relate well to the whole. The wine was in a phase that just wasn't coherent and integrated. And in that stage, the fruit just isn't as pleasant, even if it's present. It needs to be in balance with the acidity and alcohol. Bottle-shock can knock it off balance for a while."
Phew, a couple of weeks after that"At a final party, the wine was showing well again, with an elegance that only comes from balance."
And then the SyrahYou'd think that we would have remembered the slightly wrinkled noses as guests sniffed and sipped our Chardonnay at that second party. But that image apparently didn't stick with us, because we were shocked by bottle-shock again a few weeks ago, this time with our Syrah.
We bottled the Syrah on a Friday, and the following Tuesday evening, Sara served samples of our yummy-at-bottling Syrah (and our Chardonnay, which is reliably back to being its dandy self) to some high-profile New York guests from our parent company, Time Inc.
What did they have to say? Well, the Chardonnay was well liked, but we heard that the Syrah did not show well … one taster said he preferred Sunset honey to Sunset Syrah. Well, kudos to Team Bee, but ouch, that stings. Bottle-shock was clearly in effect again.
Keep Reading: