Beekeeper gifts for the holidays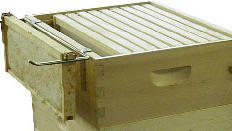 One of our readers (and fellow beekeeper), Tina, suggested we do a beginning beekeeper gift guide. Thanks for the suggestion. For the be...
One of our readers (and fellow beekeeper), Tina, suggested we do a beginning beekeeper gift guide. Thanks for the suggestion.
For the beginning beekeeper, our free Guide to Raising Honeybees Download OneBlock_Bee.pdf has a list of materials, links to suppliers, and instructions on how to get started beekeeping. Did I mention it's free?
We started our beekeeping adventure with Master Pollinator kits ($299.50 each) from Dadant & Sons. Each kit includes almost everything a person would need to get started in beekeeping, except for bees.
These kits got us started, but beekeeping, like woodworking, offers ample opportunity for equipment acquisition.
Some things, like a Country Rubes bottom board ($40), are essential to the health of the hive. It has a screened bottom for greater air circulation and a slot for a sticky board to make monitoring pest levels easier.
We'd love a frame perch ($19) from Mann Lake Ltd. for holding heavy frames of honey. It would make the job of inspecting easier and keep the frames off the ground.
And the clothing…well, it's not cocktail wear, but a beekeeper needs to be well dressed. We found that the bee suit set-up in the beginner kit needed some upgrades…
Well-made helmets fit better than cheap plastic helmets and are more comfortable to wear (and they last longer too). We like the vented helmets ($14) from Mann Lake Ltd.
And we like the round tie-on veils ($13) rather than zip-ons. Sure, bees can get inside the veil more easily, but when you're in a hurry and just need to get out there and check the hives, it's great to just tie on a veil rather than struggle into a clumsy suit and zip up your veil.
Gloves really need to fit. Too-big gloves are clumsy to work in and are a menace to the bees. Kimberley and I both wish for a pair of children sized gloves ($19); our small hands swim in even the small adult size gloves.
We enjoy our subscription to the American Bee Journal(from $25 per year). And there's always something worth reading in the opus The Hive and the Honey Bee, edited by Joe M. Graham, ($36) But First Lessons in Beekeeping, by Keith S. Delaplane ($9) is better for the beginner, with lots of photos. Both books are available from Dadant.
The best advice is from Kim Flottum, editor of Bee Culture magazine (from $25 per year) and the author of The Backyard Beekeeper ($20) says in his beekeeper gift guide blog at thedailygreen.com, "My advice, first off, is to get a gift certificate, because that just-starting-out beginner doesn't even know what he or she wants yet."
So true. But he or she will know soon.
Keep Reading: