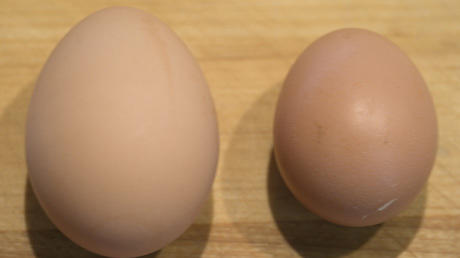 by MacKenze Geidt, Sunset Assistant Travel Editor Meet Jumbo: (and Jumbo's little brother egg on the right, providing size perspect...
by MacKenze Geidt, Sunset Assistant Travel Editor
Meet Jumbo: (and Jumbo's little brother egg on the right, providing size perspective in this case)
Jumbo weighs a whopping 72 grams.  Now that may not sound like a lot, but consider this: I checked with the USDA to find out average egg size delineation and here's what I found:
Large = minimum 45 grams; Extra Large = minimum 50.5 grams; Jumbo = minimum 56 grams
That makes our Jumbo egg 16 grams larger than a regulation Jumbo egg! (it was so big that the lid of a Trader Joe's Jumbo egg carton wouldn't close over it!)
Look how big Jumbo is compared to a storebought egg (Jumbo on the left, sterile-looking storebought egg in the center, and Little Brother on the right).   Around the office, Jumbo was initially referred to as "The Dinosaur Egg," and everyone was eager to see the contents (I personally was secretly hoping the contents would be somehow mutant…)
I finally worked up the nerve to crack Jumbo and got an inadvertent lesson in egg-cracking from Sunset Food Writer, Amy Machnak.  Amy taught me that you should never crack an egg on the surface of the bowl you're using to collect the contents.  Crack the egg on a separate surface.  Why?   Bacteria collects on the outside of an egg shell (think Salmonella), so the shell shouldn't make contact with the egg white and yolk.  Good tip!  The U.S. Department of Agriculture agreed:
http://www.fsis.usda.gov/Fact_Sheets/Focus_On_Shell_Eggs/index.asp
Check out Jumbo's contents: Jumbo had twins!                                                                                        

A double yolk!  My secret wish for mutant contents was fulfilled!   Although maybe it's not that uncommon after all… According to PoultryHelp.com, "double Yolkers appear when ovulation occurs too rapidly, or when one yolk somehow gets "lost" and is joined by the next yolk."
http://www.poultryhelp.com/oddeggs.html
Compare our beautiful double yolk with the storebought option:
Margo True, Sunset Food Editor explained that the runnier the white is, the older it is.  Conversely, the tighter the egg white, the fresher it is. 
Top image = storebought
Bottom = Sunset home-grown double-yolk egg
Which one would you rather eat??
Keep Reading: