Affordable Drinking in Eastern Washington Gets Better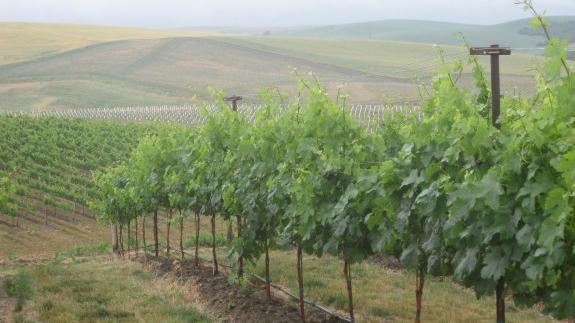 Exploring a hidden gem of an AVA in Washington State
I'm a fan of Washington wine, most of which comes from east of the Cascades in the dry part of the state. So last week, with the prospect of a family wedding in Walla Walla—a jewel of an AVA in the far southeast corner (it actually crosses the state line into Oregon but is, accurately or not, thought of as a Washington appellation)—I had visions of afternoons in downtown tasting rooms, morning drives through leafed-out vineyards fronting the purplish Blue Mountains …
Alas, reception-coordinating duties left me with just one day for wine, and that day, the temperature hovered in the low 60s, and a blustery rain had its way throughout. Still, I managed a sip of Cab in the new-ish vineyard it came from; a side-by-side comparison of Chardonnays from the same vineyard treated to new oak, partly used oak, neutral oak, and stainless steel; and a trio of Cabs from barrel in different oak: American (whiskey and coconut flavors there), Hungarian (spice and tannin), and French (subtle and elegant but boldy tannic).
The wineries were Waterbrook and Canoe Ridge, which produce relatively affordable bottles in the scheme of Washington wine. In broad strokes, the state has one enormous wine company—Chateau Ste. Michelle, which, in spite of producing well over a million cases a year, generally delivers solid quality for whatever price you've paid for a bottle (and sometimes more-than-solid quality). At the other end of the spectrum are the much smaller, family-owned wineries (somewhere around 700 of them!) without the economies of scale and with either expensive vineyard land or expensive grapes to pay for. Their wines aren't cheap. And there hasn't been much in the middle.
Waterbrook and Canoe Ridge, though, are finds in that middle space—putting ever-more bang for your buck in their bottles. Between them, they just won seven medals in our 2013 Sunset International Wine Competition! And my rainy sojourn around Walla Walla revealed some of the why: the new Waterbrook Estate Vineyard northeast of town that will be the source of seriously good grapes under the Waterbrook label. (My local writer/wine consultant friend, Paul Gregutt, who joined for part of the day, insists that he detects a grainy character in wines off this vineyard—imparted by the miles of wheat surrounding the vines.) And behind the scenes at both wineries, clearly, knowing hands are on the wine: John Freeman at Waterbrook, Bill Murray at Canoe Ridge. In jaded moments, I think, "You've seen one tank or barrel room, you've seen them all." But a crew racking reds and topping them off with dry ice, a smart filtering machine that can bring less pressure to bear on the wine while processing amazing volumes, a sea of virgin French barrels still in their plastic waiting for new wine this fall, even a bottling line … I really don't get tired of the good winemaking scenes.
Several well-priced faves:
Canoe Ridge 2012 "The Expedition" Pinot Gris (Horse Heaven Hills; $14). A bushel of apples layered with fuzzy peach, pretty florals, and vibrant lemon.
Canoe Ridge 2012 "The Expedition" Merlot (Horse Heaven Hills; $15). A lively, fresh Merlot from a cool year with a little spice spiking its dark cherry fruit.
Waterbrook 2010 Reserve Merlot (Columbia Valley; $20). A swirl of violets leads to intense cherry dusted with cocoa and damp earth.
Keep Reading: