7 things I learned as a beginner cook with Chef Joanne Weir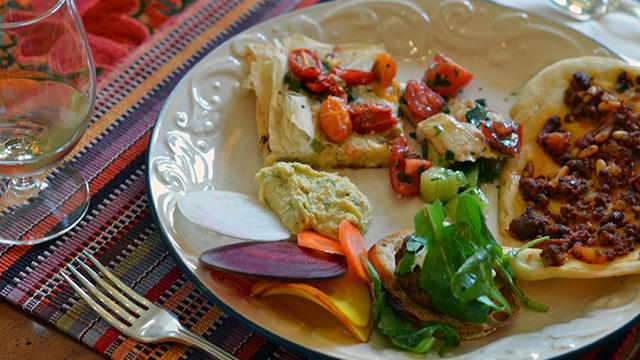 I don't know how to cook, so I took a class with a world-renowned chef. Logical place to start, right?
I don't know how to cook, so I took a class with a world-renowned chef. Logical place to start, right? Joanne Weir hosted a Mediterranean recipe demo just in time for the holidays. The hands-on workshop involved two six-hour days of making delicious tapas in her San Francisco kitchen.
My best friend curates a popular food blog, and my boyfriend went to culinary school. But I have zero kitchen skills (not everyone grows up with a mom who likes to cook). I couldn't turn down a chance to learn from Joanne. So, for the weekend, I said goodbye to my microwavable meals and picked up a food processor. And yes, I was terrified. But I picked up some great cooking intel in the process:
1. Go slow with your knife. Don't just dive in and start chopping away, as was my instinct. Slow and steady slicing produces finer foods. Rock back and forth with your blade facing down and forward.
2. Soak garlic in ice water for easy peeling. Before gathering your other recipe supplies, just drop it in a small bowl. You'll be able to peel it faster and cleaner.
3. Raw veggie chips are my new obsession. They're healthier than and just as delicious as pita! We used thinly sliced root vegetables (carrot, parsnip, turnip, red beet, yellow beet, rutabaga, sunchoke, watermelon radish, radish) to dip in hummus. Cut the veggies (carefully!) with a mandoline. Place in ice water for 10 minutes to get a nice crunch.
4. You can make a cake in 5 minutes or less. Joanne baked it in 4 while teaching, so we'll allow 5 minutes for the average person. Forget the box, I'm baking my next cake from scratch with this easy recipe: 3 Minute Almond Cake.
5. Don't throw away stale bread. Why be wasteful when you can use it to make an awesome salad? In the Mediterranean, they mix stale pita with tomatoes and cucumbers to make fattoush.
6. Taste along the way. Once you go too far with the salt or chile, you can never go back. Joanne suggests tasting burgers and meat by cooking a small patty before making the whole batch.
7. Preserved lemons make a great gift. They're gorgeous in a glass jar and can be used to make a citrusy hummus. Make your own preserved lemons. They'll be ready to use in one month.
Find more recipes in Joanne Weir's Kitchen Gypsy. You can also take a class with her in San Francisco or abroad. P.S.: My favorite recipe of the class was crostini with fennel sausage. It always turns out like it came from a fancy restaurant.
Keep Reading: