7 Facts You Need to Know About Rosé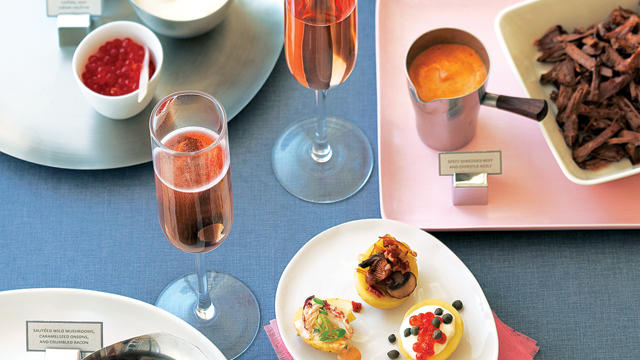 Sure, the wine cognoscenti are swooning en masse over rosé these days, but arm yourself with a few facts, and you'll be drinking better th...
Sure, the wine cognoscenti are swooning en masse over rosé these days, but arm yourself with a few facts, and you'll be drinking better than most of them.
Fact #1: Today's rosé is better than before. The rosé on the rise has nothing to do with pink white Zinfandel, that syrupy sweet sip of the 70s and 80s that was the kiss of death to self-respecting dry rosé as a tradition in this country. (Anyone seen drinking pink was damned by association.) Today's good pinks are crisp, dry, and brimming with lively red fruit and citrus. They're channeling the bottles on every café table in the South of France this time of year.
Fact #2 (fun fact for your next cocktail party): White Zinfandel? It was an accident. In 1975, Bob Trinchero, owner of Napa Valley's Sutter Home Winery, was trying to make a dry pink from juice run off his red Zinfandel (he'd done it before). Unfortunately, the fermentation got stuck before the yeast had consumed all the sugar. He bottled the wine anyway, and sweet white Zinfandel was born (a wild success in the marketplace to this day).
Fact #3: Fear of rosé is a thing of the past. We seem to have gotten over it! (Our horror at pink in our glasses, that is.) In the decade ending in 2013, imports of rosé from Provence to the U.S. rocketed from 146,000 liters to 3,647,312! The stats on how much rosé is being made stateside are hard to come by, but talk to almost any red wine maker and they'll tell you they make a rosé on the side. (See fact #4 for why that's a no-brainer.)
Fact #4: Rosé can be made out of almost any red grape variety, from Grenache, Syrah, and Mourvèdre (typical in the Rhône) to Pinot Noir to Merlot and Cab cousins. In a nutshell, the winemaker crushes the grapes, leaves the juice (which in most red varieties is white) on the skins just long enough to pick up the color she or he is looking for, then presses it off and ferments it like a white wine.
Fact #5: Dry rosé is a terrific sip with food! All of that racy acidity and rambunctious red berry/cherry flavors make it work with vinaigrettes, salty dishes, spicy foods–not to mention garlic. These are your wines for barbecued chicken, salad Niçoise, tapas, charcuterie, grilled shrimp and salmon, Thai and Indian curries, veggies with aioli, seafood and sausage paella, chicken fajitas, pizza …
Fact #6 (the dark secret): More than a few self-proclaimed dry rosés are lying. Some winemakers are still leaving a little residual sugar in their pinks. Maybe they're hedging their bets, unable to shake that old saw about people talking dry but drinking sweet. Tell them that's a bad idea by buying dry (trust a good wine shop clerk to steer you right).
Fact #7 (more cocktail party fodder): Celebrities are sipping on rosé. Angelina's wedding dress, with its adorable family drawings sewn in, might have caused a collective gasp at their Miraval wedding and beyond, but it's the wine (probably) served at the nuptial celebration that's the real star: Miraval Rosé, from the estate vineyards that have turned Brad and Angie into vignerons. It's vibrant and delicate at once–rose petals and wild red fruit are carried by a whole gamut of citrus flavors. And rumor has it that the duo is quite involved in making it, showing up for blending sessions and everything.
In addition to Miraval, here are a few of our current favorite rosés:
WEST COAST:Charles & CharlesCharles Heintz Rosé of Pinot NoirInman Family "Endless Crush" Rosé of Pinot NoirSkylark "Pink Belly"
FRANCE:Domaine de Fontsainte Gris de GrisDomaine de la Fouquette Cuvée Rosée D'AuroreMiravalTriennes
Keep Reading: