3 Top-Notch Road Trips You Can Do Now in Sonoma County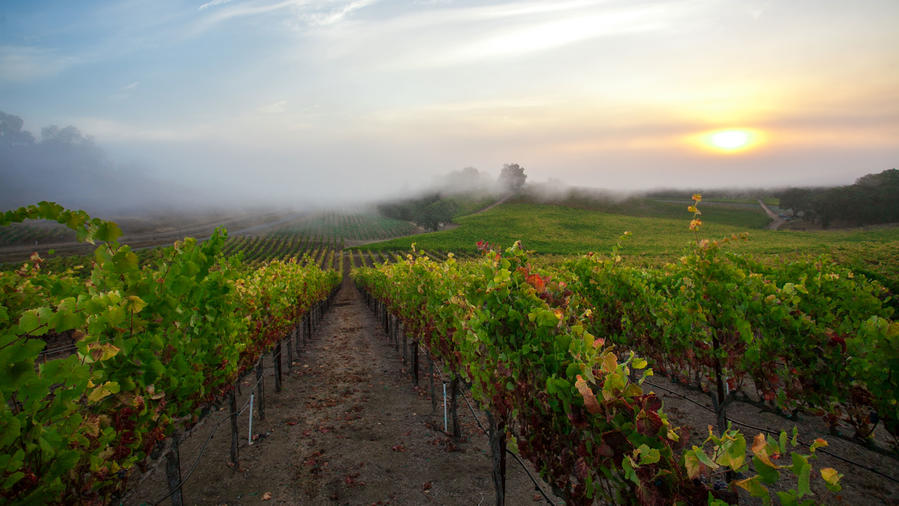 Although Sonoma County is still recovering from wildfires, don't be discouraged from visiting. There are plenty of tasting rooms, eateries, and the like that are very much open for business
Now is the time for a road trip through Sonoma County. The grape leaves are turning deep oranges and vibrant maroons, harvest is freshly over, and the tasting rooms are extraordinarily silent. Ever since wildfires struck the Nortah Bay in October, many have been wary of visiting. Don't be! The simple act of drinking Sonoma County wines will help rebuild lives. Let's get this show on the road with a few of our favorite driving routes as well as car-free itineraries.
Larger than Rhode Island, Sonoma County has approximately 425 wineries scattered off country roads and within charming historic towns. To get the most out of it, it's best to slice the county into three sections, and plan at least a day in each (but a weekend is even better for savoring more time in the region).
Sonoma Coast
Highway 1 is the main thoroughfare, and Bodega Bay and Jenner, the main towns. Combined, their populations equal about 1,200. You're off the beaten track. The recent wildfires did not directly affect the coast.
The Drive
Delicately expressed Pinot Noirs and citrusy Chardonnays are the juices of the coast, an area untouched by recent wildfires. Tasting rooms are rare. We can only guess that's to keep us road-trippers safe. Highway 1 is curvy and can be foggy and probably doesn't need more traffic. Think of this trip as a primer to the Sonoma Coast's various wineries.
Starting point: Bodega Bay
Mileage clocked: 100 miles round-trip
Approximate duration: 3 hours
Optional activities: Hike at Bodega Head (windbreaker essential) or kayak in Jenner, where the Russian River meets the Pacific.
Drink: Visit Sonoma Coast Vineyards, with Bodega Bay in the distance, then Fort Ross Vineyard & Winery for a view and a taste in Jenner. Annapolis Winery near Sea Ranch, at a 1,000-foot elevation, is your last stop.
Eat: Dine at Coast Kitchen in Jenner within the Timber Cove Resort. Pair Chardonnay from the area's Flowers Winery & Vineyards with local oysters.
Sleep: Rent a room at Sea Ranch Lodge or in one of its historic homes (from $245). The beds at Timber Cove, on a bluff, are as inviting as the lobby's massive stone fireplace.
The wine walk: The town of Sebastopol may be 15 miles east of the Pacific Ocean, but it feels much closer at The Barlow. An outdoor complex with ag-style warehouses, the market is home to the tasting rooms for winemakers who grow their grapes on the coast, including Wind Gap Wines, Friedeman Wines, and MacPhail Wines.
Central Sonoma County
U.S. 101 is the main access to the wineries of central Sonoma County, as well as the principle towns of Petaluma, Santa Rosa, and Healdsburg (pictured above). The most populated, Santa Rosa, is the city where two neighborhoods, Paradise Ridge Winery, and many other businesses were destroyed by the October wildfires. The majority of the damage was on the east side of Highway 101. Remember that staff may be ready to discuss the night when the fires roared into town, or they may not. If you want to learn more, one way to broach the topic is to ask an impersonal question first, such as, "Was the vineyard affected?"
The Drive
Central Sonoma County is home to eight AVAs, and plenty of varietals to please all passengers, including big Cabernets, old-vine Zins, crisp Sauvignon Blancs, and old-world and new-world style Chards. Outliers, such as Fiano or Cinsault, may also be on tap for tasting. Quintessential wine country landscapes are the backdrop: lopsided wooden barns, farm stands, rocky creeks crossed by one-lane bridges, stands of redwoods, and acres of vines cascading down hills to populate valleys.
Starting point: Healdsburg
Mileage clocked: 40 miles round-trip
Approximate duration: 1 hour
Optional activities: Enjoy spa treatments at Farmhouse Inn in Forestville, or, in season, float down the Russian River.
Drink: The Medlock Ames two-part experience starts with a tour at the 100 percent solar-powered estate off Chalk Hill Road, Bell Mountain Ranch, and can continue a couple miles away at the informal tasting room on Alexander Valley Road. Beautiful grounds and views are part of the chateau-like experience of Jordan Vineyard & Winery; Reeve Wines, close to the Dry Creek General Store, is a second project by the couple behind Banshee Wines in Healdsburg.
Eat: Geyserville's Diavola Pizzeria & Salumeria makes a mean Margherita pizza and a killer pork cheek ragu; plus, the owner's cocktail bar is a couple doors down.
Sleep: In the thick of Healdsburg is Two Thirty-Five Luxury Suites, with the privacy of a vacation rental, the bespoke touch of a hotel, and the amenities of a well-equipped house. All suites are three bedrooms, and some even have balconies. 
The wine walk: Healdsburg's Plaza claims "dozens" of tasting rooms—no one seems to have done a proper count. But you're welcome to try. Definitely hit up Cartograph Wines for the Pinots and the interesting whites, like Gewürztraminer. Name a red and the Selby tasting room is sure to pull it out … Cabernet Sauvignon, Sangiovese, Merlot, Malbec, and Zinfandel. Thankfully, between the tasting rooms are shops, bookstores, restaurants, and detoxifying juice bars. Then, a short walk away is Sonoma Cider's one-year-old taproom, with 28 taps to choose from (including nine local beers) and many games. Skee-Ball, anyone?
Sonoma Valley
Stephen Saks / Getty Images
A drive down State 12 is an introduction to not only the erratic nature of fire but to the sobering effects of the aftermath. The good news is that the historic town of Sonoma is at full steam. On a Saturday morning in November, customers filled every table, and buses parked near Sonoma Plaza. But drive north on 12 toward Kenwood and Glen Ellen, and another story unfolds as told by the landscape. It is marred with giant bowls of black ash, charred trees, and singed vines. The state parks are closed near Sonoma, with the exception of Jack London (pictured above). Partially damaged wineries are reopening every day, but the hotels and restaurants are coming online more slowly. The standout Glen Ellen Star reopened recently and is filled with diners who desperately missed feeding their souls with chef Ari Weiswasser's dishes. Sadly, the nearby historic Olea Hotel, a 2016 Sunset Travel Award Winner, partially burned. Owner Sia Patel expects to reopen in mid-2018. Aventine Glen Ellen has reopened after a period of closure. Both the small inns of Gaige House + Ryokan and Beltane Ranch were temporarily closed to renovate rooms damaged by smoke, although Gaige House is now accepting guests again. Given this, some may be hesitant to go north on 12. Please do. The open businesses need support. Plus, once inside the tasting rooms, the staff radiates warmth, as do the Cabs.
The Drive
Starting point: Sonoma
Mileage clocked: 33 miles round-trip
Approximate duration: 1 hour
Optional activities: Learn, hike, and read the author's work at Jack London State Park, or navigate the 40,000-square-foot spa at Fairmont Sonoma Mission Inn.
Drink: Landmark Vineyards in Kenwood gets high marks for Pinot Noirs, which can be tasted from a tower. The bocce court is also a winner. Make an appointment at Lasseter Family Winery to refuel your stomach with creative wine and food pairings. At B. Wise Vineyard's London Way property, tour the caves (by appointment only). Imagery Estate Winery is brought to you by the quirky side of the Benziger family. For every bottle of estate wine bought, the winery will donate $5 to the Sonoma County Resilience Fund for wildfire victims. Scribe Winery is donating proceeds from the 2017 Nouveau of Pinot Noir to La Luz's fire relief fund (reservations required).
Eat: Glen Ellen Star's centerpiece is a wood-burning oven that roasts vegetables, bakes pizzas and pastas, and grills fish. You've never tasted anything this good. The community hub is the informal Palooza Gastropub. In Sonoma, OSO offers up little comforts like poutine and deviled eggs with Dungeness crab.
Sleep: In the adobe, wood-beamed lobby of Fairmont Sonoma Mission Inn & Spa, 38º North pours 50 wines by the glass–but that's not the only liquid flowing at the hotel, which is located on geothermal hot springs.
The wine walk: The town of Sonoma is a bustling center of boutiques and restaurants in historic buildings, like the Vallejo-Casteñada Adobe, one of the oldest occupied homes in Sonoma. Built in the 1842, the adobe has been redone by designer Ken Fulk (by appointment only) to house the Three Sticks tasting room. Another golden oldie is the 115-year-old redwood structure that is now Pangloss Cellars' tasting room. A town amenity worth clinking glasses to is the open-container policy in Sonoma's historic plaza. Yes, that's right—you can drink in the park. Classy.
Keep Reading: