Where to Go This Weekend: Oakland's Jack London Square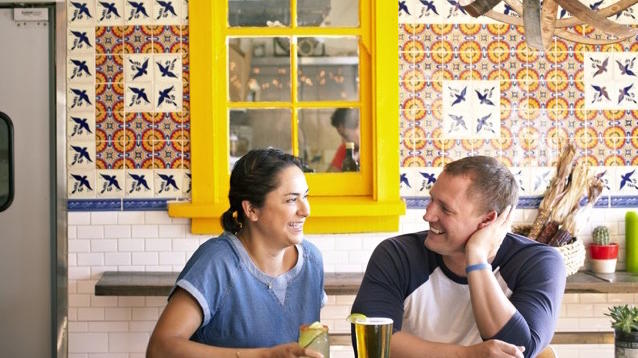 With a fresh influx of residents, shops, and restaurants, Oakland's historic district has never been more fun. Josh Sens takes us down to the waterfront.
American Made
You may not really need that hickory-handled hatchet or those mason jar coffee mugs wrapped in leather cozies. But who said rigid pragmatism was the point? To browse the shelves at Oakland Supply Co. is to revel in the beauty of handcrafted wares, some more practical than others, all produced in the United States. The curator-in-chief is Angela Tsay, who also owns the civic-minded retailer Oaklandish. She extends her geographic reach with urban-cool items that range from gold bangles banged out in Austin to beer soap shaped in Kalamazoo. That neon-colored slingshot with separately sold bag of acorns? It was made in San Francisco, and its purpose is subject to interpretation. But there's no doubting the function of a steel beard comb with a built-in bottle opener. As Dustin Case, the artisan who forged it, puts it, "You do your do, then you pop your brew."
Spare the Strikes
No disrespect to tenpin, but the Italians have a better way to bowl. A reminder comes as you weave your way through Plank, an outsize sports bar–cum–bowling alley, leaving behind the clamor of its indoor lanes for a tree-ringed beer garden in back, where three tidy bocce courts await. Craft beer flows from the taps, and outdoor firepits add to the cheerful atmosphere. Roll a ball. It's not cutthroat but rather alfresco entertainment—and people-watching along the waterfront is something of a sport itself.
City Sipping
When they left behind the stress of the corporate 9-to-5 to pursue their passion for wine­making, Steve and Marilee Shaffer didn't retreat to a château in the vineyards. "We're city people," says Steve, who launched Urban Legend Cellars in a warehouse instead. Their tasting room is a must-stop on a walkable wine trail that wends around Jack London and includes such draws as Dashe Cellars and Jeff Cohn Cellars, whose namesake Zin-master is rightly acclaimed for his Rhône-based blends. The Shaffers rotate through pours of bone-dry rosé, bright Grenache Blanc, lush Tempranillo, and more.
Catch Current Events
To most, the Oakland estuary is a brackish strait that separates Oakland from Alameda. But to Tammy Borichevsky, it's an urban water trail. "You feel like you're out in the middle of nature," says the co-owner of California Canoe & Kayak. The one- and two-person kayaks she rents are a bridge to that wilder world, where spindly-legged herons high-step in the shallows and gray pelicans patrol the skies. From the dock, it's a 41/4-mile round-trip, south and back around Coast Guard Island, and when the wind picks up, the paddle can be tough. But at the bookends of the day, when the gusts subside and the water turns glassy, even novice kayakers can handle a voyage that takes you a long way without going very far.
Dinner Without Borders
Eduardo Balaguer started a catering business 12 years ago, but in 2013, he opened Venga Paella, whipping up his specialty for smaller parties. The menu strikes an Old World/New World balance, offering a West Coast riff on paella, with seasonal veggies and basmati rice. "My family in Spain would never let me hear the end of it," he says. Silvia McCollow's relatives in Mexico could hardly quarrel with her chicken mole at nearby Nido Kitchen & Bar, but they'd also note the Cal accents on her menu, from a kale Caesar to squash blossom que­sadillas to shrimp tostadas with green pea hummus and lime-cured cauliflower.
---
Read the 2021 Harvest Issue Right Here
Get one year of Sunset—and all kinds of bonuses—for just $24.95. Subscribe now!