Where to go this weekend: Helena, MT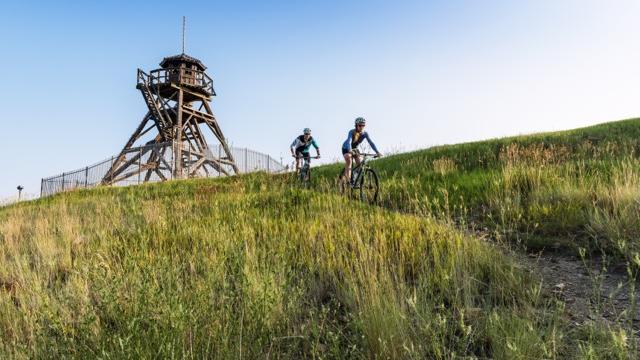 Montana's capital is packed with all the Rockies classics: great hiking, cycling, and beer, plus (surprise!) a vibrant, world-renowned ...
Montana's capital is packed with all the Rockies classics: great hiking, cycling, and beer,plus (surprise!) a vibrant, world-renowned art scene. Stephen Edwards takes us for a ride in Helena.
Glittering trailsWhen the International Mountain Biking Association crowned Helena with a coveted bronze status in 2013, it revealed only what locals have known for years: The city's single-track rules. A 70-mile network of trails curves around Helena, so you can easily get in a day's worth of cruising without driving your bike all around. "Everything is connected," says Great Divide Cyclery owner Dan Barry. "You can get to a trailhead in three minutes, right from downtown." Rent some wheels from Great Divide, and see for yourself. This month is prime time for pedaling: The days are still sunny, the aspen and larch at peak fall color.
Après-cycleMontana ranks in the top three states for most breweries per capita, including two outstanding stops in Helena. Blackfoot River Brewing Company has a prime spot at the nexus of a few mountain-biking trails. Weary cyclists and hikers head for the sun-drenched second-floor patio to sip on the citrus-forward Single Malt IPA and take in views of nearby Mt. Ascension. Across town, Lewis & Clark Brewing is as adored for its distinctive location as it is for its beers. It's housed in a 125-year-old meat smoker turned icehouse turned paint factory turned brewery. "I wanted a place people would remember," says owner Max Pigman. His beers make quite an impression too. The Tumbleweed IPA took gold at the 2014 Great American Beer Festival.
The other brewA downtown mainstay since it opened in 2000, Fire Tower Coffee House & Roasters upped the ante in 2012 when Nord Johnson bought the business and began exclusively using fair-trade and organic beans from small-batch growers in Mexico, Brazil, and Colombia. "Ninety percent of the people walking through that door don't care," he says, "but it's what we're committed to doing." (You may not care, but you'll taste the difference.) Robust sandwiches on Grains of Montana bread and handpicked fruit are served among the works of 11 local artists, including handmade mugs from neighbor Jeremy McFarlane of Jmacs Pottery. "He walks them over to me still hot from the kiln," Johnson says.
Speaking of kilns …Montana's Rockies may not have the reputation of an arts hub, but Helena is a major player in the international pottery scene. The Archie Bray Foundation for the Ceramic Arts attracts makers the world over for its residency programs. Founded in 1951 by its namesake visionary, the Bray hosts community classes and workshops as well as a changing exhibition of resident artists. Peruse the collection or pick up a souvenir at the North Gallery.
Out of the redThe last of Helena's red-light-district brothels after Big Dorothy's closed in 1973, Windbag Saloon and Grill is now one of Helena's best restaurants. The Italianate-style structure is located on a pleasant pedestrian mall in the historic district—a far cry from the seediness of just a few decades ago. Seasonal catches (including the current supply of halibut and salmon) are flown in once a week from Oregon and as far away as Hawaii, and "we still make our dressings from scratch, hand-cut our fries, and cut our own fish," says owner Randy Beckner. Of course, this is also Big Sky Country; carnivores can delight in the house-special ribs, a not-so-humble stack marinated in the Windbag's secret sauce. "Montana is like a big town," Beckner says. "Around the state, if you say, 'Meet me at the Windbag,' everyone knows what you mean."
Keep Reading: